Since Throwback Thursday has become such a passé thing on social media, I've decided to take it one step further and look back at an entire era. Yes, I'm talking about the greatest era of humanity. The time when the SEGA Genesis, X-Men: The Animated Series and techno ruled our geeky lives: the '90s. So take a walk down memory lane with me as I recall some of my fondest memories from the most bodacious, totally radical decade ever. And yes, growing up in the 90s was the best!
RELATED: The Pirates of Dark Water: The Forgotten 90s Cartoon Deserves a Reboot
Power TV
Today, television is experiencing its golden age. We're blessed with fantastic programming that puts Hollywood films to shame. Back in the '90s, though, animated series were da bomb diggity, taking all the accolades and awards as they reached new pinnacles of greatness. From Batman: The Animated Series and X-Men: The Animated Series to comedies like Freakazoid! and Animaniacs, kids (and older kids) had so many quality shows to choose from and list as their favourite favourite. Lest we forget, every show also had accompanying toy lines that bankrupted our parents.
Saturday mornings were a religious experience, sitting in front of the tube and waiting for the plethora of cartoons to start. We didn't care about game shows or talk shows, which seemed to be the order of the day in 2016; we wanted Marsupilami and Transformers! Weekday afternoons were equally a treat—for those of us who escaped the clutches of after-school activities—with a variety of shows to entertain us until our parents got home and even afterwards (Power Rangers aired in the 17:00 slot, if I'm not mistaken). Although, I still chuckle when I think back at the blatant rip-offs of other popular shows (cough, Street Sharks, cough) and how we fell for them just as bad.
Mandatory viewing:
RELATED: The 19 Greatest Action Stars of The '90s
BOOM, shake, shake, shake the room!
You were one of three kids in the '90s: the grunge rocker, the techno jumper, or the hip-hopper. Me? I drifted between all three at some point or the other, choosing whichever jam twitched my sandal-hating feet.
MC Hammer was too cool for school—so cool that my gran never made me the Hammer pants I dreamed of wearing to the annual school disco—and techno was mandatory listening if you were a gamer playing StarCraft or Diablo. However, it was Cobain who introduced me to a whole new world of music I never knew existed. In fact, it laid a foundation for a future career in rock music journalism.
Mandatory song:
Ready, Player 1!
Finding a SEGA Genesis wrapped under the Christmas tree was every child's dream. Your Golden China would be quickly forgotten as Sonic the Hedgehog, Mortal Kombat and Streets of Rage took over your life. Heck, I remember not wanting to go on beach holidays because I'd have to leave my console behind—that's how strong the sickness was.
If you were lucky enough to have an arcade (I'll never forget you, Magic Company. R.I.P.) in a mall nearby, you undoubtedly spent a good chunk of your pocket money on Street Fighter 2, Double Dragon and Metal Slug. In the late '90s, I became quite the pro at Virtua Striker and won several competitions, acquiring token vouchers and cheap plush toys as prizes. Ah, the good ol' days of in-the-flesh multiplayer gaming.
Mandatory gaming:
We looked back at television, music and video gaming in the '90s. We laughed, we cried and we refused to accept '90s fashion as a dark period in humanity's history. Now, it's time to reminisce over another three key entertainment areas from the noughties: comic books, films and trading cards.
RELATED: Ape Escape 4: We Need A New Game For The PlayStation 5
Everyone Dies and Comes Back to Life
While the 80s was praised as the pivotal era for comic books, birthing books such as Watchmen and The Dark Knight Returns, the '90s was simply weird and marred with strange decisions. Comic sales dwindled so publishers went nuts creating special covers and other fancy things to pique interest—but it was the storyline choices that really boggled the mind.
First, Superman was killed off in The Death of Superman. I remember seeing the news story on TV and wondering if the world had gone mad because HOW DARE THEY KILL SUPERMAN? X-Men's Professor X ended up as another major casualty—but in his case, his death actually led to the brilliant Age of Apocalypse story arc. Obviously, none of these deaths lasted and began a Days of Our Lives trend in comics where characters get killed off only to return months later (showing off a stylish mullet in some cases). Moral of the story: don't cry because no one stays dead in comic books.
One of the biggest comic book events of the nineties was the Marvel versus DC clash, which pitted our favourite heroes and villains against each other in a shared world. The trading card collection, in particular, was a huge hit on the school grounds and the crossover series got everyone talking (and fighting) about the results. This event led to the short-lived 24-issue Amalgam Comics, where Marvel and DC characters were merged into a single character. Who'll ever forget Spider-Boy (Spider-Man and Superboy), Dark Claw (Wolverine and Batman) and Iron Lantern (Iron Man and Green Lantern)? If you have any of these comics, please get in touch so we can geek out together.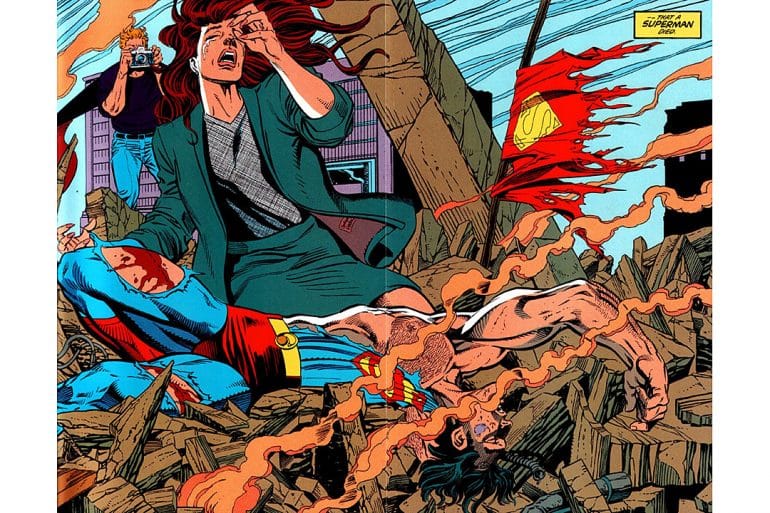 Masters of Trade
Speaking of trading cards, they were the currency of school kids in the '90s since pocket money only went so far. If you were one of the lucky ones to receive a Marvel Masterpieces' Mirage Card, you could fetch a month or two's tuck money from other children to just even look at it. Alternatively, you could become a pioneer of business by carefully placing your duplicate cards back in the foil packaging, glueing it closed and reselling them at school like I did.
As with anything else, companies jumped on the trading card bandwagon and gave us a lot of rubbish as well. For example, wrestling trading cards—these were so poorly made and didn't even have the correct information about the wrestlers on the back. Oddly, they'd also choose pictures where wrestlers showed off notable boners in their tights. Why they sold these to kids I'll never know…
RELATED: The Top 17 Comic Book Clichés That Should Annoy You
The Cinema Experience
Prior to now, where we require a small home loan to buy a movie ticket, small Coke and popcorn, the cinema experience was an affordable extravaganza. Going to watch Jurassic Park on opening weekend was special, with the theatre decorated in dinosaur décor and even our parents agreeing it was a worthwhile venture away from home. Films really did feel bigger on the big screen, and the blockbuster was an actual blockbuster in those days.
Also, video rentals boomed in the '90s. Who remembers picking up the Spider-Man VHS films from the seventies and all the old Richie Rich and Casper cartoons from their local video store? Taking your time to go through the store and choose your movie(s) was the highlight of any kid's day. The stores were always packed on Friday nights, Saturdays, Sundays, and school holidays, so you'd have to make sure you had a backup video store just in case all the new releases were booked out. In the '90s, VHS was our babysitter, and we loved it.
RELATED: That Time Prince Became a Comic Book Superhero
Tell us, did you love growing up in the 90s?