It seems to have become de rigueur with current games releases to reduce the title down to just one word. I guess this has been done in an attempt to make it sound punchier, or something. If they are able to get it down to one syllable, even better. The next logical step then is to have just letters, like COD or GoW. But the ultimate will be to have just one letter. Bethesda will release Fallout 5 and title it F 5. Previously, we had Race Driver: Grid, just like we had Gears of War. Now we have Gears 5 and we have Grid, which, in reality, is Race Driver: Grid 4 or TOCA 12.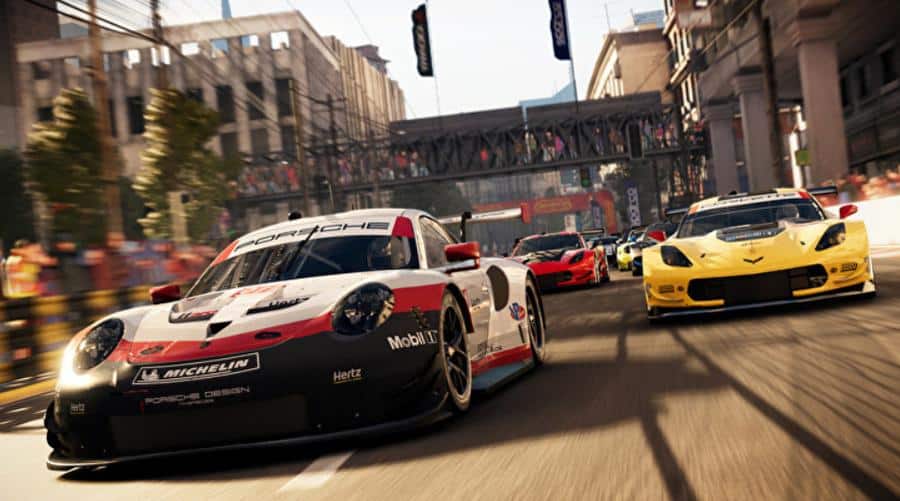 In this iteration of the game, Codemasters has done a hard reset, maybe in an attempt to erase the sins of the past. The previous releases, it could be argued, were becoming a little too arcade. In Grid, we see a return to something which lives on that line between arcade thrills and something more akin to a racing sim.
"Why does Codemasters need to do another sim?" I hear you ask. You would be completely justified in that question, after all, they are the geniuses who gifted the F1 and Dirt Rally series to the world. Both the best racing sims I have ever played.
Grid is accessible to anyone, regardless of their knowledge and experience.
Grid, however, is a very different creature. There is an options menu in which you can tweak and fettle your car setup to make it an unforgiving rocket that runs on pure evil. However, that's not what it's about, in my honest opinion. In its default mode, the game still leans toward the arcade-style of things. You are not going to be ramping over canyons or doing loop-de-loops in clear tubes high above ultra-modern cities, but the racing is more just about getting in and wringing its neck. I guess that could all be summed up as "Accessible".
Grid is accessible to anyone, regardless of their knowledge and experience. If you want to go crazy with setup and finding tenths of a second over one flying lap, play F1 2019.
As is standard practice now, each car has its own handling characteristics, and different surfaces, weather conditions and time of day affect how hard you can chuck it into a corner before it decides to take you to the scene of the accident. There are many cars available at release and I got the bonus Aston Martin DLC. I love Aston Martin and hustling one around some of the most iconic touring car tracks in the world is quite a thrill.
The sound of the cars is visceral, almost goosebump inspiring. And the animatic before the race, when a collection of the most beautiful cars in the world are in full race trim, battle-scarred and bruised, wait for the lights to go out, I'll be honest, is a little erotic.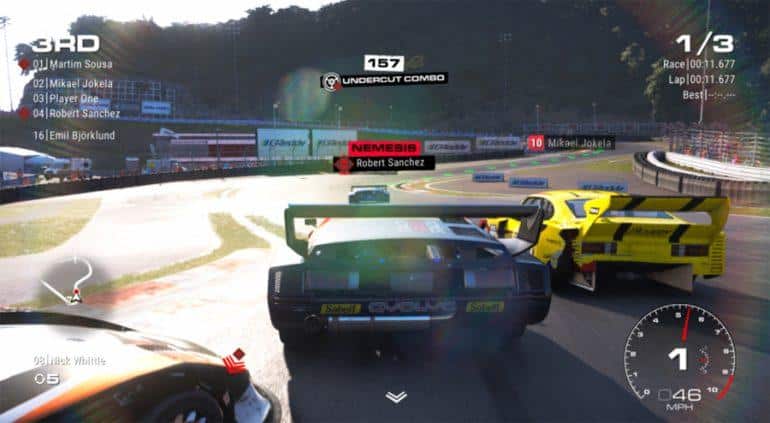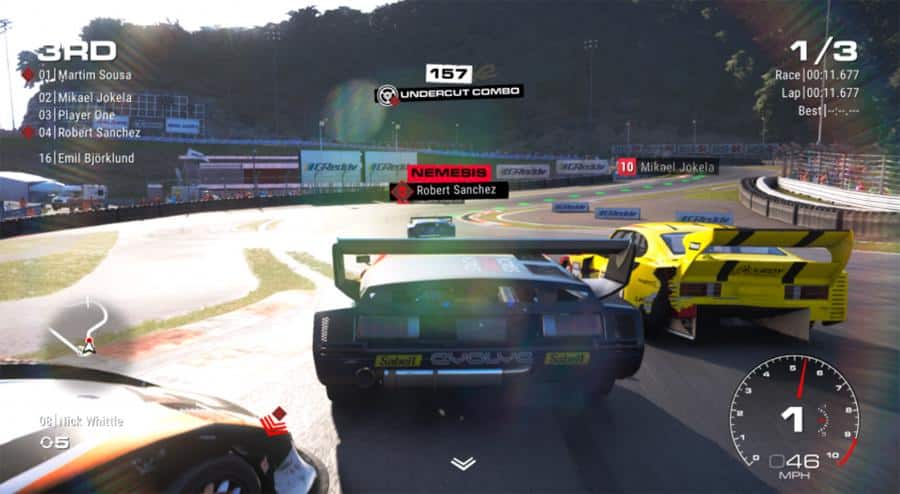 I am not very clued up on the Touring Car championship, but I do recognise some of the tracks on the calendar and they really do span the world, from the Americas, Japan, China and Australia. However, the feeling is that, by most modern racing game standards, the number of tracks is a bit slim. I am sure that will be fixed over the next few DLC's, but you end up getting very familiar with everything on offer pretty quickly. Fortunately, cars are distinct enough to make the same track feel different.
That aside, Grid is a beautiful game. The cars are stunning, the locations are photorealistic and the time of day/weather changes make for spectacular eye candy.
Grid is a beautiful game.
Gameplay wise, it's business as usual. You compete in various categories and prize money is collected. With those winnings, you buy other cars and upgrades. You can also gain experience by competing in driving feats. All pretty standard.
Where things do change quite radically is in the area of Team Management. It is different from previous releases in that it is almost non-existent. Thankfully, the sponsorship management function is gone and you can only hire one teammate at a time.
The standard custom livery function is still there and mildly updated.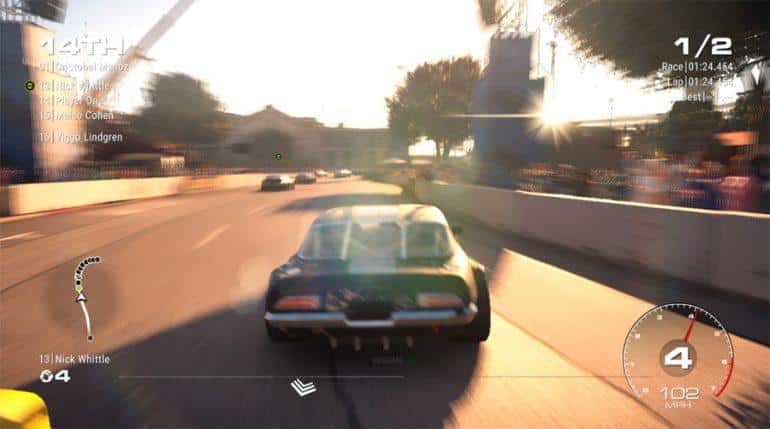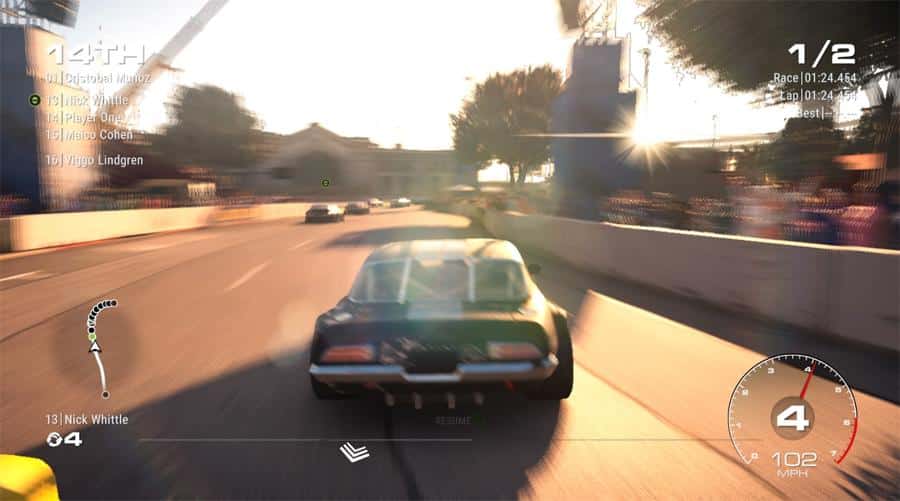 Another new thing to the franchise is the AI, which we have come to expect from all modern games. This is another data stream feeding into SkyNet as it learns about us and how we behave. What makes this truly terrifying is that, in Grid, the AI recognizes aggressive behaviour and dishes it back to you in equal or greater proportion. You are marked as "Nemesis". If you nudge a car off the track, it will come look for you and try to do at least the same. But, more often than not, it won't stop till you are slowly spinning on your roof or smeared into a wall. Think about what that means for us in the near future, as we fight for the survival of the species against the machines. Fortunately, it seems like the grudge only lasts for that race and does not carry over through the rest of the season.
It is a game you can play with very little commitment.
The rewind function also makes sure the price of getting your elbows out is not too high. I have always had a problem with the option to rewind; it takes all seriousness out of a race. For me, excellence needs to be rewarded and mediocrity punished, but that is just me, and honestly, I do not think I am the target audience. Grid is more about fast arcade-style fun. I do not play games for fun. I play because the risk/reward portion of my brain is overdeveloped and the reward of conquering a high risk fills me with so many feel-good hormones.
Grid is a great game that is fun straight out of the box. It is beautiful, has an AAA pedigree and is accessible to all. It's arcade fun at its finest, while still allowing you to adjust enough to give yourself an edge over your AI competitors, or your online opponents. It is a game you can play with very little commitment.
The Review
Grid
Grid is a fast-paced yet accessible arcade-style racer that is not only loads of fun but also looks great.
PROS
Smart and brutal AI
Great looking visuals
Weather effects
Review Breakdown
Storyline

0%

Gameplay

0%

Graphics

0%

Replay Value

0%

Sound and Music

0%