If early-access games were a religion, the survival game beta release would be its Pope. Much like religion as well, so too does it feel like every other week we have a new sect breaking away, proclaiming themselves to be the divinely ordained messengers of the one true divine spark of what makes a good survival game. So, is Green Hell a true contender? Or just another false prophet?
Alright, enough of that analogy. I'm labelling this piece a preview rather than a review, for reasons that you will see soon enough, but the simple fact is, the game is still in early-access, and there's simply not much that to see yet. It's a glorified demo, which isn't bad as an idea, to give us a taste, but let's dive in and see if there's enough promise here to come back when the full release happens down the line.
First, off the bat, Green Hell starts off better than many of its bedfellows – it has an actual plot. By this I mean, more of a plot than "you have crashed on a desert island" or "you have been pulled off a cross by Conan; go enjoy the world." The plot here is that you are the husband in a husband-and-wife scientist team. You previously travelled into a remote area of South American jungle, where your wife made contact with a rare and elusive native tribe. You published a book about your experiences, which caused bad feelings for the tribe. As the game starts, you are returning back to try and remedy matters, and of course, nothing goes wrong at all at any stage and you are definitely not left alone in the middle of the jungle with only your wits and crafting ability to survive.
The early access release ends the story just as it might have been getting interesting, but there is hope for it. Personally, I love the idea of a survival game with an actual plot, as the reason why I drift away from most other releases in the genre is that there's not much to do, aside from just exploring the world. Having a goal of some kind, and allowing us to figure out the best way to achieve that goal through using the mechanics of the world, is a good step in the right direction, in my opinion.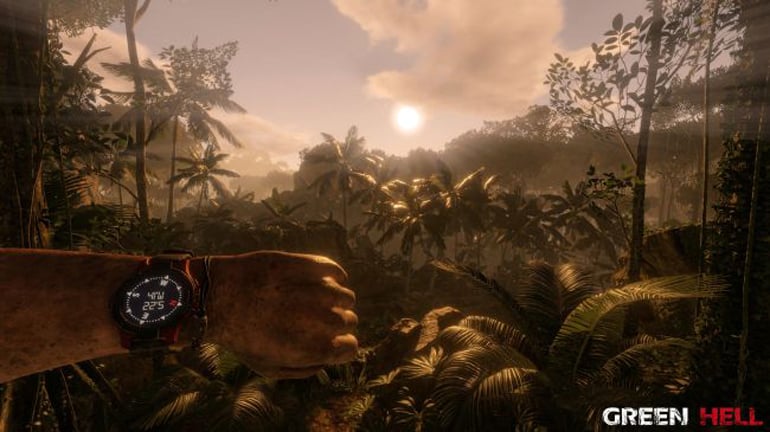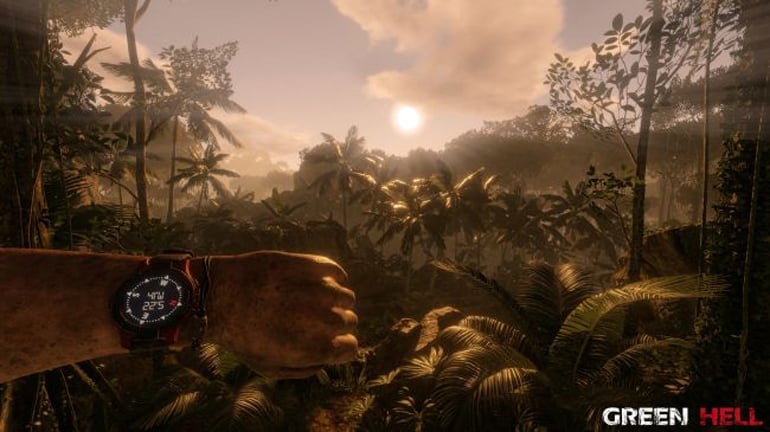 Gameplay wise, Green Hell is similar to what has come before in the genre. You hack away at trees and so on to gather materials, you combine those materials in interesting ways to create larger products and items with which to navigate and survive the world, and there is the hope that you compound your efforts until eventually, you are lord and master of the Robinson Crusoe lookalikes. It doesn't bring much to the table that is new in this department, and a lot of what is seen is par for the course. I do like the UI, where items are actually placed on your backpack and stored neatly, and when you use the items they are taken out of your backpack and placed down. Little touches people.
However, it is with the more "survivally" aspects that I began to tire somewhat. I think there's a balance that hasn't been well-enough struck here. You have the typical meters to watch: health, hunger, thirst, etc. You can obtain injuries on your body that you must manage, and which are displayed nicely by examining the limb or body part in question, and seeing if it needs medical attention. However, the big problem is just that these meters drop far too quickly. It goes from being a gameplay element creating tension to just being a chore.
The last meter is one that I think needs some proper discussion about its shortcomings. You see, Green Hell, as its name might suggest, frames itself as a Joseph Conrad, Heart of Darkness style journey into the insanity that is born in the wildest parts of the world. It quite literally uses a quote on the webpage from the book and labels itself as a "psychological survival horror" on Steam. You know what this means boys and girls. That's right – a return of our good old friend and terrible gameplay element, the Sanity Meter. Shouldn't you be off poorly functioning in an H.P. Lovecraft video game adaptation, my little friend? Well, you're here now, and let's see what you can do.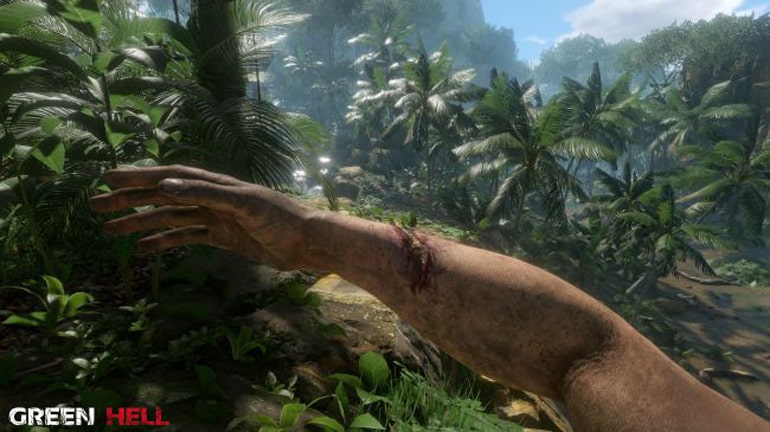 The problem is, with the story not being completed yet, the sanity meter has very little to do. And it overcompensates for its lack of purpose. You've been bitten by a snake? Sanity meter down. A leech bit you in the water? Sanity meter down. Perhaps a Pissed Off Meter would have been more appropriate in this instance.
I tease the idea because it's not doing anything yet. It may have more success in the full release. However, as is, it contributes very little except irritation at this stage. That's the trouble with trying to portray madness to sane people. It's a little bit like giving a fish that bicycle.
Visually, Green Hell is a treat, and may well be the most attractive element of it at present. The jungle looks lush and inviting, and it's also not randomly generated, so I am able to get a proper map down into my mind. The audio needs a bit of work, especially with syncing audio and clearing up background noise.
All in all, Green Hell has a couple of good ideas and a couple bad ones. I played it for a few hours now and felt little need to come back to it, and it is only the plot and how it interacts with game mechanics that will induce me to change any of my opinions. However, I shall give it a fair and equitable hearing on that date.