As someone who had known about the game but never played it before, I had a sort of blank slate approach to the world, the gameplay, characters and the story of Greedfall.
A guest review by Lwando Kelembe
Read our full Greedfall review here.
Greedfall Overview
The game is centred around De Sardet and his political/diplomatic dealings with various chiefs and leaders across the different towns and villages of the beautiful island of Teer Fradee. With an abundance of quests and side quests, you won't ever be lacking things to do in your gameplay.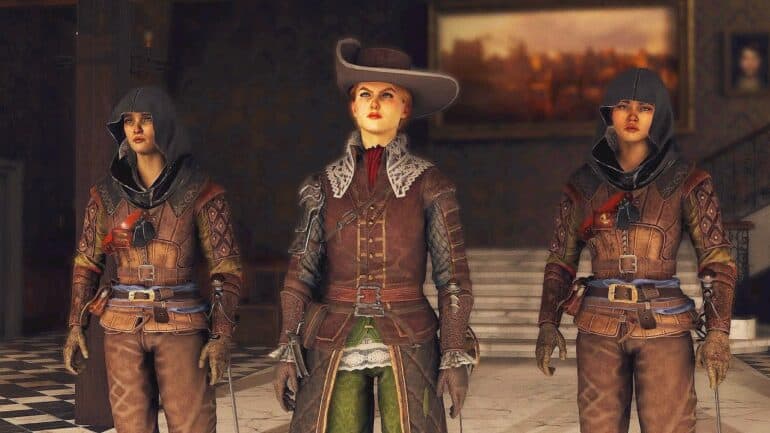 Gameplay and Mechanics
Talking about the gameplay, I found myself a bit disappointed with some of the mechanics in general, but especially the fight mechanics and the dialogue. I've grouped these two together as I have the same grievance with both. Repetitiveness. The dialogue is super repetitive to the point of annoyance (there's only so much "a bit of poison on my blade, and let's go!" one can take before losing any semblance of sanity).
When it comes to the fight mechanics in Greedfall, there's a bit more wiggle room as you can build up your character with different skills as you go along. What I found though was that if I stuck to a simple formula of spells, dodge, potion, switch to the weapon while recovering magic, then back to spells, I could generally overcome most enemies I came across.
A point of frustration is how enemies have this line of sight gauge, which can be useful in more stealth missions, but tends to reset everyone's (including my party's) health and stats mid-combat — meaning you have to start the fight all over again. Keep in mind, any potions, traps etc. you used before that reset are then wasted.
What I most enjoyed about Greedfall on the PS5 was the rich storyline, with plenty of twists and turns along the way. The way the game reacted to my decisions was fun as it meant I had to think of different ways to approach situations and pay attention to some of the seemingly random sayings my companions would throw out at times.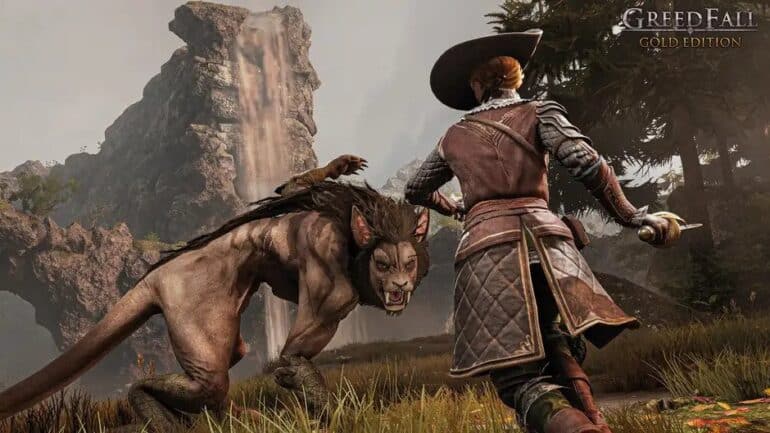 Greedfall: The De Vespe Conspiracy DLC
This DLC is accessible at roughly halfway through the base game. It adds an in-depth and quite enjoyable storyline revolving around the De Sardet's and d'Orsay's rival family, The De Vespe's. After hearing of your involvement in the political affairs of Teer Fradee, the unscrupulous De Vespe family follow you to the island and add a bit more mayhem for you to untangle.
In addition to the new storyline, we also get new enemy types, a new area to explore, new weapons, armour sets and crafting options.
Again, I enjoyed the intriguing storyline and how it interacts with your in-game decisions, while adding new enemy types with that brand new area give the game a freshness that is always welcome with any DLC. The different approaches, whether it be sneaking around or disguising yourself also brings a different element to the game. Encountering new enemy types and learning their mechanics and how to counter them was also rather enjoyable, not to mention the new human enemies who bring with them a new level of difficulty with their shadow techniques.
In terms of cons, I have to mention that the face design in the cutscenes in the Greedfall: The De Vespe Conspiracy DLC is not great, while the in-game dialogue can be quite repetitive. The fight mechanics also become a bit mundane after you figure things out and especially once you start levelling up your character. This one is possibly just me but I did find the native accents a bit forced and not so believable.
Conclusion
All in all, Greedfall: The De Vespe Conspiracy is a good and enjoyable DLC but at the same time, more of the same. I do think it will be very appealing and enjoyable to lovers of the original base game but might be a bit of a letdown for anyone new to the game or any other RPG fans looking for an alternative to The Witcher or The Elder Scrolls.
An overall enjoyable experience but unfortunately not one I found myself overly attached to, nor particularly engrossed by. The DLC is not very substantial, with not all that much substance or things to do and can be completed in about two to three hours.
Both the base game and the expansion offers beautiful environments in the open world and cityscapes but some disappointing interiors and rather bland NPCs. It can be frustrating at times but also has some very enjoyable moments. The DLC is not badly priced and I would recommend trying it out for yourself. And to that, I say "a bit of poison on my blade, and let's go!"
The Review
GreedFall: Gold Edition & The De Vespe Conspiracy
Greedfall on the PS5 is good - but at the same time, more of the same!
Review Breakdown
Gameplay

0%

Graphics

0%

Replay Value

0%

Sound and Music

0%

Story

0%