There are essentially five things most gamers are looking for in a good racer: amazing graphics, a variety of vehicles, accurate physics, plenty of maps and, of course, a killer soundtrack. Polyphony Digital's Gran Turismo 7 (directed by Kazunori Yamauchi) delivers on all fronts, and when you add to it an appreciation of the history of the automotive sport and the celebration of 25 years of being the undisputed king of driving games, Sony's flagship series establishes itself as one of the most exciting racing games ever created. More importantly, it shows off the true power of the PS5 better than any other racer out there.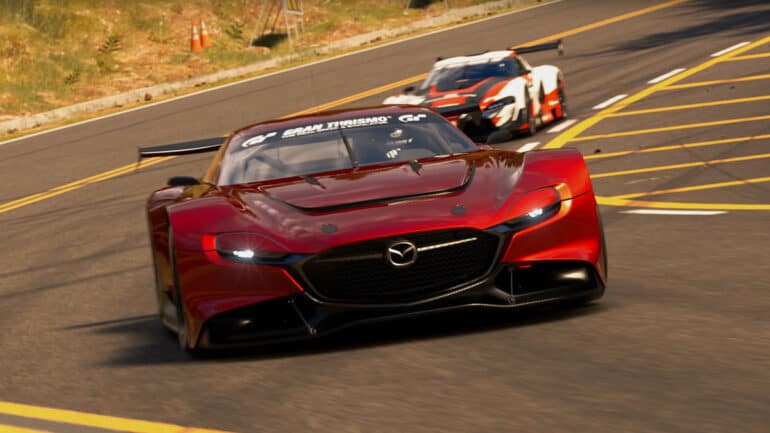 Firstly, let me say, I'm by no means a petrolhead. While I appreciate a good looking vehicle as much as the next person, I personally have never even seen my own car's engine. I've never felt the need to know anything more about driving beyond actually operating one. And yet, Gran Turismo 7 (the eighth mainline entry in the franchise) completely understands that and does enough to get me (yes, even me) excited about finishing laps in pole position.
There's just something about the presentation that manages to draw in casual racers and those enthusiasts looking for a dedicated sim where they can control all the intricacies of a vehicle. Somehow the title finds the perfect balance and offers the best of both worlds. It's an incredibly welcoming game. Even if you know very little about the sport, you won't feel overwhelmed at all.
Gran Turismo 7 carries itself very differently from Need for Speed or Forza Horizon. It's a little more classy and maybe a tad bit more serious about racing as a whole. And yet, the latest instalment still leaves a little room for fun. Whether it's racing to Hooked On Classics by Royal Philharmonic Orchestra or taking a sharp corner with a Fiat 500 or a Honda BEAT, the game presents racing culture as something that can be enjoyed by everyone.
Following a lengthy introduction sequence that highlights racing over the years, you're greeted by an avatar who takes you through the world map. You're told to visit a cafe where you receive Menu Books and instructions on how to gain an assortment of new and used cars (Gran Turismo 7 starts you off with the basics before you get to move on to a more exciting speedster). The tasks are set out on the map. Win your race and you move onto a new Menu Book with bigger and better vehicles (there are more than 400 licensed car models to collect). Losing your race means tuning your vehicle or attending License Tests to improve your driving. It's a pretty simple system and most of the cool content is locked behind this progression.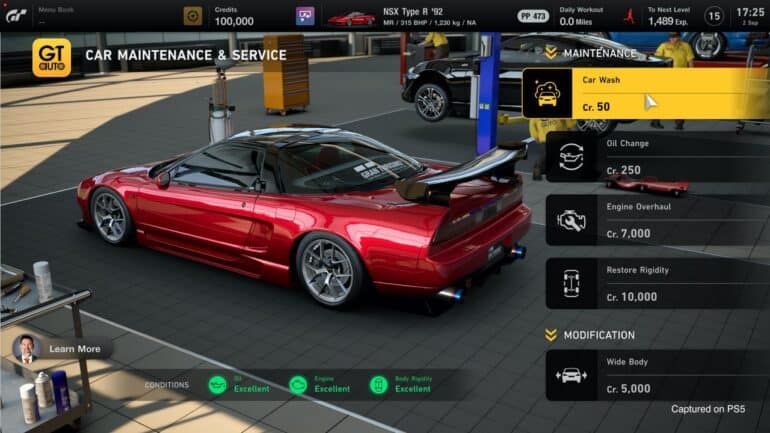 Again, even if you're not an enthusiast, in Gran Turismo 7 you'll learn to appreciate the elements that go into making a car special – from the shiny looks to the engine, brakes, suspension, and tyre size. Thankfully, it never expects you to completely geek out over any of this but instead presents it in a way that everyday gamers can understand. In other words, it can be both arcade and simulation depending on what you want from it.
Of course the biggest drawcard to Gran Turismo 7 is the graphics. From the moment your car roars onto a track, it's very evident that a lot of time and energy was spent making sure that the vehicles are detailed and accurate. But, hot damn, do they look amazingly realistic. If it weren't for the backdrops, you'd swear you were actually watching or controlling a real-life car. The graphics are just out of this world. Even if you don't give a —- about racing or racing games, admiring Gran Turismo 7 (which runs at 60fps at 4K on the PlayStation 5) as a technical achievement is enough. When you couple the beautiful automobiles (both exterior and interior) with true to life weather conditions, you get one of the best looking titles on the PS5. It's definitely set a new benchmark.
Then, as it should, the haptic feedback controls immerse you even more into the world and the adaptive triggers allow for resistance in braking and accelerating. You'll feel every bump, skid and rumble as you speed across the track.
If you ever wanted to race a Ferrari at the Nürburgring Nordschleife, without actually spending your life savings, this is the best way how. From the sounds to the physics and the photo-realistic animations, it really feels spot on. And while not everyone is capable or interested in controlling a beast of a car like that at 211 mph, Gran Turismo 7 allows you to set the difficulty and is as user-friendly as they come.
This is what next-gen gaming looks like.
The Review
Gran Turismo 7
Gran Turismo 7 is an absolutely stellar racing game. You can't help but get lost in its beauty and even its excitement for the sport.
PROS
Amazingly detailed graphics
For both newcomers and experienced players
Makes racing fun
CONS
The menu system might divide fans
Review Breakdown
Gameplay

0%

Graphics

0%

Replay Value

0%

Sound and Music

0%