You've just bought your first racing simulator, and you're all set for the ultimate racing experience on your console. However, things start quite shaky, getting used to the controls and the very taxing nature of realism. A short while later, you begin to come to grips with the settings and, as a quote from the film, "smoother is faster." Eventually, you take every corner in its stride, hitting all the apexes as you confidently accelerate out the corners into pole position. As with a typical experience with some more advanced games, as you progress from frustration to enjoyment, so was my experience with Gran Turismo (2023).
RELATED: "Superior to District 9" – Early Reviews Suggest Gran Turismo Is Neill Blomkamp's Best Film
A True Story – Well, Sort Of
By now, most would know the story behind the film and what inspired the events.
A young sim racer, having reached the heights of Gran Turismo, is one of several drivers in different regions given the opportunity to join the Nissan GT Academy to test their metal on a real track in real cars against other sim racers. Having won his leg of the entry competition, Jann Mardenborough (played by Archie Madekwe) joins another nine racers to test their skills and see if they have what it takes to become an actual, qualified racer.
As is often the case with many gamers and eSports in general for youngsters, Jann is pushed by his father (Djimon Hounsou) to get out more and be more like his brother, a budding footballer. Having been a semi-professional footballer himself, Jann's dad doesn't see the world of sim racing, or gaming as a whole, as a means to a future or career. This leads to plenty of tension between the pair as they butt heads quite often.
Having reluctantly joined the project as a coach to the drivers, Jack Salter (played by David Harbour) has no hope for any of the young talent. In fact, his entire aim is to prove that none of them belongs on the track, but he still does his best to push them to their limits, both mentally and physically. It is here, too, that Jann and Jack are at odds with one another as well, with the latter doubting Jann's ability to feel the car and provide actual constructive feedback on the setup and more. Having proven Jack wrong and winning the final race of the trials to be selected as the driver to represent the GT Academy, Jack begins to soften to his on-track talents. He becomes something of a reluctant father figure to Jann.
In a series of six races, Jann is expected to place at least fourth in one race to earn his FIA licence to compete in a GT series racing tournament. It is here that he's immediately thrust into the world of motorsport and what it means to be a racing driver. Although things don't turn out as smoothly, he does eventually qualify and then sets off to make a name, not just for himself but the entire sim racing community at large, having not been openly welcome to the paddock.
A Film of Two Halves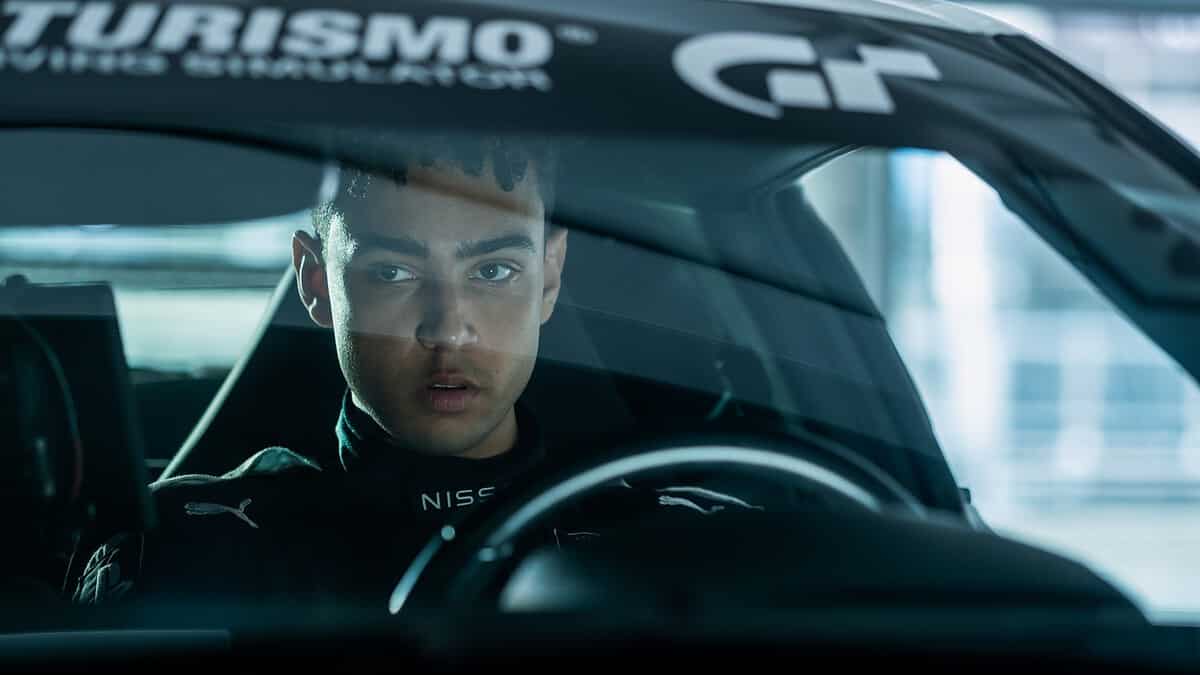 There's been plenty of hype and build-up to Gram Turismo prior to the press tours and screenings around the world. While some regions have, unfortunately, delayed their release dates, South Africa still proceeds with its expected 11 August 2023 release date. Fans of the game, motorsport and general film have been highly expectant of the film, which some have labelled as Neill Blomkamp's best.
Personally, that comparison doesn't hold true for me. However, that's not to say Gran Turismo is a bad film. Anything but. Upon commencing and sitting through the first 10 to 20 minutes, I feared the worst. The film felt straightforward and predictable, with clumsy delivery of weak dialogue that made me squirm at times. But, just as Jann's on-track performances started to improve, so did the film as a whole and the acting of the young Archie Madekwe himself.
Looking back now, it feels almost as if it was intentionally done to some extent, with viewers growing into the role of judges of the film and the level of racing provided. It's a strange concept but not something too far-fetched to be factored in. Be that as it may, the end result was an endearing film that had quite the impact, especially for gamers and eSport athletes looking to make a name for themselves or to actively pursue these options as a veritable career path.
RELATED: Win An Amazing Gran Turismo Film Hamper
The World of Motorsport Brought to Life
If you're a fan of Gran Turismo or the various forms of motorsport, you're familiar with all the backdrops in the film. Moving from the Red Bull Ring in Austria for the first race to the drama at the Nürburgring on the Nordschleife layout. This culminates in the most prestigious of tracks, Le Mans' Circuit de la Sarthe. In many aspects, you don't often get to see the tracks in such glorious detail as it's brought to the fore on the big screen. Even the detail in the asphalt can be seen in some shots to provide just that extra level of immersion for viewers.
There is plenty of track time within the film, which presents plenty of racing action and incidents. Yes, it still has its Hollywood spin to make for a more dramatic experience, but it's never overly exaggerated to make it feel silly or take you out of the experience entirely. The action shots are also quite rounded, offering everything from in-car footage as a first-person driver to lower camera angles from the wheel arches. However, the most notable shot in the film was the reverse-flight drone footage. Or at least, this is what I called it in my head. The shot features the drone flying into the pack of oncoming racing cars to give you more of the sense of speed and risk each race provides. And it works great, too.
It's the pinnacle viewing experience for motorsport fans. In fact, if I could get any post-race footage of this nature of any of the racing I typically watch, I would definitely not have a problem watching race repeats. This is far beyond the additional scenes we get to discover in Netflix's Drive to Survive.
While there is plenty of real-world racing happening as part of the action sequences, what the film does really well is mixing this in with Gran Turismo in-game overlays, as well as CGI footage resembling that of the game. So, even if you were to pick up that a certain scene is completely CGI, it doesn't matter as much as other movies with the intertwined nature of the Gran Turismo film.
With All the Highs, There Have to be Lows
Although I did mention that this was a film for motorsport and gaming fans alike, it'll also be quite frustrating to the former group. While each race provides a different level of intrigue and drama, there's one glaring absentee for each – qualifying.
Anyone who's ever watched a single race or completed a full race weekend of events in the Gran Turismo game understands that this is almost always a given in most races. Jack's pit manager role is dramatised by his ability to provide apt instruction to Jan as he progresses through each race. However, the manner in which this is conveyed is as if he's out there for the first time. Jack's earlier film comments that each of the sim drivers is a danger to everyone around them, which could lead to people dying, is proven true when you're throwing a rookie out onto the track in a near-400kmph piece of metal. If that's the case, you're not just crazy, you're reckless at best.
Looking back now to a film like Ford v Ferrari, I can see how I took for granted the meticulous work Ken Miles (Christian Bale) conducted on the cars over and over again. As a fan of motor racing, it seems almost like a given, an expectation before and after every race. Bringing all these elements seamlessly into the film just means so much more.
In addition to this, the pit engineer and manager often engage in driver interactions on information like where they're losing time on track ("you're braking too early into corner 9" as an example), whether the tyres and engine are at optimum levels (heating, wear, etc.) or distances to catch or being caught by the racers around them. However, what we get is an explanation to the viewers of obvious feedback that we don't really need. Comments like "now speed up", "make the pass", and more aren't the great inspiration it aims to be. There are great interactions between Jann and Jack throughout the film, especially after some major events in the film that means a lot more and make sense when those instructions or feedback are provided. Diluting these moments with filler commentary throughout each race is annoying.
RELATED: Gran Turismo's Actors Underwent Formula 1 Training
Still a Great Watch
I've often had to be reminded that I'm watching movies to escape and enjoy the made-up world we're thrust into as the viewer. However, when you're left having to review any film, you can't always separate yourself from judging every point with a red pen. That being said, it's always good to be able to sit through a film, having enjoyed it to the point where you forget the above-mentioned.
While starting off slow and clumsy, Gran Turismo builds itself up into a really good film that motorsport fans, gamers and general film fans would enjoy.
The Review
Gran Turismo
A suspenseful, coming-of-age film for a sim racer turned motor racer. Although not without its flaws, Gran Turismo delivers a fun experience for everyone.