One great news is coming to the world as far as catastrophes are concerned. Google has now created the world's biggest earthquake detection network by using Android phones as seismometers. Your phone will be able to detect seismic activities and give you warnings.
Google announced that the new feature went live in August of 2020. Millions of smartphones on the Android platform now form what is called the Android Earthquake Alerts System. The leader of the system Marc Stogaitis said that a person's Android phone is going to be a part of the program. It means that anyone's phone could be a mini seismometer.
How Does It Work?
The Android system will make use of the phone's accelerometers. These are small devices that are in all Android devices. They can sense motion and velocity. Their main function is to track a phone's orientation, which is mainly used in gaming, like when playing mobile games in the Canadian casino VulkanVegas, for instance.
The network system that Google launched will gather data. Based on the phone's data from its accelerometer, it will be able to detect signals that may or may not indicate an earthquake. This system doesn't "predict" an earthquake. Instead, it gathers data if there is an earthquake detected, including the location of the device.
The network will combine multiple signals to analyze all the data. It is capable of pinpointing the severity of the earthquake and then send an alert to phones located in areas that are affected or may be affected. This should give people a few seconds of warning to act and get themselves to a safe place.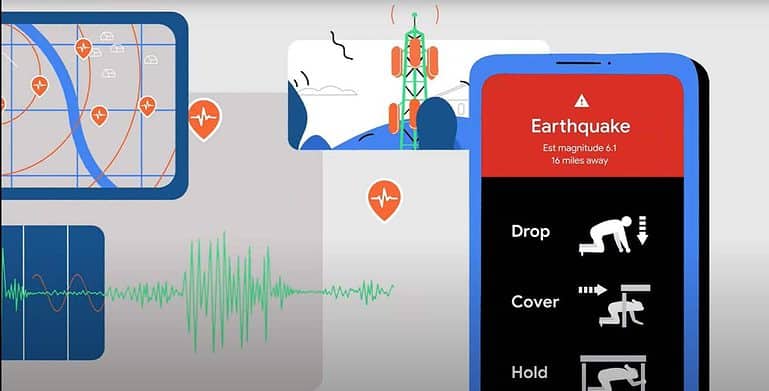 What Made It Possible to Create Such a Feature?
The feature is made possible because of Google's strengths. It has created a smart operating system, plus it has a collaboration with Apple. Apple created the exposure tracing system. Android also has car crash detection systems and emergency location services. If all of these systems are combined, the Android network can be a useful tool to make the world a better place.
According to Marc Stogaitis, signal detection is trying to pass data at almost the speed of light. This is not at all impossible, as data transfers are now at these speeds. Thankfully, the speed of light is faster than an earthquake. What this means is that the system can send alerts even before the earthquake can happen in some areas.
This is a great development, considering that there are now 2.5 billion Android phones in the world. Because of this number, Google no longer needs to install costly seismometers in the ground. The phones themselves can be used to gather seismic data around the world.
Google's office, which is located in California, is prone to earthquakes. There are currently more than 700 seismometers installed in the US by the US Geological Survey (USGS). These 700 seismometers are what powers the Shake Alert System. Now that Google has created a new system, these will be integrated into the Android network. Now, the earthquake detection system is going to be world-class. All Android phones will have this feature and will help save lives.
How Is It Going to Be implemented?
The roll-out of this project is not abrupt. The system is going to roll out in stages. First, Google is going to polish its partnership with the USGS. Part of this partnership also involves the Emergency Services of California.
The second stage is where Google will power Android phones for this purpose. However, they are treading cautiously to ensure that the Android updates are smooth and that the data sets are reliable. Once the transition is complete, Google will be able to create charts of localized results.
If you think there is an earthquake in your area, you can go to Google to validate if that is what you feel. The other most important function is that the system, with its algorithmic programming, is going to send messages on Android devices to warn people of an impending earthquake. This can happen no matter what you are doing, shopping, working or even playing slots for money.
The messages should prepare recipients to duck and cover or to go to designated evacuation areas in their localities. The system can help save many lives, especially those who live in earthquake-prone areas. Right now, the plan to send messages is not yet functional. Google and its partners are still in the testing phase. Once the system achieves a level of acceptable accuracy, the next phase will be put in place.
Lastly, users need to opt-in if they want to use their phones as part of the seismic detection network. Those who do not opt-in will not be sending data to the earthquake detection system. It is not known yet if they are going to receive earthquake warnings if they decide not to opt-in.