The long-awaited face-off between two of cinema's most iconic giant monsters is upon us. Warner Bros. Pictures and Legendary Pictures have finally released a full-length 2-minute trailer of Godzilla vs Kong, the next instalment in their cinematic Monsterverse franchise, and to say it looks epic is an understatement.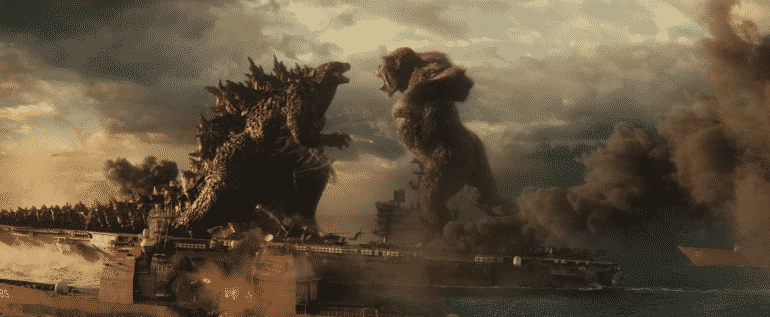 On paper, to me, the idea of a Godzilla versus Kong film didn't seem all that appealing. When you consider that audiences have strong feelings towards both characters, it always seemed like putting the two in a boxing ring was both silly and unnecessary.
That was until I saw the new trailer for Godzilla vs Kong.
Not only has director Adam Wingard made me eat my words, but he actually delivered a trailer that promises one of the most epic showdowns in recent film history. This is Batman versus Superman. It's Captain America versus Iron Man. It's Bumblebee versus Optimus Prime. But it's also so much more.
Combining the characters and cast from 2019's Godzilla: King of the Monsters (including Millie Bobby Brown, Kyle Chandler, and Zhang Ziyi) and 2017's Kong: Skull Island, Godzilla vs Kong promises plenty of destruction and mayhem.
While we were initially in the dark about the reasons for the battle between the two titans, the new trailer reveals that the giant ape (who now looks much bigger than he was in the previous film) was brought to the US to fight Godzilla — who has begun attacking mankind for an unknown reason.
While we do get a good look at some of the action sequences in the new footage, it seems like both giants are equally matched in strength.
The good news is that we won't have to wait long to find out who the true king is. Godzilla vs. Kong is set to release both in theatres and on HBO Max on March 26 — not too far away.
If I was a betting man, I'd say my money would be on a stalemate between the two. But that's just a good guess.
What did you think of the new Godzilla vs Kong trailer? Is it as epic as you imagined?
https://www.youtube.com/watch?v=3O3iPiAn-Yk