I've just seen a 400-foot tall lizard monster fight an even larger three-headed dragon and destroy several cities in a row, as a giant pterodactyl and moth also get involved in various capacities. It's is everything I should be loving. And yet…I find myself slightly underwhelmed by Godzilla: King Of The Monsters. And I'm trying to understand why.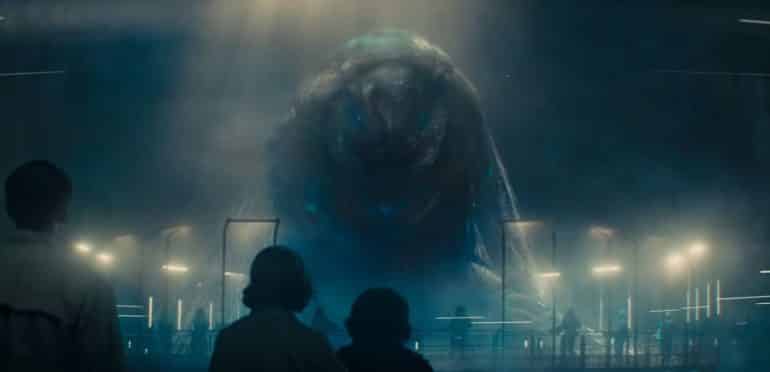 Firstly, you should leave right now if you're not into giant-monster-city-smashy movies, or as some might call them, Kaiju films. If you don't like the idea of them, nothing about Godzilla: King Of The Monsters will convince you otherwise. Go and watch something with lots of clever dialogue, and good life to you. Meanwhile, some of us came to watch amazingly rendered CGI versions of classic Japanese monsters fight each other and cause massive property damage.
The plot is a sequel to both Godzilla (2014) and Kong: Skull Island (2017). The kaiju (or Titans, as they are now known here) are naturally known about by everyone, as the destruction of San Francisco and Las Vegas was kind of hard to hide in 2014. The government agency, Monarch, is tasked with monitoring and containing the Titans, of which there are now 17 known variants. Dr Emma Russell (Farmiga) and her daughter Madison (Brown) are involved at the site where one Titan, Mothra, is preparing to hatch. Emma has developed a new kind of device, called the Orca, that allows for communication with Titans. Just as she completes a test with the recently hatched Mothra, the base is stormed by eco-terrorists, led by Alan Jonah (Dance). They kidnap her and her device, and set off to awaken King Ghidorah, an ancient enemy of Godzilla among the Titans. Monarch involve Mark Russell (Chandler), the ex-husband of Emma and father of Madison, in an attempt to track down the Orca before Ghidorah can be awakened.
Spoiler: he is too late.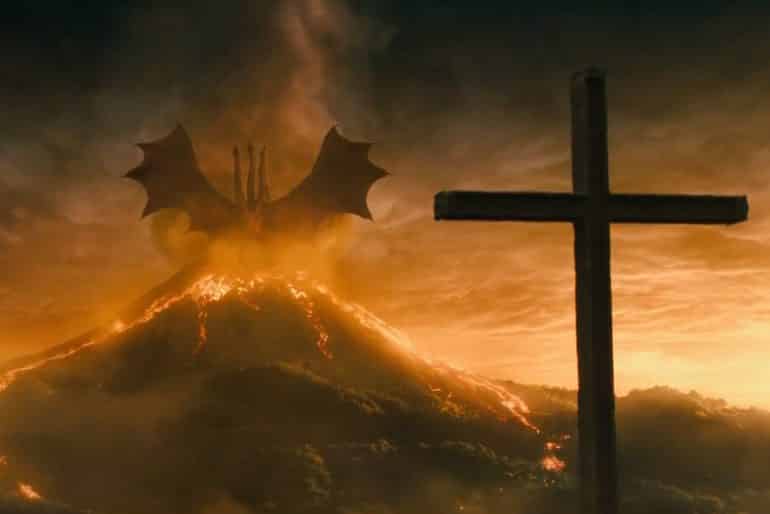 Ghidorah awakens, and through various means, a bunch of other Titans are awakened too, including the flying reptilian Rodan. Most of the rest of the movie involves cutting between our human characters and our Titan characters as they smashy smashy. In simple terms, Ghidorah and Rodan are on the "evil side" and Godzilla and Mothra are on the "good side," but such divisions are quite simplified by me here.
In general terms, I loved the idea of 2014's Godzilla, which was to make the scale of Godzilla even bigger and bring him to the Western context in a way that kept the point of him intact in a way that the '98 didn't achieve. However, that film spent way too much time with human characters we didn't care about and cruelly cut away from Godzilla any time he was about to do anything cool, until the last act of the movie. In my opinion, Godzilla: King Of The Monsters has only mildly improved some of those points, while introducing new problems. Let's start with the good, and move into the more questionable aspects for me.
The good part is that more monsters = more smashy smashy.
It's amazing to see icons like Rodan, Mothra, and King Ghidorah brought to the screen on such a scale, and I honestly never thought it would happen. The movie also isn't shy about the level of destruction caused, and some shots are wonderful at carrying this across.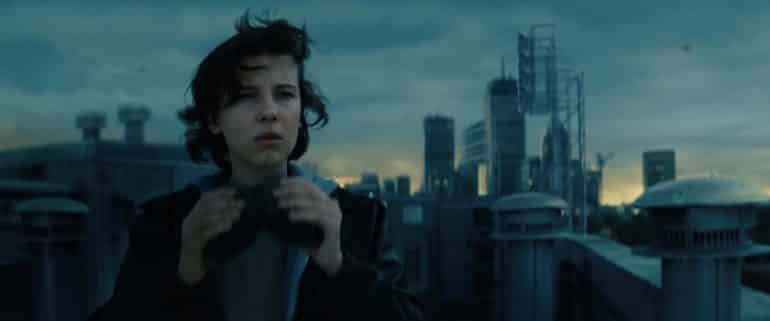 On a more negative side, we're still spending too much time with the damn humans, even past the point where we should be in big monster set pieces for 90% of the time. I find this cast of characters somewhat more bearable than the 2014 set but, at the same time, they often have some of the most cringey dialogue ever committed to a major motion picture. Ken Watanabe remains the best part of the human cast, by a vast margin.
About those fights? Well, I don't think the movie is confident enough in its premise to let what is happening fully be realised visually. It seems almost embarrassed to have King Ghidorah on screen in full, all at one time. Whenever the monsters are fighting, it's at night, or in a massive dust storm, or in the Antarctic, or in a giant thunderstorm. Basically, it's hard to see what's going on a lot of the time. Part of that is the setting, but part of it is the way scenes are shot, which are not always amazingly done, I think.
Another point is the relation of the destruction to the scale of the world around them. There are only a few moments here that really indicate how massive the Titans are in comparison to the human world they are destroying, and in my mind, 2014 had quite a few better shots that achieved this purpose. In Godzilla: King Of The Monsters, we seem to jump too much between the separate worlds of the "monster scale," where cities are just giant battlegrounds, and the "human scale," where things are just blowing up around them indiscriminately. There is one really good moment where these two scales intersect, which is when Rodan first flies over a city and destroys it with his wings flapping. That's the kind of thing I wish we had seen more of.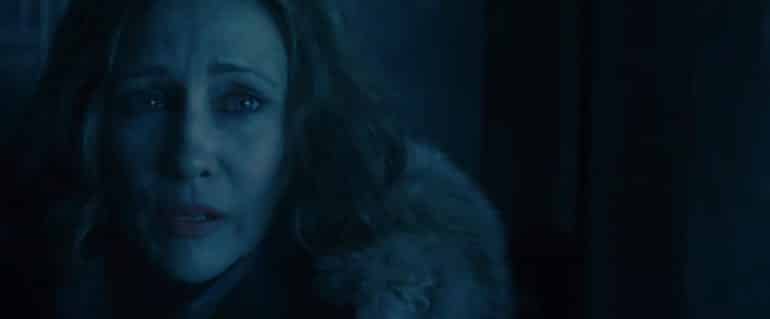 Lastly, I just think the choreographing of the fights was just a little boring. 2014 had a great moment where Godzilla finally uses his atomic breath, and I didn't see it coming at all. Here, he gets a new power at the climax involving his Atomic Blast, but it didn't nearly have the same impact. My reaction was kind of like, "Oh okay, I guess the bad guy is dead now." I kept on waiting for one spectacular set piece that never came.
Part of the problem I guess is that the trailers for this film literally gave everything of value away, and there were no surprises at all left. But I do think it went beyond that, and there were missed opportunities to really up the stakes in a way that would expand the franchise, rather than be more of the same but with more monsters.
Please do not think I didn't enjoy Godzilla: King Of The Monsters. I like kaiju movies, and this one was fine in most ways, and great in others. But I really did wonder why I wasn't especially moved by it, and I've had to take some time to articulate why. I think I might enjoy Godzilla vs Kong even more, as it works on a slightly different premise than the same "evil monsters Godzilla must smash" that we have had now from two movies.
The Review
Godzilla: King of the Monsters
The good part is that more monsters = more smashy smashy. On a more negative side, we're still spending too much time with the damn humans.