God of War on PC couldn't be better than the console version, right? Well…
Back in 2020, Sony released its biggest port at the time, Horizon Zero Dawn. Although it wasn't met with unanimous praise all around, it was a very good port. After having clocked just 100 hours clearing all the last achievements, I hung up my boots in wait for Sony's next big move. Just prior to the release of HZD, rumours circulated as to whether we'll be seeing Kratos as the next big Sony port for PC. Fast-forward a few years and that's exactly what we received this past week in the form of God of War.
Yes, that's correct. After nearly four years, God of War is now a PC game.
It's clear that there was excitement abound as well in anticipation, with the PC port seeing pretty impressive numbers over the launch weekend. Steam reports that the maximum concurrent players were around 73,000.
However, despite the numbers, there are still a lot of moving parts as to whether the port would be any good. We've seen some seriously bad ports over the years, irrespective of the console, so fans would still await the first round of reviews for confirmation that this isn't just another bad-port cash-grab.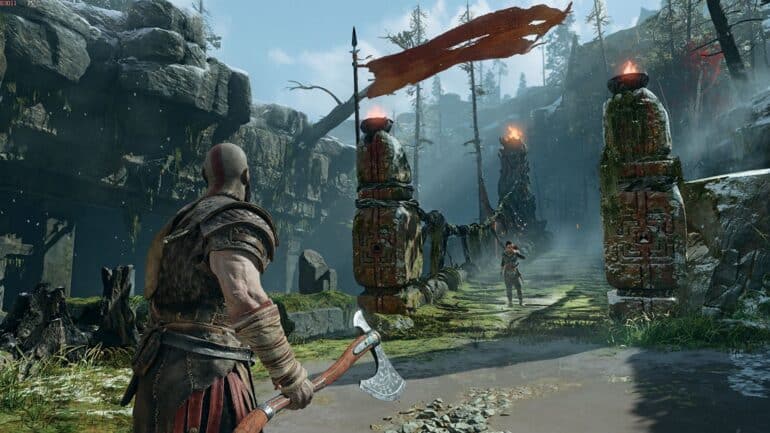 The Story
Many fans of the game would already know much about the story from the latest God of War title. If not, Fortress covered that in the review on PS4 back in 2018.
In a nutshell, God of War revolves around Kratos (a Greek god) who has to journey with his son, Atreus. After losing his second wife, the two travel to fulfil her dying wish: to scatter her ashes at the highest peak of the nine realms.
Unlike previous games, which were based on Greek mythology, the latest game is loosely based on Norse mythology. This is a welcome change of scenery, which also brings a whole host of new challenges for the two protagonists as they set upon their journey.
But that's not the big talking point here. It's all about those smooth FPS. When God of War launched on PS4, players were treated to the standard 30FPS. For those who managed to bump up to the PS5, which offered an upscaled version of the game, it was still limited to 4K at 60FPS. Now, however, PC gamers can enjoy God of War with 4K graphics at 100FPS+ in all its buttery smooth glory.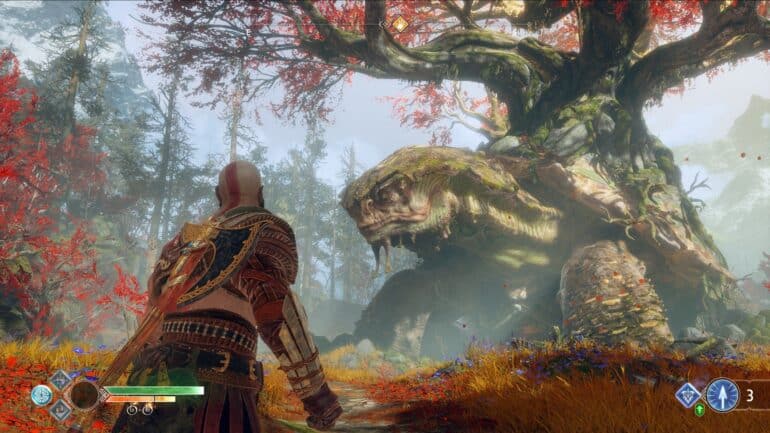 God of War on PC is Beautiful
At first glance, I wasn't drawn in as much as I was with HZD. The close-up view of Kratos didn't do justice to the surrounding that was to follow. While he looked great, it wasn't anything significant. However, when switching to the world view, the scenery and surroundings were amazing. Those light shots from the sky as the sun breaks through the darkened clouds are pretty much a summary of how visually beautiful the game looked. And all of that to be enjoyed as the backdrop to quite a few fighting scenes makes for some great gaming.
In addition to that, there are a lot of particle elements to the game as well. And this is really where the modern graphics card shines. With the RTX and tracing capabilities of these cards, there's a lot more engagement when it comes to interacting with the environment — when you walk on the grass, smash a rock and, most enjoyably, when attacking an opponent. This isn't just limited to blood splatter from each shot but sparks from your axe or fire embers from enemies.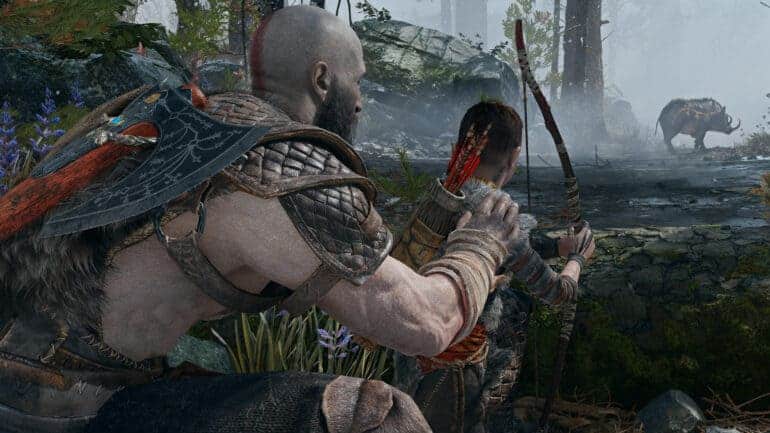 Requirements
Each of these aspects makes God of War on PC all the more engaging. Yes, the story is great and invokes quite a lot of emotion at times. But nothing draws you in as much as the graphical elements.
That said, you'll only really be able to enjoy the benefits of these enhanced framerates with a fairly recent gaming rig.
I tested the game on my gaming laptop and PC, one of which has an AMD GPU and the other NVIDIA. It's clear that the NVIDIA unit produced better graphics, framerates, etc. — although, both suffered the occasional overload which caused a huge drop in FPS for four of five seconds. I'd put this down to optimisation of the port, which has to cater for quite a huge lineup of GPUs, which isn't always going to be delivering 100% on expected FPS.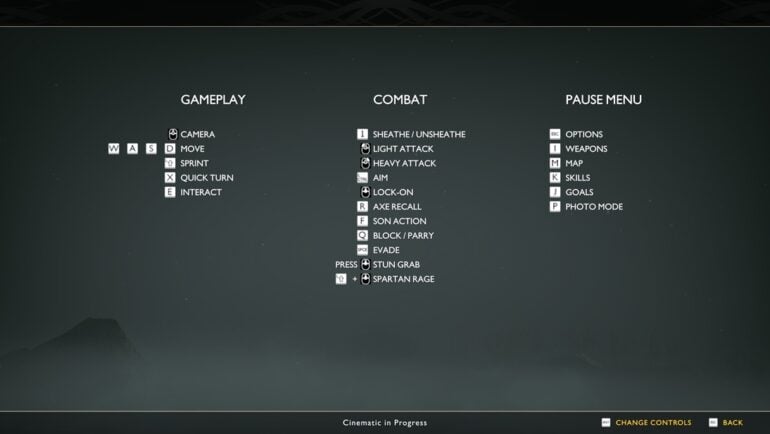 God of War PC keyboard controls
Being a PC game, I initially attempted to play God of War using the default keyboard controls. At best it was just manageable. Trying to reach each of the keys for those combo moves is a bit of a challenge. Some aspects of the keyboard combinations do work well, though — this includes the axe throw and various others. However, the one I found most annoying was the stun attack combination, which required the mouse scroll wheel button and shift. It's a bit clunky at the best of times.
For those who have controllers for their PCs, it is a much more preferred option. As with HZD, these games were developed natively for use with a controller.
And Then There's The Mods
One of the great benefits of PC gaming is the cool mods. Of course, God of War on PC isn't exempt.
Big eyes and a big mouth.#GodofWar #GodofWarPC pic.twitter.com/yTK7J9htPz

— Speclizer (@Speclizer_) January 19, 2022
We can look forward to more enhancements, adjustments and fun mods in future, I'm sure.
The Future
With Sony's two big PC ports (HZD and God of War) releasing some three to four years after it arrived on the PlayStation, I'm wondering whether this will be the same pattern for future ports. Don't get me wrong, the PC versions breathe new life into these games, with updated graphics, but the time between the initial and port releases is quite significant.
It's easy to understand why Sony wouldn't dare push for a multi-platform release for some of its exclusives, being a major drawcard to its platform. However, it may be of greater significance if the release schedule were reduced by a year or two. Sony has recently established its PlayStation PC label, which hopefully addresses the above-mentioned.
At the end of the day, God of War on PC is another triumph for Sony. The beautifully crafted story receives a great port that matches against a beautiful backdrop. Another PlayStation game receives a graphics boost on PC, making it better outside of its native environment.
The Review
God of War (PC)
One of the best PlayStation console games looks even better on PC. This is another great port from Sony.
PROS
Updated graphics with high FPS
Great storyline
Decent Steam price
Steam cards
CONS
Keyboard and mouse not the best combo
Suffers from a few GPU lags
Review Breakdown
Gameplay

0%

Graphics

0%

Replay Value

0%

Sound and Music

0%

Story

0%