Last week South Africa's biggest cinema chains, Ster-Kinekor and Nu Metro, announced that they will be reopening on Friday, August 28th.
To support the industry a consolidated campaign called, It's Time To Go Big Again has been launched in an effort to encourage movie fans to head back to the cinema. The campaign's central point of engagement will be held online, via the GoBIGagain.co.za micro-site. A #GoBIGagain hashtag has also been created to help spread the word across social media.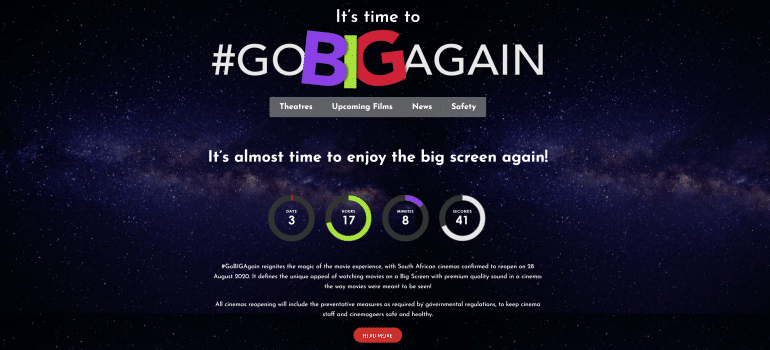 The site contains detailed information on every cinema's health and safety protocols, local and international movie and entertainment news, as well as direct links to various cinema groups in Southern Africa. There's also a list of movies heralding the return of the big screen experience.
It's Time To Go Big Again is primarily about reigniting the magical appeal of cinemas, because movies are made to be seen and experienced with a larger-than-life quality that only these venues can provide.
In a statement, members of the South African cinema industry committee said…
"We are very excited to roll out our Go Big Again campaign, which is the culmination of a coordinated industry effort to establish a responsible reopening strategy for the full spectrum of the local cinema business. All of South Africa's cinema exhibitors, film distributors and international studio representatives, along with other industry stakeholders, joined hands and have been collaborating for the past few months to effectively map out the reopening of the industry on non-competitive terms."
"We are also very grateful for the overwhelming support from our partners in the media and entertainment community, who have demonstrated keen interest over the past few months and teamed up with us to launch this campaign nationwide. It's time to go BIG again!"
The campaign also includes glimpses of past and present box office hits, cinematic classics, audience favourites, the power of South African film, and other striking content which defines the essence of watching movies on a big screen with premium quality sound.
However, beneath all the fanfare, the campaign's core objective is to assure moviegoers that every cinema will adhere to the coronavirus preventative measures required by governmental regulations.
Based on current regulations, and guided by advice from the Department of Health, the World Health Organization and internationally recognized industry experts, some of the key health and safety protocols being implemented in Nu Metro, Ster-Kinekor and other cinemas are as follows…
Online bookings in advance are encouraged.
Mask-wearing will be mandatory for all customers and staff, and can only be taken off while eating or drinking inside the cinema auditoria.
Temperature checks will be done on arrival for all customers at access points to cinema complexes.
Customers will have direct access to hand sanitizer at cinema access points, and are required to sanitize on entrance to venues. Various in-cinema messages encourage regular hand sanitizing and other precautionary requirements.
Social distancing measures will be implemented for cinema foyers and seating inside cinema auditoria, to ensure a physical distance of 1.5m is maintained between people at all times in all areas.
Access control management and a limit on ticket sales per movie showing will be applied to ensure venue capacity is capped at the required minimum per theatre, or public space within a cinema complex at all times.
All cinemas will be thoroughly cleaned and disinfected before and after each and every show.
All high-touch point areas such as kiosks, self-service terminals, serving counters, door handles, rails, benches, booths and bathroom areas will be disinfected on a regular basis daily.
All staff have been retrained ineffective and frequent hand-washing – targeting fronts, backs, wrists and between fingers – with soap and water for at least 20 seconds every time.
Some of the major new movie releases scheduled for cinemas over the next few months include, Tenet, The New Mutants, Mulan, Black Widow, Trolls: World Tour, and the new James Bond film, No Time To Die.
For more information, visit GoBigAgain.co.za and remember to use the #GoBIGagain hashtag to share all the details about your movie-going experience on social media.