Warner Bros. Studios has released the second official trailer for The LEGO Movie 2: The Second Part, offering fans a new look at the upcoming sequel scheduled to hit theatres on February 8, 2019.
The story picks up five years after the Master Builders saved their home from President Business. But now the citizens of Bricksburg are facing a huge new threat: LEGO DUPLO invaders from outer space who are wrecking everything faster than our heroes can rebuild. The battle to defeat them and restore harmony to the LEGO universe will take Emmet, Lucy, Batman and their friends to faraway, unexplored worlds, including a strange galaxy where everything is a musical. It will test their courage, creativity and Master Building skills, and reveal just how special they really are.
The all-new action-packed adventure is directed by Mike Mitchell and Trisha Gum with a screenplay courtesy of Phil Lord, Chris Miller and Matthew Fogel.
Chris Pratt returns to voice Master Builder Emmet Brickowski alongside Elizabeth Banks as Wyldstyle / Lucy. Other characters include Will Arnett as Batman, Alison Brie as Unikitty, Nick Offerman as Metal Beard, Channing Tatum as Superman, Jonah Hill as Green Lantern, Stephanie Beatriz as Sweet Mayhem, Arturo Castro as Ice Cream Cone, Tiffany Haddish as Queen Watevra Wa-Nabi and Margot Robbie as Harley Quinn.
We are also introduced to a new character – the super confident Rex Dangervest (also voiced by Chris Pratt). The coolest part about Rex? He introduces himself as a Galaxy-defending archaeologist, cowboy and raptor trainer – all references to characters Chris Pratt has played before in Guardians of the Galaxy, The Magnificent Seven and Jurassic World respectively.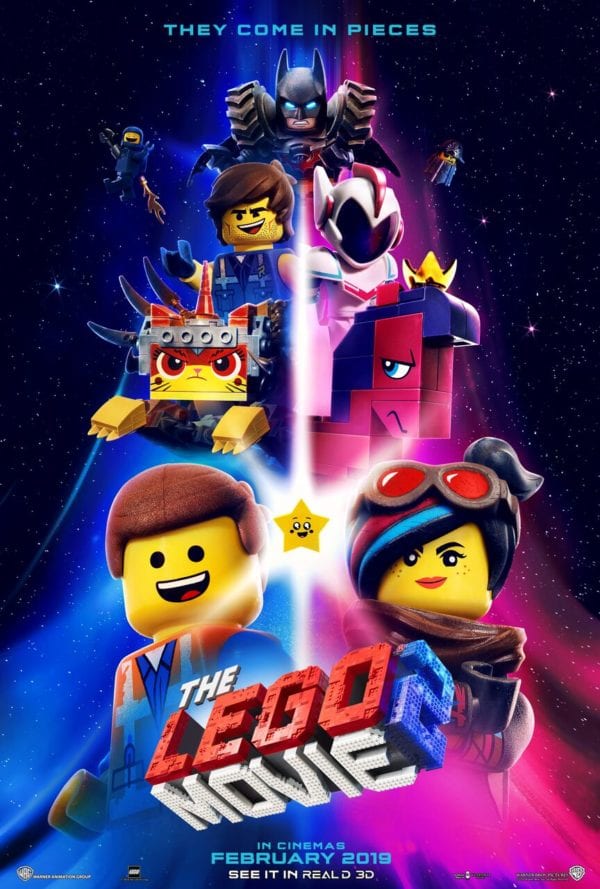 In the first The LEGO Movie 2: The Second Part trailer, which was released at San Diego Comic Con in June, the LEGO world is in a state of chaos but Emmet is still feeling pretty awesome. But things get even worse when Wyldstyle and some of her LEGO friends get kidnapped by a space soldier named General Mayhem – which naturally sets Emmet on a quest to save them.
The second trailer sees the ever-optimistic Emmet searching the galaxy for Wyldstyle after her abduction by a malevolent, alien force. We also get a first look at Rex Dangervest who saves Emmet's life after he strays into a meteor shower. Rex agrees to help Emmet save Lucy, but warns him about going to a star system ruled by the alien queen, Watevra Wa-Nabi.