It's pretty easy to pick up, with a fairly intuitive and quick tutorial. Once you've learned the game mechanics, Tango Gameworks' Ghostwire: Tokyo easily becomes addictive.
Welcome to Tokyo's lively Shibuya district! A place normally abuzz with vibrant life and iconic fashion is thrown into disarray when a catastrophic event wipes out most of the 200000 plus population of the icon city, leaving only you, Akito, as the only corporeal survivor in this nightmare setting. Desperate to find and rescue his ailing sister, Akito enlists the help of KK, a spirit initially intent on possessing him and taking control of his body for his own means. The partnership is a precarious one and as such takes some nurturing to build a rapport with the upside being that Akito gains some incredible powers from KK.
In Ghostwire: Tokyo, our protagonists must work together to figure out what is happening and how to stop it. The first step towards this is to clear the mysterious fog that now envelopes most of the Shibuya district while simultaneously fighting off the Visitors plaguing the city. Cleansing Torii gates all over Tokyo clears sections of fog and opens up new map areas to explore and progress the story.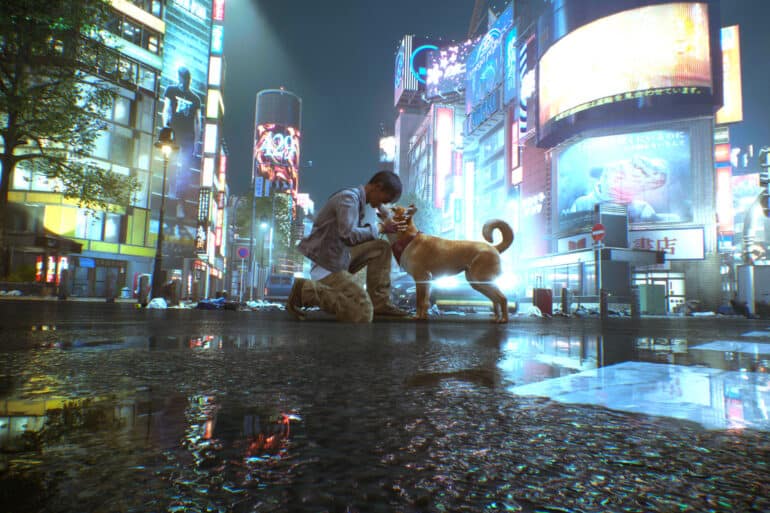 Plagued by memories and guilt stemming from how he handled his connection to his family and therefore his relationship with his sister, Mari, Akito is driven to find her and make things right. KK's motivations are of a totally different nature to those of Akito. Having witnessed and fallen victim to the mass vanishing, he is hellbent on revenge. He has no desire to leave this realm before settling the score with the lunatic responsible for this sorry state of things.
Ghostwire: Tokyo is a great story of family, friendship and desperation that is relatable and gripping. The quest to figure out what is going on, why it's happening and how to bring an end to it has a few twists along the way, taking us from the fog covered, visitor infested nightmare that is Shibuya district all the way to the underworld where the enemies are tougher and any mistakes can lead to a gruesome decapitation, or worse…
The nightmare theme in Ghostwire: Tokyo is fantastically consistent and one of the most enjoyable aspects of the game, especially when you fully immerse yourself in the experience with a decent pair of headphones to fully experience all the jump scares and horror of this title.
I had quite a few moments where I caught myself marvelling at how visually stunning this game is. Ghostwire: Tokyo is a visual masterpiece that captures the essence of stunning Japanese sites while adding an eerie element to things. The game design is excellent for the most part and adds to the sense of being sucked into the experience rather than just playing yet another game.
The one criticism I have would perhaps be levelled towards the NPCs in the game. They really don't offer too much in terms of variety and their rather bland and minimalistic design was a tad disappointing. Surely we can expect better.
The world of Ghostwire: Tokyo is riddled with some genuinely fantastic main story missions full of twists and turns that offer various challenges for our dynamic duo to figure out and conquer. Some of these are truly memorable because of how different they are from your run of the mill, mundane quests and missions. This though is in stark contrast to the side missions which, while rewarding every now and then, felt mostly like filler and very much like time wasted towards no particular end, especially in the grander scheme of having to contend with a maniac who has literally committed mass genocide on all of Tokyo.
While it does feel good and satisfying to release some trapped souls, it just feels a bit removed from the urgency of undoing the horror of the vanishing and halting the plans of the Hannya mask-wearing villain.
The combat style is fantastic in essence and execution but quite lacking when it comes to variation. While you have a few different elemental attacks, talismans and even stealth attacks (actually one stealth attack), you quickly find that one of the elemental attacks is better than the others and, once you level up your stealth attack and find some beads that improve your stealthiness, it's rather pointless to vary from those two for the most part.
It also doesn't help that the enemies are rather simple to sneak up on or back away from while charging up an attack. All this is not to say that the combat is terrible or anything like that. The Naruto-style hand gestures of combat look and feel incredible and damaging a visitor to the point of ripping out its core is incredibly satisfying!
The point is that this gets old very quickly in Ghostwire: Tokyo, especially once you get the hang of it and you start predicting most of the enemy moves pretty quickly outside of boss fights.
The biggest letdown, however, has to be the anticlimactic ending of Ghostwire: Tokyo. While I don't wanna give too many spoilers away I just have to say this part could have been done way better to leave a more lasting impression. I'll leave it at that and let you decide for yourself whether you agree or not.
In conclusion, this was a fantastic title from Bethesda. Overall a very enjoyable experience with loads of fun, suspense, horror and sentimentality. Akito is a very likeable character and very easy to connect with from the start and while I felt apprehensive of KK initially, I grew quite fond of his character by the end.
For those seeking a bit more of a challenge than the average gamer, I would most definitely suggest playing the Ghostwire: Tokyo story on hard mode. Normal felt way too easy and at no point during my playthrough did I feel overly challenged or pushed to my limits(which can definitely be a fun experience in and of itself.
Outside of that, I am sure you will enjoy Ghostwire: Tokyo every bit as much as I did.
The Review
Ghostwire: Tokyo
If you're into survival-horror games or are looking for one that's different from your usual fair of games, then Ghostwire: Tokyo is certainly worth a try.
PROS
Captivating and well thought out story
Visually stunning
Great combat
Massive world
CONS
Weak side missions
Repetitive combat moves
The enemies AI could do with a buff
Review Breakdown
Gameplay

0%

Graphics

0%

Replay Value

0%

Sound and Music

0%

Story

0%