Many fans of Sucker Punch were surprised when the studio, which is mostly known for the Infamous and Sly Cooper series, announced that their next game would be a brand-new IP set in ancient Japan. The surprise was soon replaced with excitement as the developer revealed more about Ghost of Tsushima.
It was clear from the first reveal trailer that the game would be heavily inspired by classics Samurai films, especially those from Akira Kurosawa.
Ghost of Tsushima sees players taking control of protagonist Jin Sakai, who is the nephew of the ruler of the island of Tsushima, Lord Shimura.
The game kicks off with the island's peaceful existence being violently disturbed by the invading Mongol army lead by the manipulative and powerful Khotun Khan.
As an antagonist, Khotun Khan isn't your run of the mill bad guy who tries to fix every problem with his fists or blade, but he is rather a more manipulative, intelligent and scheming leader who would just as easy conceive some sort of grand scheme as he would cut you in two with his blade. He is a calculated villain that prefers manipulating those around him without getting his hands dirty, although he doesn't mind taking things into his own hands if all else fails.
During the opening battle, Tsushima's samurai forces are annihilated, his uncle is kidnapped and Jin is presumed dead.
Of course, Jin survives. This sets our protagonist on a mission to save his uncle, his people and the island form the Mongol invaders. It's a journey that will take its toll on Jin and eventually force him to make hard decisions and ultimately evolve into something far more deadly.
The story mostly veers off in unexpected directions but there were moments where I found myself driven more by the exploration and combat than the actual narrative.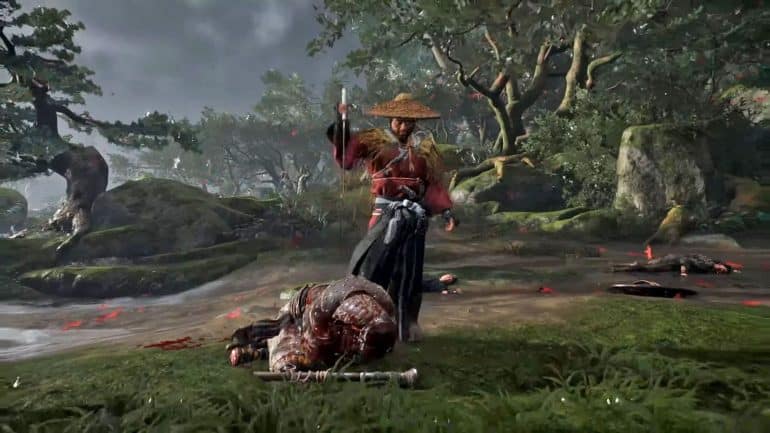 Jin initially starts off being quite handy with a blade. However, as the story progresses, players will unlock more techniques and abilities that will eventually see Jin become more than just another samurai.
Along with abilities that will help players distract, assassinate and take care of unwanted enemies, Jin will also unlock various stances which work in a rock, paper scissors fashion – meaning that certain stances work better against specific enemies. Initially, it isn't as important to switch between these stances as readily. It does, however, become more crucial in the later stages of Ghost of Tsushima, especially if you want to eliminate your foes quickly and easily before they gang up on you.
Combat in Ghost of Tsushima can be a bit tricky to get used to. It can be easy, initially, when taking on one or two enemies but add an archer and a few more spear-wielding Mongols in there and it quickly becomes a lot more challenging.
Fortunately, as soon as you get accustomed to the various stances and abilities, you'll be blocking and parrying enemy attacks like a true Samurai in no time.
The game does give you access to various abilities for a reason and figuring out when to use which can mean the difference between life or death for Jin. As the character evolves into a stealthier protagonist, players will be able to silently thin out the enemy ranks before taking them head-on.
This was mostly the strategy I relied on.
What I did appreciate about Ghost of Tsushima is that it only forced me into one specific playstyle on very few occasions – meaning that whether I wanted to go in as a samurai and let my blade do the talking or sneak in and wipe out a whole encampment without the enemies even realising I was there was totally up to me.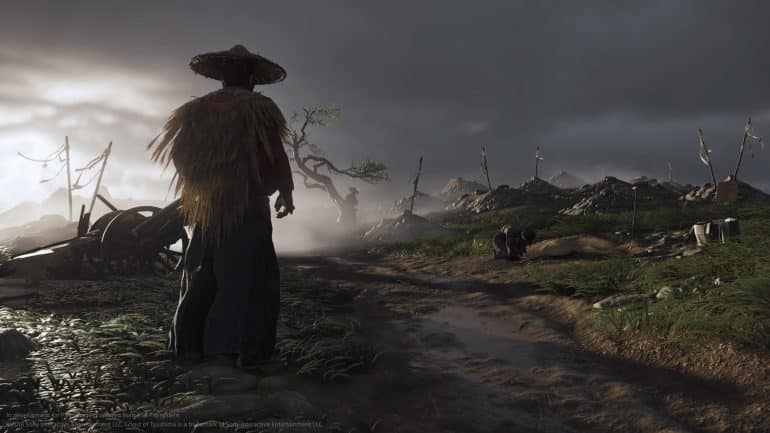 The stand-off mechanic in Ghost of Tsushima sees you being given the option to face off against the leader of a group or encampment, just like the protagonist of a classic samurai film would. Defeating your enemy in a stand-off involves simply holding a button and releasing it just as they attack.
It is a simple tool in your arsenal but one that makes you feel like a true Samurai each time you pull it off.
And herein lies one of the best aspects of Ghost of Tsushima. It's all these small additions and attention to detail that ends up making you feel like a badass samurai. There's even a button dedicated to wiping the blood of your blade before stylishly sheathing it.
While the combat in Ghost of Tsushima is fun and engaging, it is the island itself that is the star of the game.
Tsushima is, plainly put, a beautiful place to explore, and consists of various biomes each unique in their own right. On multiple occasions I caught myself wondering off the beaten path because some strange tree or rock formation caught my attention.
Exploring in Ghost of Tsushima does yield some nice rewards which improve Jin and his abilities.
Sucker Punch also needs to be commended in the way they approached navigation. I was concerned that not having a minimap staring me in the eyes the whole time would end up with me getting lost on the island. Fortunately, the concept of using the wind to guide the player was a smart design choice that helped me stay immersed even when I decided to explore the unknown.
The same goes for all the environmental cues that inform players where points of interest are. I was continually looking out for the foxes, birds and plumes of smoke that would inevitably lead me to some interesting area or valuable treasure.
The island is also littered with various side quests and activities, from a mini-game that involves you cutting though bamboo with your sword to writing your own Haiku and even collecting caged crickets to unlock new melodies to play on your flute.
As with most open-world games, there are loads of enemy encampments to wipe out and groups of enemies roaming the wilds in Ghost of Tsushima. So there is always something to do.
Although most of the missions allow you to approach them in a way that suits your playstyle, there are those missions that force you to sneak from point A to B without being seen. It's these moments that I learned to dread.
Sure, the game has a very lenient checkpoint system, but I've never been a fan of mission that you automatically fail once you are spotted. Luckily, these were few and far between.
I also have to mention Ghost of Tsushima's Cinematic Mode, which drains all the colour and leaves you with a game that now resembles one of Kurosawa's classic Japanese films. The team wanted to stay true to the films that inspired the game and even got the blessing from the Kurosawa estate to name the mode after the famous director.
Ghost of Tsushima is no doubt a gorgeous looking game that pays a lot of attention to detail but it is also a game that rehashes a lot of what we've seen in open-world games before. Having said this, it's a game that makes you want to explore it's rich and beautifully crafted environments.
There is always something to do, something to find and something to kill just over the next hill in Ghost of Tsushima, and you'll want to do and see it all.
The Review
Ghost of Tsushima
Ghost of Tsushima is a gorgeous journey through ancient Japan. It's a journey you would not want to miss.
PROS
Gorgeous environments
Challenging combat
Unique navigation mechanics
Review Breakdown
Storyline

0%

Gameplay

0%

Graphics

0%

Replay Value

0%

Sound and Music

0%