A few months ago, it was rumoured that we would be getting a sequel to Ghost of Tsushima that was like how Marvel's Spider-Man – Miles Morales was to the original, a smaller game with a decent amount of change to warrant calling it a sequel. Instead what we got was a Ghost of Tsushima Director's Cut with an Iki Island story DLC.
Sucker Punch promised that "Iki Island provides a stark contrast to Tsushima" and "a wild, lawless land of raiders and criminals, scarred by memories of war, and fiercely independent". Not only that but the developers wanted to tell a story of healing, and about how no amount of violence can heal the wounds of the past.
All of that sounds ambitious for a short bonus campaign, but did they actually achieve that as well as giving you value for money?
Is the Ghost of Tsushima: Iki Island DLC worth purchasing?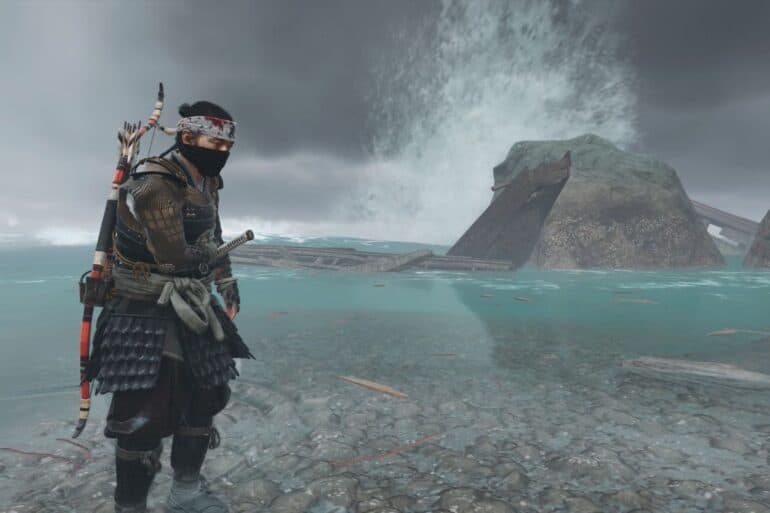 Jin Sakai's Blast From The Past
In an attempt to keep the new Mongolian threat at Iki Island off Tsushima, Jin Sakai must travel to defeat the invaders and give Iki back to the islanders who not only hate the Samurai but even more so hate the Sakai Clan. For good reason too.
Back when Jin was a young teenage warrior, he accompanied his father and his army on an island take-over. His father believed that the islanders were overrun by bandits and pirates that needed to be controlled, and thus a blood bath occurred that left the people in Iki devastated. This is a fight that only ended when Jin's father was ambushed and murdered by the local resistance.
Both sides tell very different stories about the other, both thinking they were the good in their retelling of the tales. Jin also believed that he was partly to blame for his father's death because he froze when his father called out for help when being cut down by the ambushers. Couple that guilt with the fact that the people of Iki Island truly suffered by the hand of clan Sakai, and you've got an excellent story of forgiveness and redemption.
The story told in the Ghost of Tsushima: Iki Island DLC is such a crucial one. It shapes Jin into a formidable samurai. He makes allies on the island to take down the malicious Mongol leader whom they call "The Eagle" — a villain who poisons Jin with a serum that exaggerates his guilt and makes him hallucinate all over the island.
This allows for some deep and dark places for Jin to unravel, and some surprises for us, as the player, to experience.
It's too bad the main story of the Ghost of Tsushima: Iki Island DLC is far too short. It needed another 20% to flesh out the villain and give some more weight to the island that needed to forgive and move forward.
The side stories throughout the island are plentiful and quality. Unfortunately, the main story felt it halted far too quickly. So make sure if you go on a journey to Iki Island, you better go out and explore all the other adventures on the island to give yourself the best possible experience.
New Island, Same Mongols
Ghost of Tsushima has fantastic gameplay, and so I was very keen to get back into it again. The various stances make the sword action always intense as you choose the best stance for the opposing forces that come at you. You can also be a ghost, stealthily taking down your enemies and injecting pure into the hearts of the Mongols.
Nothing new is introduced in the Ghost of Tsushima: Iki Island DLC – not anything noteworthy anyway. If I had to point out one new thing I liked, I guess it would be the new charging attack your horse can do. It's a bit overpowered and I usually ended top just jumping off and doing a good old sword fight.
The gameplay is so much fun though. So I don't mind that not much new was added to the gameplay. But if you were expecting more, I'm sorry to disappoint but there isn't. This is a bonus DLC after all and they are probably keeping all the new good stuff for the proper sequel.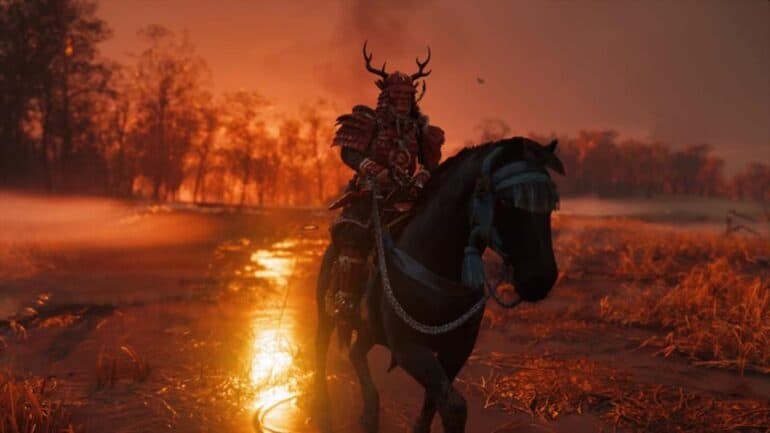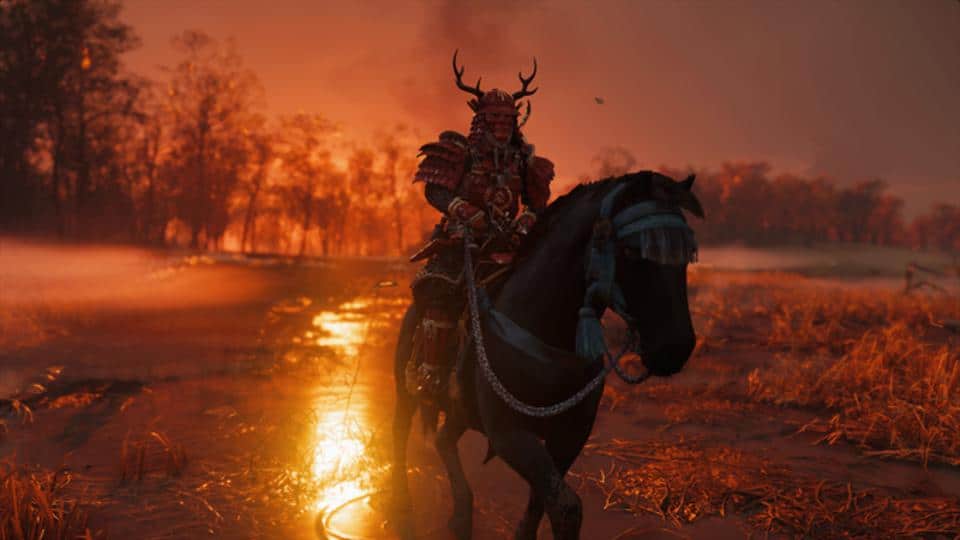 Pretty as a picture
Iki Island is basically a smaller version of Tsushima. This means it is gorgeous, has plenty to do and, if you are like me, you will find yourself in the photo mode every 5 minutes. The level of detail Tsushima has is no match for Iki, but I was very satisfied with what the island had to offer.
You can find all the usual favourites like a Shrine, some hot springs and Haikus to keep things peaceful. However, animals take front and centre, with soothing tunes that Jin needs to play that make for some cute moments with cats, deer and monkeys.
Sure, you get your normal Mongul camps to take down, civilians to save and Tales of Iki Island to uncover, but those tranquil moments make those intense action scenes even sweeter.
The locations throughout the island are also a spectacle to see, with plenty of unforgettable areas like Kidfure Battleground that is an overgrown village that is a painful reminder of the Sakai attack. Of course, the coastline that leads up to the breathtaking Saruiwa Rock has a stunning view of Iki Island when climbed to the top.
It was a joy to explore all these new spots, and so don't just plow through the main story in the Ghost of Tsushima: Iki Island DLC, there is beauty to be found and even some PlayStation Easter eggs for those who look hard.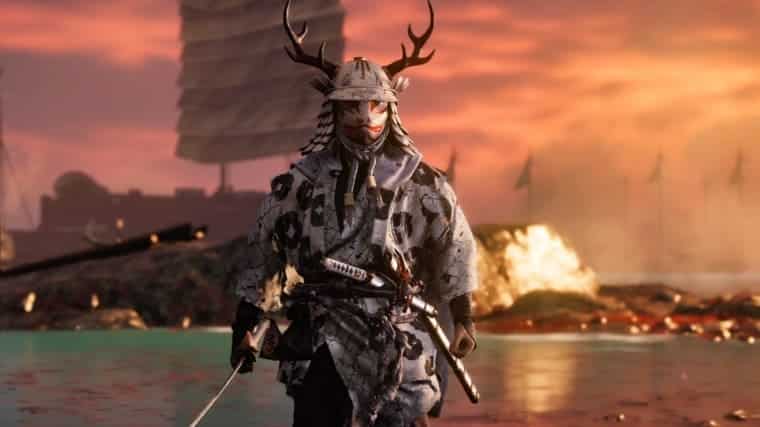 Ghost of Tsushima Director's Cut Upgrade
While I did not replay the whole game again, I did notice how nice it was to play the DLC in 4K 60FPS. The close-up details looked even lusher than I remembered and was a welcome upgrade.
However since every other developer was offering their game with a free upgrade, this one felt like it should have been free too. From what I can tell, it is not worth the extra R200. R540 for a PS4 to a PS5 version with the DLC is normal but usually packs way more content.
Final thoughts on the Ghost of Tsushima Iki Island DLC
This was a terrific reason to play as Jin Sakai again, especially to go on the journey of healing that Jin went on. It is an essential story to tell, even if it came to an end far too quickly. The gameplay is as fun as it was before, even though there are no significant changes to the formula — but it didn't need it anyway.
The new Iki Island is also a remarkable location to traverse, and so it makes up for all of this DLC's shortcomings.
The Review
Iki Island DLC
The Iki Island DLC is a soul-stirring adventure through a ravishing island that doesn't do much new to gameplay but instead gives us more of what Tsushima did so expertly and therefore is a delight to play.
PROS
Touching story about healing.
Gameplay is still engaging.
Iki Island is beautiful.
Quality side quests.
CONS
Main campaign ends too quickly.
A bit overpriced for the amount content you are getting here.
Review Breakdown
Gameplay

0%

Graphics

0%

Replay Value

0%

Sound and Music

0%

Story

0%