Sometimes I may find myself in a shotgun shack, in another part of the world. And I may ask myself, well, how did I get here?
It's the first morning after the Fasnacht parade that took place in Helvetia – an event that saw players flooding the game to team up, getting the parade in order and escorting a group of mask-wearing robots around town while being attacked by radtoads, suicidal super-mutant bombers and a mega-sloth. The rewards are ridiculous, including hideous masks to wear and streamers to decorate C.A.M.P.s with. However, players have been having a fun time… even if some of them chose to drop nuclear bombs on the event. But how did my character wake up the morning after in a shotgun shack in another part of the world, surrounded by irate Yao Guai?
By getting blind stinkin' drunk on Nukashine straight at the end of the festivities, and then blacking out. And that's okay, because it's a part of another quest.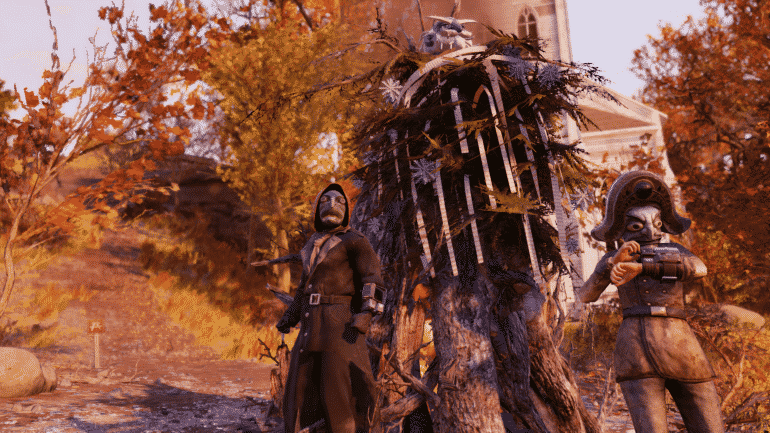 The Nukashine quest, like the Fasnacht parade, is part of the first wave of new content in Fallout 76's Wild Appalachia DLC. A short initial quest sends you racing between college fraternity houses and a speakeasy, learning of the chaos that led to the creation of Nukashine and a drunken robot called Biv. Nukashine is a cola and moonshine blend (with just a touch of nuclear waste, for extra kick) which causes players to stagger about in a colour-changing blur, then black out and fast travel across the map to a random location. The storyline may be full of references to classic campus film Animal House, but the execution of the Nukashine effect is similar to some of Trevor's finest moments in GTA V.
Blacking out halfway through the quest, some have been waking up in unfamiliar and unexpected surroundings; one player woke up in a toilet located halfway across the map; another found himself perched on the top of a billboard sign near the Whitesprings golf course; and one unfortunate soul found themselves waking up to a Scorchbeast attack. It's wild, unpredictable fun and players have been racing to complete the daily quests to gain rewards of brewing and fermenting stations for their C.A.M.P.s as well as new hooch recipes to concoct.
It's a short quest, but Nukashine and Fasnacht are just the first of many new features, and the changes to the in-game landscape are already becoming apparent as players continue to stumble across new locations and discover they can do new things. But how many players could there truly be, some would argue, for a game that's been a deemed a failure? And how did I get here, surviving in a post-apocalyptic game wasteland that was dismissed as boring and unplayable by some in the gaming community?
It's true that Fallout 76 faced some harsh – and often justifiable – criticism since it launched. It's also true that there are still glitches, bugs and occasional server crashes. The endgame is weak for those who bother to get that far, and the game feels like an awkward hybrid of single-player RPGs and competitive MMOs. The negative online community pile-on even before the game's release may not have been deserved, but some was still warranted.
However, the game has been continuously evolving and the player community – consisting of more co-operative players than griefers – is building and thriving. For those who didn't abandon it early and stuck with it like I did, the rewards have been worth it. Meanwhile, the price of the game constantly dropping (an apparent side-effect of the negative response to it) has been bringing in new players constantly. The new content is helping too, and the game is already starting to follow the trend set by No Man's Sky in redeeming itself. Those who initially spurned it are trying it out at bargain prices – and are discovering the hidden joys of post-apocalyptic Appalachia for themselves. Hopping between worlds, server after server shows a booming player base and everyone's experiences outside the questline are what they make of them.
My own life in the wasteland has been one full of ups and downs. The learning curve to survive is a steep (and at times off-putting) one, with my character being wiped out several times in the earliest stages. Regularly over-encumbered with junk I'd scavenged, I learned to take only what was needed and live for the moment. Levelling up, the creatures I came across became more dangerous and I would run from Scorchbeasts in terror. Now I can take them out three at a time, and fast-travel to defeat the dreaded Scorchbeast Queen at every opportunity. The first nuke I dropped was an experience that left me feeling depressed at the damage I was bringing to the world, but later I found inner peace by communing with the Wise Mothman.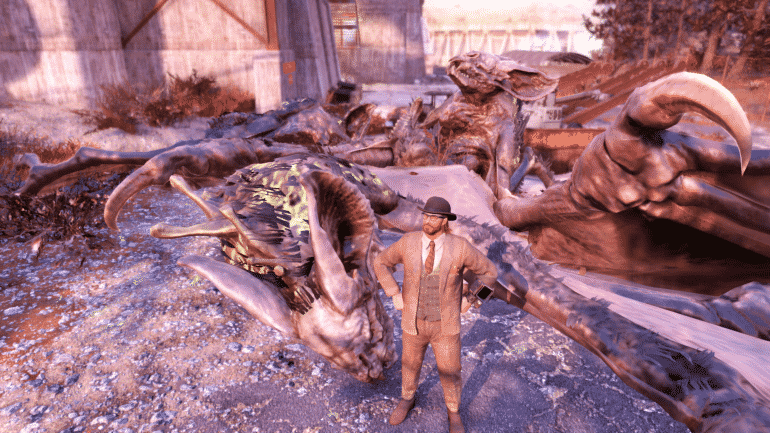 I've helped lower-level players, serving as a gift-giving guide, bodyguard and field medic to them until they could survive on their own, and mutated myself to the stage where I can leap tall buildings in a single bound… or even fly with a jet pack I've crafted. I've encountered otherworldly Lovecraftian horrors buried underground and adopted a two-headed Brahmin cow who now lives in my lounge. I've hit a glowing Wendigo so hard he smashed through a door's window frame and laughed at the bad jokes of Mister Handys. I've been a trader, an explorer and a superhero vigilante. I've been griefed once, but have also made allies… and even friends. My character still dies occasionally, and life there is still a challenge, but the game makes it worth it.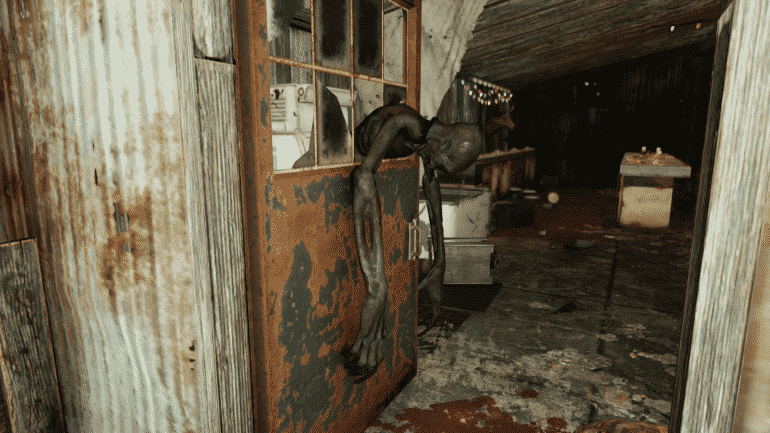 Fallout 76 is, by no means, a perfect game. It has flaws, some of which have been, are being or will be fixed, and some of which may never be sorted out. But it certainly isn't the unplayable mess that some believed it to be, and it's slowly winning back the Fallout fans and other gamers as the base game expands with new content. It'll never please everybody, but there's life to be found – even getting wasted – in the wasteland.