In an interview about his latest film, Gerard Butler revealed what was said in the email that Robert Downey Jr. sent him following his viewing of Olympus Has Fallen (2013).
RELATED: Robert Downey Jr's New Look Proves He'd Make A Great Lex Luthor
It should be no surprise that the face of Marvel and Tony Stark, Robert Downey Jr., is a massive fan of action flicks. More specifically, he enjoys hardcore 80s-style action films. Therefore, it was a pleasant update to hear Robert's thoughts concerning Olympus Has Fallen (2013) and his positive affirmations regarding the action sequences included in the film. And all this was revealed following an interview with Gerard Butler in his new movie, Plane (2023).
The film follows a pilot who has to land a plane after it is struck by lightning safely. However, upon doing so, he quickly discovers that the island he landed on is overrun by rebels who take most of the passengers hostage. It is then up to the pilot and an accused murderer who was aboard the plane to team up and help the survivors.
RELATED: It Looks Like Robert Downey Jr.'s Iron Man Might Return Afterall
Robert Downey Jr. is best known for his leading role in the Marvel Cinematic Universe. And considering the sheer amount of action-packed fun audiences are treated to within these large-budget films, it is no surprise that Robert gets a kick out of action films with plenty of explosions and several fighting sequences.
In a recent interview, Butler shared:
"Robert Downey Jr. wrote me the nicest email after Olympus Has Fallen. This is the same vibe. He's like, 'We need more of these movies.'
He further detailed how Robert explained that the Olympus Has Fallen films brought him the same nostalgic feelings he got from watching action movies in New York as a child. Robert elaborated saying that audiences would "shout at the screen and throw things and be like, 'No!,' and applaud and cheer."
This is a funny yet endearing response to the film's release. And Robert has partially received his wish as a sequel film (London Has Fallen) already hit cinemas in 2016, a third instalment in 2019 (Angel Has Fallen), and a fourth instalment to the franchise is currently in production. Indeed, upon release, Downey Jr. will be first in line to see the film, just as he will be first to see Plane (2023) upon its release tomorrow.
What is Olympus Has Fallen About?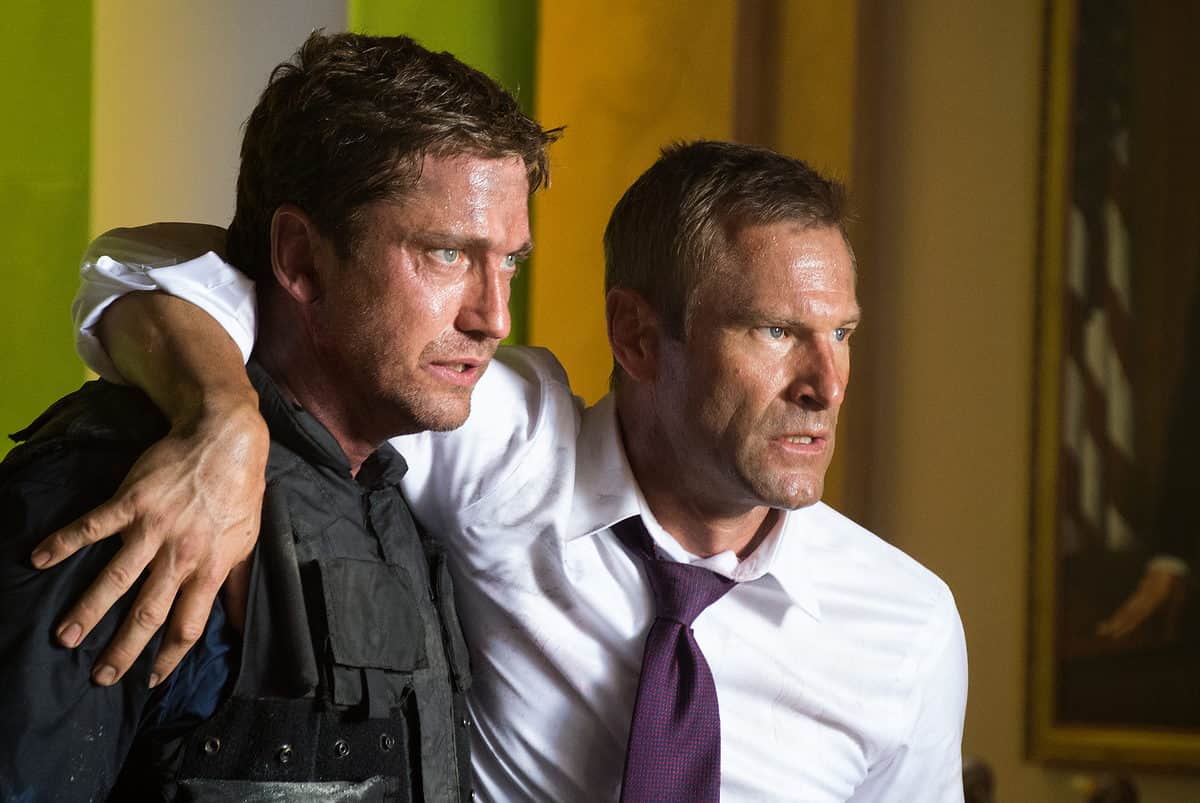 The first film sees Gerard Butler as a presidential security officer named Mike alongside Aaron Eckhart, who plays President Benjamin Asher. The plot follows the two, along with several other hostages, as they are stranded inside the White House. This is due to an attack by heavily armed and highly trained terrorists who decide to launch a striking attack on the White House in broad daylight. The building is quickly overrun, and Mike is stuck in a race against time to locate the president's son before the terrorists do. Unfortunately, the terrorists have a further plan, and Mike must ensure they cannot follow through with their plan to unleash havoc.
The sequel film places Butler as Mike Banning back into the hot seat when President Asher gathers amongst other world leaders in London. The unlucky president is once again the victim of a terrorist attack that leaves a majority of the city in ruins. Mike must again set out to rescue the president when he gets taken by the terrorist organisation and ensure he is not killed.
Judging from the plot alone, one can tell that the film had intense action sequences with viewers on the edge of their seats. The third film follows Mike Banning as he is accused of carrying on an attack himself this time. Robert Downey Jr. probably got a massive kick out of seeing Gerard Butler take the screen a total of three times as Mike Banning, with a fourth on the way!
RELATED: Robert Downey Jr. Said He Didn't Really Care For The Dark Knight
Do you think Robert Downey Jr. should join Gerard Butler in a future Olympus Has Fallen movie?