Popular tech YouTube personality Marques Brownlee (also known as MKBHD) recently did a sit-down interview with Will Smith. As unexpected it was for the internet, it was a pleasant and very insightful peek into the mind of Smith, who delved a little bit into the importance of technology in the creative industries. As someone who has had great success as an entertainer, he should know. My favourite part of the interview was a quote, courtesy of Will, that serves as a great intro for this review: "Technology is an absolute necessity to advance human imagination".
How fitting it is then to be talking about Gemini Man, Will Smith's latest film in which technology is a core part of making the narrative work. The story is about Henry Brogan (played by Smith), a government assassin who's on his way to retirement and is given one last important job to do. After he's out, some of his former colleagues conspire to take him out but, because he is so darn good at killing people, no-one is found worthy or able to get it done. Enter Gemini, the top-secret black ops unit that has an agent who has what it takes to execute. Why? Because he is a clone, albeit a much younger clone, of Brogan. Much of the movie is about the physical and emotional conflict between Brogan and his clone, Junior.
At a story level, Gemini Man is extremely familiar territory for spy action thriller fans. It's reasonable to say that nobody will necessarily be blown away by that aspect of the movie because it's nothing new. This isn't knocking the film or saying that it's a negative. It just means it's 'meh'. However, what does really stand out is the Junior character and the technology that was used to bring him to life. He is being pitched (even in Smith's interview with Brownlee) as the first digital onscreen human. Without getting into the details of that, the execution is good enough and Will Smith works well within the demands and limitations of the technology. Though the tech isn't perfect and it's clear there are some details still in need of refinement, it's a great beginning and it opens up all kinds of possibilities for filmmakers in front of and behind the camera. VFX imperfections aside, it was great fun seeing Will Smith butting heads with a younger version of himself.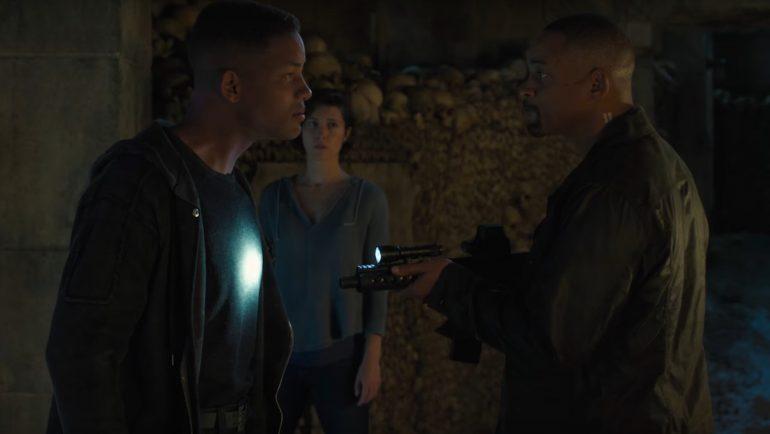 Worth commending is Will Smith's performance as a whole. When he wasn't doing full-on Fresh Prince-type comedic work, I've always felt like Will was trying too hard, especially in 'serious' roles. I've always spoken to friends about being put off by his 'I'm a real actor' pout, which kept me from being a devoted fan. In this film, I'm glad to say there's none of that. He seems like a man at ease with himself and it shows in his portrayal of both Henry and Junior. I genuinely enjoyed that.
It wouldn't be proper to end this review without talking about the action sequences. You can't watch a film helmed by Ang Lee and not say something about the action. The film was shot at a high frame rate for a particular look and, while this has garnered some criticism, it's understandable given that the action thriller genre is a crowded scene. Those who don't dare, get left behind. For me, the high frame rate look and feel works for the type of film Gemini Man is.
The Review
Gemini Man
All in all, Gemini Man is worth a watch. It's not great but it has some good things going for it. The story isn't particularly impressive but the foray into the technology, as performed by Will Smith, is good enough to merit a visit to the cinema.