When thinking of a tactical, turn-based shooter, the last franchise that would come to mind is Gears (or Gears of War). Yet somehow, someone took a look at the over-the-top, bloody, third-person gameplay the franchise is known for and thought, "that would make a great tactical, turn-based shooter". That is how the concept of Gears Tactics was probably born.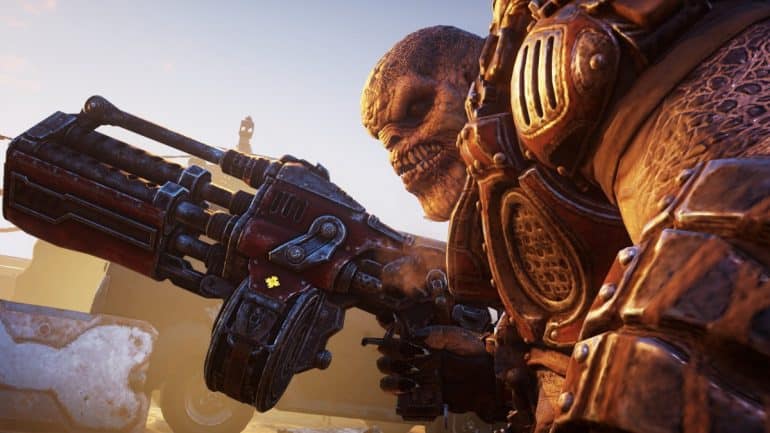 Gears Tactics is what you get when you take all the bloody action from the popular franchise, throw it into a bowl, mix it up with the tactical shooting the XCOM series of games are known for and what you end up with is a surprisingly fun and engaging game that rewards you for careful planning and strategic thinking.  
Gears Tactics takes place 12 years before the events of the original series and sees Gabe Diaz working as a transport mechanic. He doesn't want to become part of the conflict between the Locust and the Coalition, rather deciding to keep to himself. Of course, this all changes when he eventually gets pulled into the conflict and heads off on a journey to kill Ukkon, a diabolical Locust leader. As with most Gears games, the story takes a bit of a back seat to all of the action and, while it is serviceable, it only acts as a way to get the bullets flying and the Locusts dropping.
The game sees players take control of a small fire squad of four. Besides the main characters, it lets you recruit various Gears to join your squad. Unlike the main protagonists of the game, these recruits don't have to survive an encounter but once they are gone they are gone for good. The downside of this is that, along with losing another soldier, you also lose their accrued experience and access to their abilities.
Each of your squad members gets three action points at the start of their turn. These action points allow them to do various actions, such as move, use their skills or shoot.
Squad members also come in five different types, Vanguard, Heavy, Scout, Support and Sniper. Each of these has its own unique set of skills, abilities, weapon types and armour.
Combat plays out in turns, which might sound like a mechanic that would never work for a Gears game. Yet, somehow, thanks to the way these base mechanics are implemented, you quickly forget that you are playing a turn-based tactical game. Part of the reason for this is that elements from the third-person games play a very crucial role in during these firefights. Unlike, the games that inspired it, when an enemy is downed in Gears Tactics they start to bleed out. This becomes the perfect opportunity to send in one of your team to finish the job. Downing enemies in this way ears your squad members an extra action point, which can sometimes mean the difference between losing and winning an encounter.
Glorious Lancer chainsaw kills are also present in the game and can be used to quickly and effectively clear a path through enemies. It becomes crucial in the game figuring out how best to chain together your squad's abilities in order to earn more extra action points. The more action points you accrue the more bloody havoc you can sow.
Each encounter sees you tasked with completing a few objectives. These tend to be the type we have seen before, such as guard this point or kill these enemies. While these missions aren't revolutionary, the game's boss encounters tend to mix things up and amp up the difficulty. During these multi-stage boss encounters, you'll be taking on some of the franchises most recognizable enemies, like Brumak. These encounters tend to get quite intense as you try to balance the use of your abilities, shooting and constantly moving to avoid damage.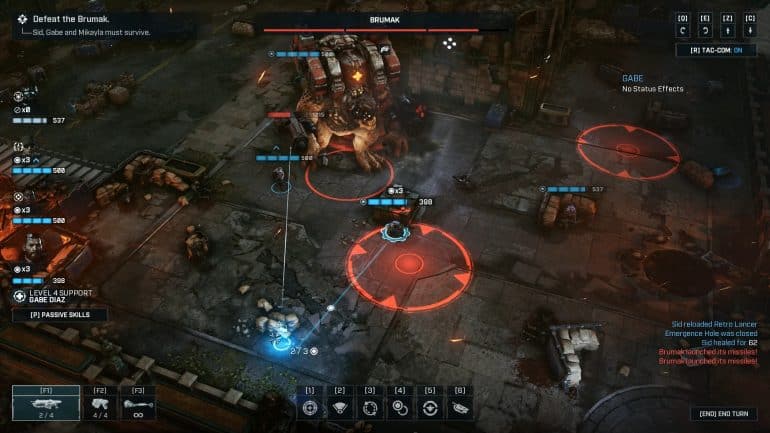 It is quite commendable how developers Splash Damage and the Coalition were able to capture the essence of the Gears franchise and somehow make it work in a genre that couldn't be further from what the core franchise is known for. The game does an amazing job at making you forget you are playing a tactical turn-based shooter. Sure, some of the mission types did feel repetitive at times but this is just a symptom of the genre rather than an issue of the game. That is all soon forgotten once you see your squad member storm into battle brandishing their lancer chainsaw and cutting a foe in half.
If you are looking for a more cerebral Gears game, which I never thought I'd say, then Gears Tactics is a must-have.
The Review
Gears Tactics
Gears Tactics is as bloody as you'd expect a Gears game to be, yet is deep and tactical enough to for those who love tactical turn-based shooters.
PROS
Feels like a Gears game
Visually stunning
Gore, lots of gore
CONS
Missions can become repetative
Difficulty can ramp up quickly
Review Breakdown
Storyline

0%

Gameplay

0%

Graphics

0%

Replay Value

0%

Sound and Music

0%