If you were around in the 90s, you'll definitely remember Disney's Gargoyles animated TV series.
RELATED: The Best Old Classic Cartoons – How Could We Forget These Shows?
Throughout the '70s and '80s, fans of animated series had a pretty one-dimensional presentation of the cartoon genre. Studios never ventured too far in the way of providing a rounded storyline that progressed between episodes with a running theme to the end of a specific season. Instead, they relied on episodic tropes that would see the hero crush the villain at the end of each episode. All of this in an attempt to sell more toys to the masses. That trend continued into the early 90s before the likes of Gargoyles appeared on the small screen.
Gargoyles was an animated TV series distributed by Disney between 1994 and 1997. It revolves around a group of ancient monsters who were cursed by a wizard, Magus. After a series of events, Magus had mistaken the Gargoyles to have killed Princess Katharine and cast a spell upon them. The spell in question would curse them to enter stone sleep "until the castle rises above the clouds."
And from this, their adventures begin some 1,000 years later in Manhattan.
RELATED: Creator Greg Weisman Shares Plot Details On New Gargoyles Comic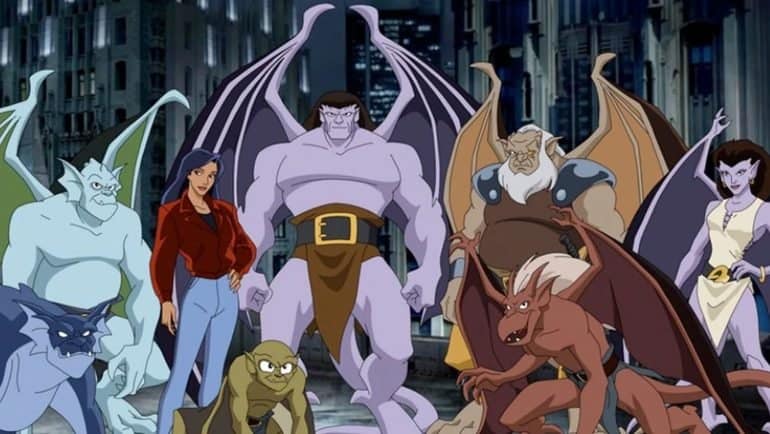 The opening theme voiceover summarises the plot quite nicely:
"One thousand years ago, superstition and the sword ruled. It was a time of darkness. It was a world of fear. It was the age of Gargoyles. Stone by day, warriors by night, we were betrayed by the humans we had sworn to protect–frozen in stone by a magic spell for a thousand years. Now here in Manhattan, the spell is broken, and we live again! We are defenders of the night. We are Gargoyles!"
The group of protagonist Gargoyles included Goliath (Keith David) as the leader, Hudson (Edward Asner), Brooklyn (Jeff Bennett), Lexington (Thom Adcox-Hernandez) and Broadway (Bill Fagerbakke), their 'dog' Bronx (Frank Welker), as well as human cop and ally, Elisa Maza (Salli Richardson-Whitfield). Each of the characters was pretty well developed over the course of the two seasons, which each having their backstories carved out carefully. As such, you, as a kid, would be able to identify with one of the characters and be represented, in part, through their actions.
As stated previously, many cartoons were very formulaic prior to the show's release. However, Gargoyles co-creator, co-producer and writer Greg Weisman created a show to change that narrative. It provided an in-depth character study of growth, a backstory that would span the entire season and present parables and lessons throughout the series for a modern world (especially in the 90s).
RELATED: Gargoyles is Returning for a New Season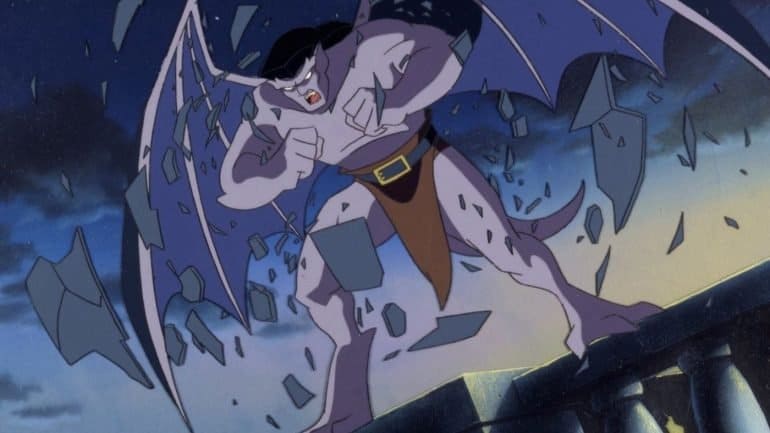 One would think, then, that a show based in the 90s with the above-mentioned plot and storyline wouldn't hold much water in 2022. But you'd be wrong. Very wrong. Having recently rewatched the entire series, consisting of the canon's two seasons, it holds up quite well as entertainment and on the subject matter –even today.
One of the biggest changes to the setup of the Gargoyles animated TV series was how it dealt with both the protagonists and antagonists, respectively. The villains weren't just some one-dimensional, irredeemable persons whose backstory could fit onto the back of a Chappies (gum) wrapper. In actual fact, Gargoyles left quite a mark on the future of cartoons and animations going forward, especially in this regard.
The villain, David Xanatos, was an eccentric billionaire who led a giant tech cooperation (amongst others) while hiding behind his philanthropy as a disguise to the world. However, his works were ultimately for self-gain and domination, not even for the money itself. That reminds us of a few characters in today's world.
What was also interesting about the character is that his motives weren't always clear, even as viewers of the show from the outside. When it seemed he had taken a huge loss, it turned out to be one of his ruses to bait the Gargoyles into an action that would lead to further consequences down the line.
And this is where the show would rope you in. While the good guys were always there to try and save the day, it was the secret plots and hidden agenda of the villain that kept you intrigued the most.
Gargoyles aired in 1994 in a weekly recurring slot for its first season. When it was renewed for a second season, it garnered quite a following, allowing it to be promoted to a daily schedule. Although this resulted in a few additional filler episodes, there was still a running theme for that season while retaining quite a large following at the time.
All good things, however, do come to an end. Unfortunately, with the increased air time and a steep fall in viewership towards the end of season two, after a change of tone and uncharacteristic approaches, Disney decided to pull the plug on a third season through its channels. However, a third season of the TV show, rebranded as The Goliath Chronicles, was picked up and broadcast on ABC in 1996 and ran for a few months until 1997. It never felt the same from that point and the season itself is not considered canonical.
Having gone back and watched a near 30-year-old animated series, I didn't expect it to hold up as well as it did. However, Gargoyles is one of the few TV shows that can easily span decades between its original airing and a rewatch today.
Perhaps the show will be rebooted soon — or better yet, picked up as a live-action film adaptation.
RELATED: Casting a Gargoyles Live-Action Movie
What are your thoughts – have you, or will you rewatch the Gargoyles animated TV series again?