When I was a kid growing up in the 80s', very few cartoons caught my imagination as much as G.I. JOE. Not only was it filled with action, adventure and suspense, but you even learned a thing or two thanks to the show's hilarious PSAs. Now, with the new Renegade Game Studios board game, we can now relive some of that nostalgia with the G.I. JOE Deck-Building Game.
Only two questions remain: Was Renegade Game Studios able to cram all the action into one board game and how does it differentiate itself from the magnitude of other deck-building games out there?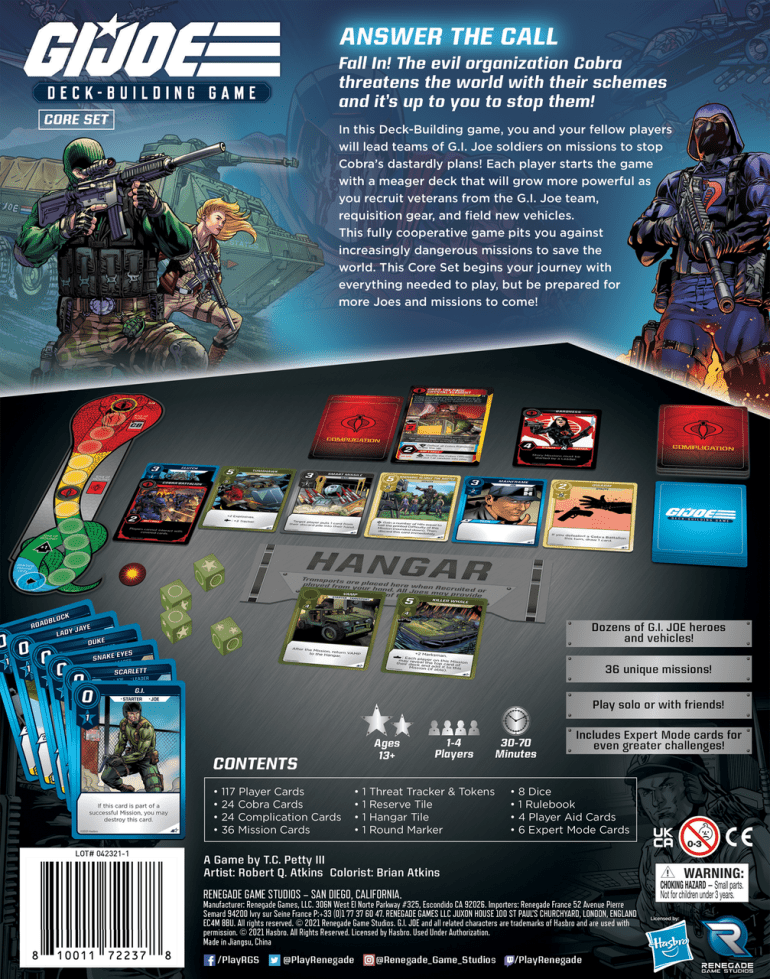 What's in the box?
Being a deck-building game, we can assume that the G.I. JOE Deck-Building Game obviously includes a whole bunch of cards.
These do feel a bit flimsy and, personally, I would've liked it if the card stock was just a bit thicker. They do have a nice glossy finish which makes shuffling them a dream.
But what is a G.I. JOE game without the Joes (and Cobra)? Each card has some wonderful artwork featuring many of our favourite Joes and Cobra baddies. This is by far one of my favourite aspects of the game, just how much care and attention went into the art and making G.I. JOE Deck-Building Game feel and look like the original cartoon.

Interestingly enough, the game also comes with some military-themed dice — which help add to the overall look and feel of the game. All the cards, cardboard tokens, and dice fit neatly into the box thanks to the insert, which comes with it. It is always great when a game can be packed away without bits and bobs spilling everywhere.

I have to say that the worst part of the game is the vague rulebook which, unfortunately, had me looking up some of the rules online. As the Joes say, knowing is half the battle.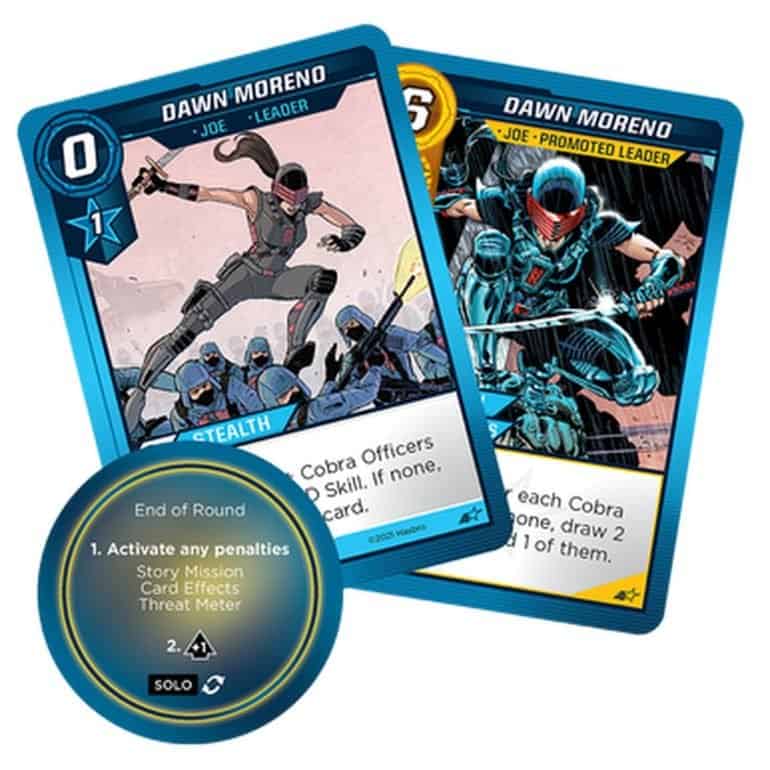 How do you play it?
GG.I. JOE Deck-Building Game sees players taking on the forces of Cobra. 1-4 players will be going on missions facing off against all kinds of threats and (hopefully) being victorious.

Each player starts with a 10 card deck — which is composed of random Joes, some equipment and a leader card.
A turn consists of two parts in which players must decide if they want to venture out on missions. This is where the game starts to feel just like the cartoon as players will be sending out Joes on main story missions or side missions. As you can assume, the story missions will help advance the main campaign and bring you closer to victory.

Should you decide to go on a mission, you must first choose which vehicle will carry your Joes to the battlefield. This is where G.I. JOE Deck-Building Game differentiates itself from regular deck-building games as players can use a variety of land, sea and air-based vehicles to carry their Joes to the battlefield.

Along with your vehicle, you and your fellow players must also decide which Joes to send on these missions. Each mission has a set number of requirements/ skills that are needed to complete the mission. Only skills that match can buy a player dice to roll, so matching your Joe's skills to the ones needed to complete a mission is crucial. The more skills match the more dice you are able to roll. Rolling dice nets players hits, each mission requires a certain amount of hits to complete. The whole "building up your squad of Joe's" mechanic makes the game feel like you are busy preparing for an all-out assault on Cobra.

As with most deck-building games, players will have a lineup of ever-changing cards to recruit to their deck as the game progresses. These cards cost Recruit points which players will have to pay before adding them to their hand. Recruiting opens up more options for players when taking on missions.

Main missions can be completed by a group of players while side missions can only be taken on by a single player (the one whose turn it currently is).

G.I. JOE Deck-Building Game also includes a threat meter which increases each time a round ends. Where the marker on the threat meter is will indicate which affects the players suffer at the end of the round.

Players lose the game if the threat marker reaches the end of the track, if the main deck runs out or if Cobra Battalions cover 5 cards in the line-up. There is only one condition for you and your team to win and that is completing all the story missions.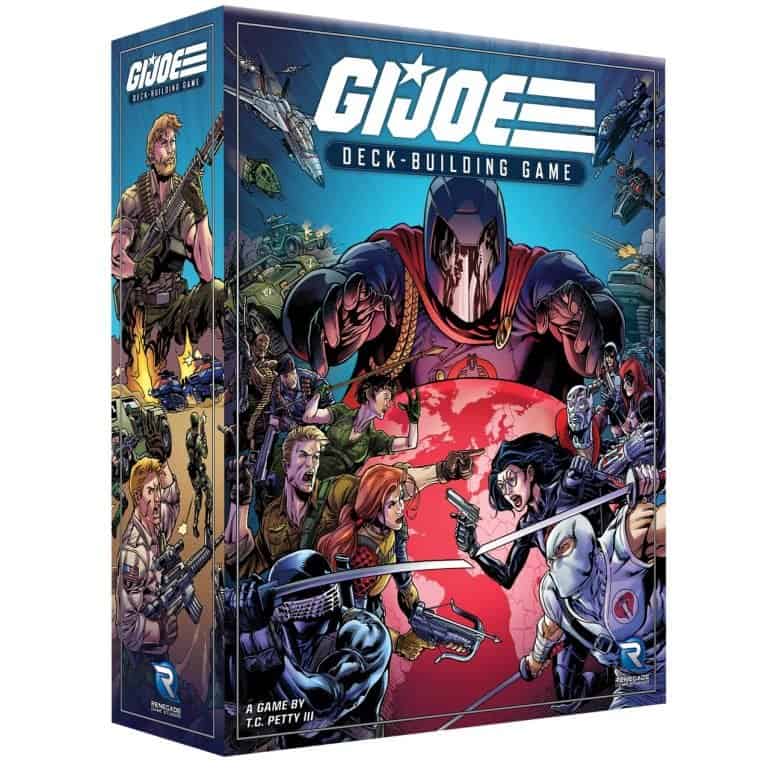 What did we think of G.I. JOE Deck-Building Game?
First off, I must address the G.I. JOE Deck-Building Game rulebook. Initially, after reading it the game came across as over-complicated. But after watching a few "How to Play" videos online, I quickly realised that the game was quite easy to grasp if explained correctly. The rulebook isn't a complete mess but it makes understanding some of the mechanics overly difficult.

Other than this, I had a blast playing G.I. JOE Deck-Building Game. Not only does the game scale really well it also has a fun solo mode for those days that you can't get a group of friends together. Even though you don't have to be familiar with the franchise to enjoy the game, I have to say that as a fan of the cartoon the game just perfectly captures a lot of what makes the franchise so special. Everything from the mechanics to the gorgeous art really does make you feel like you are part of the G.I. Joe team.
For more information on this and many other board games, visit solarpop.co.za.
The Review
G.I. JOE Deck Building Game
If you are looking for a unique deck-building game then you should give the G.I. Joe Deck-Building Game a try.
PROS
Unique mechanics
Feeling like you are part of the Joes
CONS
The rulebook isn't always very clear
Review Breakdown
Gameplay

0%

Components

0%

Complexity vs Depth

0%

Theme

0%