From 1987 to 1995, you'd struggle to find someone who hadn't watched Full House. It was the sitcom that encapsulated the era and became The Brady Bunch of its time. Having a nostalgia factor and outstanding syndication numbers, it came as no surprise that its sequel, Fuller House, was optioned by Netflix in 2016.
Compared to other Netflix shows, Fuller House had a good run, spanning 75 episodes across five seasons. However, it didn't quite match the numbers of Full House, which ran for 192 episodes across eight seasons.
More importantly, the series finale didn't feel like the right ending for it. After all the teases and breaking of the fourth wall, Mary-Kate and Ashley Olsen's Michelle still didn't appear once on the show. How could this be a reunion without the undisputed star of Full House?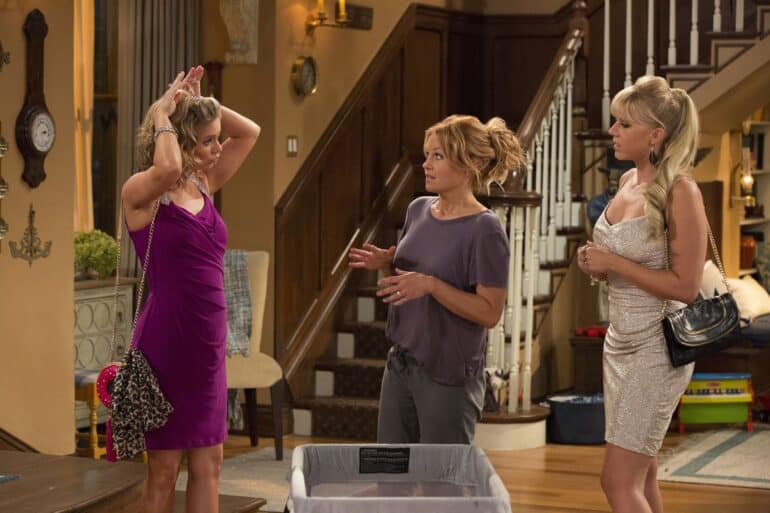 There have been conflicting reports over why the twins didn't appear. From bad timing to miscommunications, it appears as if the biggest problem is that no one spoke to each other about the possibility of it happening. Even so, it's criminal that the Fuller House producers couldn't get the Olsens to show up for the series finale at all. That would've been better than no appearance across five seasons of, well, the house that the Olsens built.
Another major issue was the Full House lead cast being relegated largely to cameos. While it was welcome to see Candace Cameron Bure, Jodie Sweetin, and Andrea Barber elevate to starring roles alongside a new young cast, the sporadic appearances of John Stamos, Bob Saget, and Dave Coulier weren't enough. According to IMDb, Stamos and Coulier appeared in 17 episodes, while Saget turned up for 15. Wouldn't it have been better if the family had all been under one roof again?
Unfortunately, Fuller House encountered the same issue that most revival shows do: the cast isn't as nostalgic for a return as the fanbase. While the audience at home writes up possible storylines in their heads, the actors moved on and would prefer to do something new rather than relive the past.
If Fuller House was to receive more seasons, it would've needed to change its format. The sitcom achieved what it could with the parameters it was given. Perhaps the solution would not be more of the same, but a limited series approach where the original cast, including the Olsens, could receive the one-time reunion they deserve.
Tell us, do you think the Full House sequel deserved more? Let us know in the comments section below.
https://www.youtube.com/watch?v=qT_OPIjZ6-A