In the past, there have been many post-apocalyptic games. While some have focused on waves of flesh-eating zombies out for your blood, others have been set in a world where nuclear war has ravaged what is left of humanity. While these scenarios are interesting enough, it's difficult for most games to truly capture the bleakness that these circumstances bring with them. 11 Bit Studio, the team behind the absolutely brilliant This War of Mine, has decided to drop us in a world where each day is a struggle for survival and where the cold is far more dangerous than any nuclear weapon or a zombie horde. Welcome to the bone-chilling wastes of FrostPunk.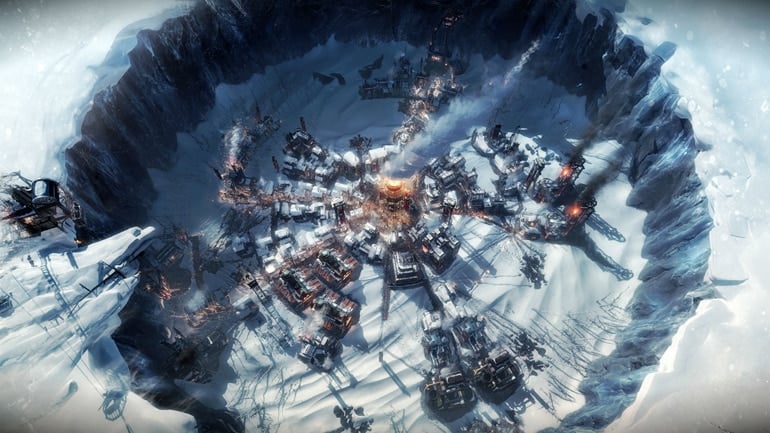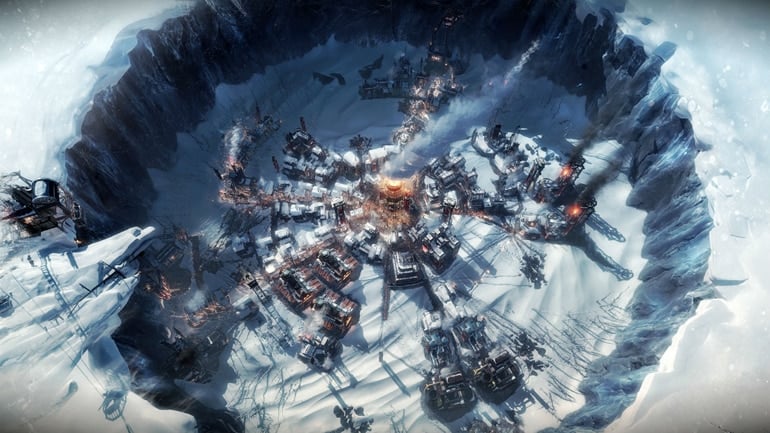 Set in an alternate version of the 19th century where a terrible storm has covered the whole world with a thick layer of ice and snow, FrostPunk sees most of humanity wiped out with only a few settlements grouped around giant coal-driven generators which offers the only protection against mother nature's icy fury. You take on the role of leader of one of these settlements. Your task is plain and simple: survive the cold or die trying.
Your task is plain and simple: survive the cold or die trying.
At its heart FrostPunk is a city builder game. Not only will you be building various structures and researching upgrades to help keep your populace's discontent levels low, but you will also need to manage your resources, the most import one being heat. As one can expect from a game set in a world where frostbite is an everyday occurrence, your most important resource is the heat produced by your steam generator. Heat helps keep your people content and, more importantly, alive.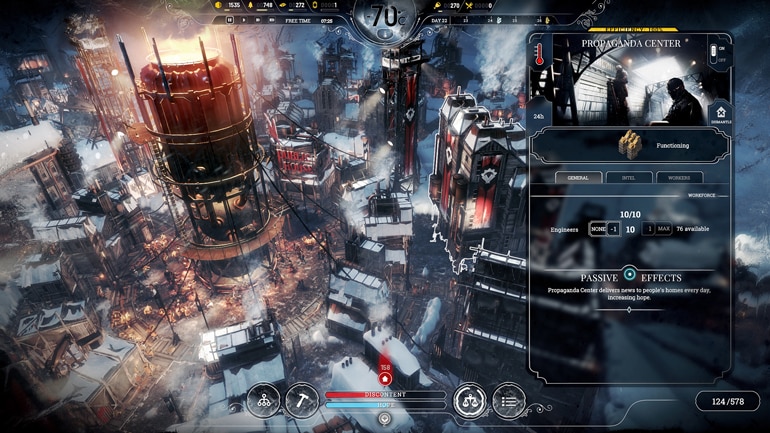 Keeping the lights or, in this case, heat on means that your citizens will need to gather various resources, and it's here where you start to realise that FrostPunk doesn't shy away from showing you how bleak your current situation is. Instead, it fully embraces this. Resources are scarce, the labour needed to harvest these resources are even scarcer. Basically, everything you need in order to survive is scarce. You also have to contend with the weather as temperatures can plummet affecting production and, more importantly, killing off your citizens. Figuring out how to manage all these elements is not only important but is absolutely crucial if you want to survive beyond the first few days.
Basically, everything you need in order to survive is scarce.
Do you focus on harvesting more coal for your generator or do you rather gather more wood to construct housing for your ever-increasing populace? These choices can be made even more difficult thanks to various random events which happen across your growing settlement. Sometimes these events could mean another death or it could require you to make a difficult choice, such as introducing 24-hour shifts (which could lead to more deaths) or supplying the hungry children with double rations. The more difficult of these choices will require that you pass new laws, each with their own consequences.
Every 18 hours you will be able to pass a new law. And while passing these laws might sound like an easy task, some of the choices you are faced with can be dire. For instance, when food rations are running low, do you switch to producing less filling rations such as soup or do you cut the rations with sawdust to make it last longer? Low on resources and not enough workers? Then you might want to decide on introducing child labour to help increase productivity. Each of these laws carries with it consequence you will need to face, be it using you scares resources to build new structures or seeing the levels of discontent rise in your settlement.
…a balancing act between keeping the levels of discontent low and trying to keep hope alive.
FrostPunk quickly becomes a balancing act between keeping the levels of discontent low and trying to keep hope alive. Sometimes you are faced with choosing one of the lesser evils just to keep riots from breaking out. You soon realise that there very rarely are wrong and right answers, only the type of answers that will keep you surviving for one more day. Researching new technologies will also help you eke out an existence in this cold unforgiving world. However, just as with all the other choices, you will face it can be a tough decision whether to use you already scares resources to keep your reactor going or researching a new technology or structure. It's all about making the difficult choices and learning to face the consequences.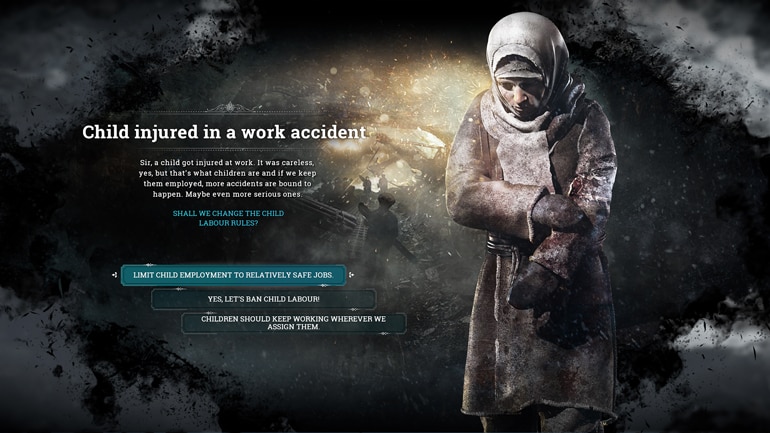 FrostPunk offers you three distinct scenarios to play, each with their own challenges. The first is called "A New Home" and sees you trying to establish a new settlement and surviving as long as you can. I would highly recommend you start off playing this scenario as it's a great way of easing yourself into the game's various mechanics. The second one called "The Ark" puts you in charge of a small group of engineers and scientists as they try and protect the last remaining seed banks on earth. With a small population, you will find yourself relying more on automatons when it comes to gathering the various resources. Naturally, the limited population also means that each death carries a lot more weight. Lastly, there is "The Refugees" a scenario that focuses on the social problems and challenges that come with bunching various classes of people together.
…the limited population also means that each death carries a lot more weight.
Visually, FrostPunk's ice-covered world is strikingly beautiful. From the snow blowing over your settlement to the orange heat radiating from you massive generator and even the people trudging through the snow trying to finish their daily task, each element is created in great detail and looks gorgeous.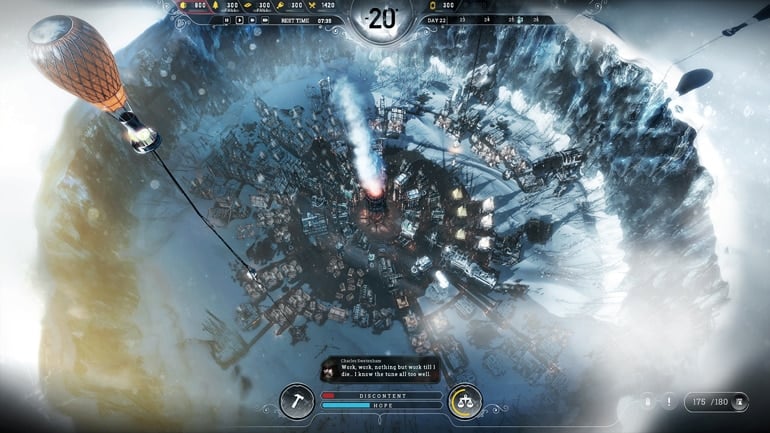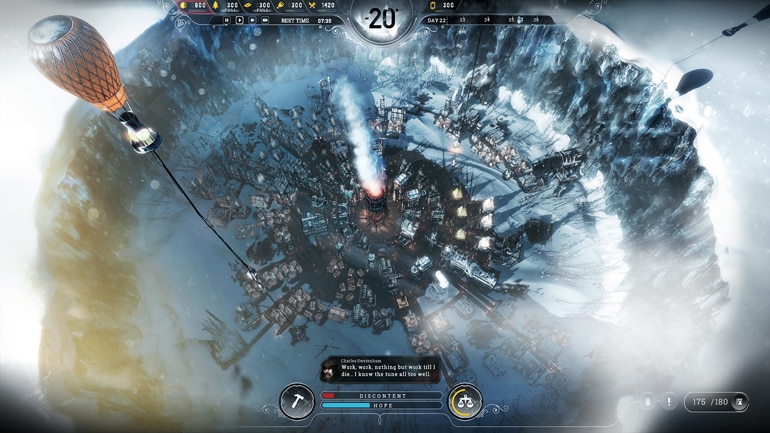 FrostPunk is an extremely polished city builder, one that forces you to look beyond just constructing new structures and gathering resources. The game can be beautifully bleak at times as you face decisions that could affect your settlement and each citizen that resides within its warm embrace. As with This War of Mine, 11 Bit Studio has once again created a game that can be difficult at times but never unfair. It's a game that, just as in life, forces you to accept the consequences of your decisions but never lose hope.