Leading game developer and publisher Garena have announced a global partnership with Japanese manga and anime house Kodansha. The partnership will bring together one of the most popular Japanese anime series, Attack on Titan, with one of the publishers hit mobile games, Free Fire.
"Free Fire players can soon battle in the style of one of the world's most captivating modern dark fantasy anime – Attack on Titan. The series has captured the imagination of many worldwide with its unique and immersive narratives; we're excited to bring this over into the world of Free Fire," said Harold Teo, Producer at Garena.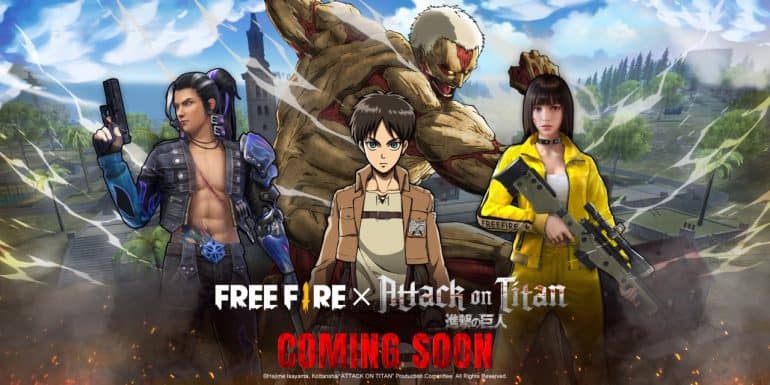 Free Fire's partnership with Attack on Titan will offer players the opportunity to charge head-on into battle with exclusive collaboration content inspired by the hit series. Fans of the series can look forward to wearing the colours of the Survey Corps division or outfits inspired by the fearsome man-eating Titans. Exclusive gun skins and other Free Fire items and collectables will also be available once the crossover goes live in March.
Previously, Free Fire has partnered with some of the world's most prominent names in an effort to bring a unique gaming experience to fans.  The battle royale game has formed various collaborations with popular franchises and big celebrities including Netflix's Money Heist television series and international football star Cristiano Ronaldo, who now appears as an in-game character called "Chronos".
Garena is a leading game developer that has been growing rapidly over the past few years. This success is largely owing to the increasing popularity of its survival shooter game, Free Fire. According to App Annie data, it was the most downloaded mobile game in 2020.
It has actually reigned supreme for two years now, having also secured the top spot in 2019.
The newest collaboration is one of several efforts from Garena to ensure worldwide success, with the company currently having plans to expand its reach into South Africa and Sub-Saharan Africa.
The Free Fire x Attack On Titan crossover will go live in March.