The latest PlayLink animal-themed party-game from Sony Interactive Entertainment and NapNok Games, Frantics, a PS4 exclusive, sees players using their phones to compete in a series of frenetic minigames which hosts up to 4 players. The challenges are hosted by a sly and mischievous fox who is quite fond of his whiskey and always looking to stir up a bit of trouble. Gamers compete to outsmart and outplay each other in order to win different rounds and ultimately be crowned the winner. While minigame collections haven't received much love in recent years, they can still be fun when done right. Frantics is proof. It's really good fun.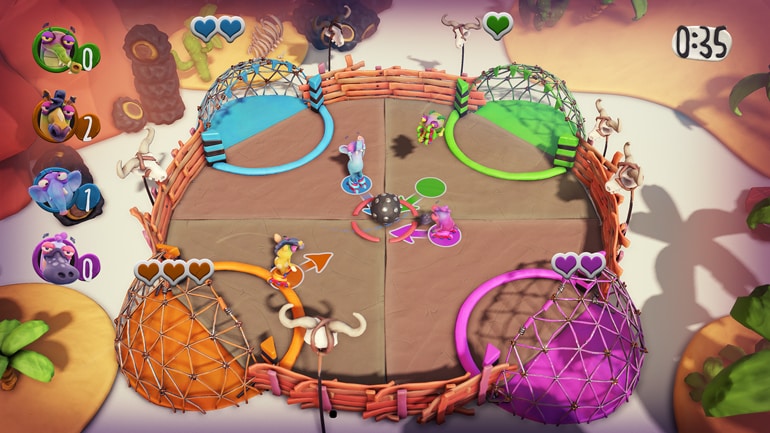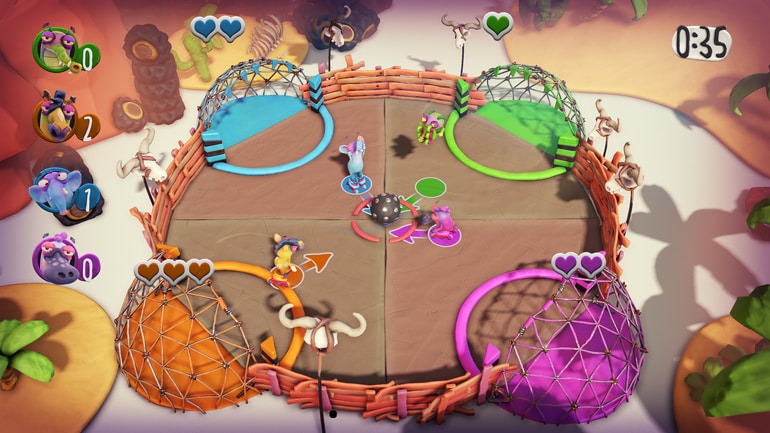 Like most of the previous PlayLink games, to start the game you need to download the Frantics companion app, either from Play Store for Android or App Store for IOS and connect your smartphone or tablet to your PS4 network. This, of course, means that you don't need four DualShock controllers – which is a big plus.
Once you join in on a game you get to take a selfie and choose from one of 12 wacky looking animal characters as your avatar. You then need to shake your smartphone or tablet to uncrate and reveal your character on screen. The more you shake the wackier your character becomes. Yes, if you haven't figured it out by now, this is a game aimed at the entire family, both young and old.
There are 3 game modes to play. You can either choose to play one of the 15 madcap minigames individually or select a set of 4 games grouped together which you can customise to your liking. The main game mode is the Fox's Party which see's you competing in a set of random games hosted by the deceiving fox himself. Among those games are Friendless Runner, which sees players race through a track full of random obstacles, Icicle Pickle, where players compete to be the last animal standing on a slippery platform, and Dough Knights, where you collect doughnuts within the time limit, but to name a few.
Before each game, you get a practice round to familiarise yourself with the game and its controls. Your smartphone is used to shake, tilt and swipe your way around the mini-games and no dual shock controller is needed at all. Much in same vein as Nintendo's Mario Party, at least in certain areas, with Frantics there are also opportunities to collect coins which can be used to bid on certain items giving players an advantage to get ahead in the game.
Visually, Frantics looks very good. The characters and environments are all moulded from clay and are done in a very playful and goofy looking manner. If you look very closely you can even see some fingerprint details on the characters.
However, the real drawcard here is the game's sinister host. Step aside Steve Harvey, Ryan Seacrest and Drew Carey, the Fox manages to make every game a lot more interesting by sneakily propositioning players to mix up the match. He'll often call up a player and give them some top secret advice on how to outsmart other players during the game. This is a fun element and adds to the gameplay in a good way.
Overall, Frantics is a fun game to play when you have friends or family over. There are plenty of fun twists, hilarious betrayals, sneaky tricks and backstabbing that will make any party even more entertaining. It is another good addition to the PlayLink family, which seems to be getting better with each new game added to the collection.