For the longest time, fans of the upcoming Forza game expected the next iteration to be Forza Motorsport 8. Instead, Xbox Games and developers Turn 10 Studios announced that the sub-series of the franchise would be receiving the now standard restart of its popular simulation racing game. Forza Motorsport (2023) – as it is now commonly known – has been stripped down and rebuilt from the ground up.
RELATED: Trianga's Project: Battle Splash 2.0 Review
For a brief moment in the mid-2000s, I had lost interest in most racing games. Having been a fan of the arcade racing titles, the collapse of a few titles and a drop-off with others left me indifferent about the entire landscape. However, during the same period, we witnessed the rise of the sim racer, which heralded a new era for serious racing fans. With each year that passed, the next title released pushed the boundaries further and with the increased competition, the fans could choose between various simulation games.
The Forza Motorsport franchise was one of the early releases during this upswing of sim racing games and rose to the top in a battle with the PlayStation equivalent, Gran Turismo. Between the duo, we've observed some of the best, fun and precise titles for fans to enjoy. Not only can you push the limits of realism with the cars, but the advancements in weather, wear, audio, handling and, most notably for hardcore racers, professional tinkering of parts and setup have made these games top-tier. Having wiped all that clean and begun anew, can Forza Motorsport keep its high-level competitiveness and realism for all to enjoy?
RELATED: The Crew Motorfest Review
The Tried and Tested Formula
Across the majority of sim racers, there isn't always much in the way of a deep story to be unfolded. Instead, we frequently get the standard approach of racing across a few Series Cups on lower tiers and ranking up over time to unlock higher tiers and earn money from finishes to purchase better cars and upgrades. However, some have tried to add a more personal touch of character building into the mix, with mixed results. At the end of the day, it's all about the racing, leaving that story modes for arcade and crossover titles.
Forza Motorsport doesn't differ much from those mentioned above. After your initial tutorial – a lap or two around the track in a AAA car to whet your appetite – you're given minimum funding and the choice of three level D cars to purchase and begin your racing journey. You're then thrust into the racing world with a practice day in your first Series Cup, where your main aim is to achieve a top-three finish to unlock the next Series Cup and then your next tier of racing class.
There are no frills or much to fuss about here. Simply enter the Series Cups presented to you, race to win, upgrade accordingly and proceed up the ladder, earn more money and purchase new cars you like. It's a basic concept that has stood the test of time but can also be mundane if you are looking for a bit of flair to distract you between fast-paced racing. Instead, after each event is completed, your earnings and rewards revealed, your next option is to dive right back into it.
On the other hand, this is good as well. No one wants to spend hours traversing unnecessary dialogue, the potential for sub-standard acting and enough padding to make you switch from 500+ horsepower to just one in a horse-riding simulation – and yes, it exists!
Despite no real story to get behind, there's still the matter of unlocking the initial 500+ cars. Furthermore, each of those cars has its own set of upgrades to work through, while there is an enormous repository of settings to configure on your cars to eke out that little extra performance at each unique track. It could take you a few seconds or a few days to fine-tune – the depth level is up to the player.
Xbox Games will release an initial 20 tracks at launch, with each passing month revealing a new track for players to get excited about.
RELATED: Forza Horizon 5 Review: The Best Racing Game
All That Glitters Is Gold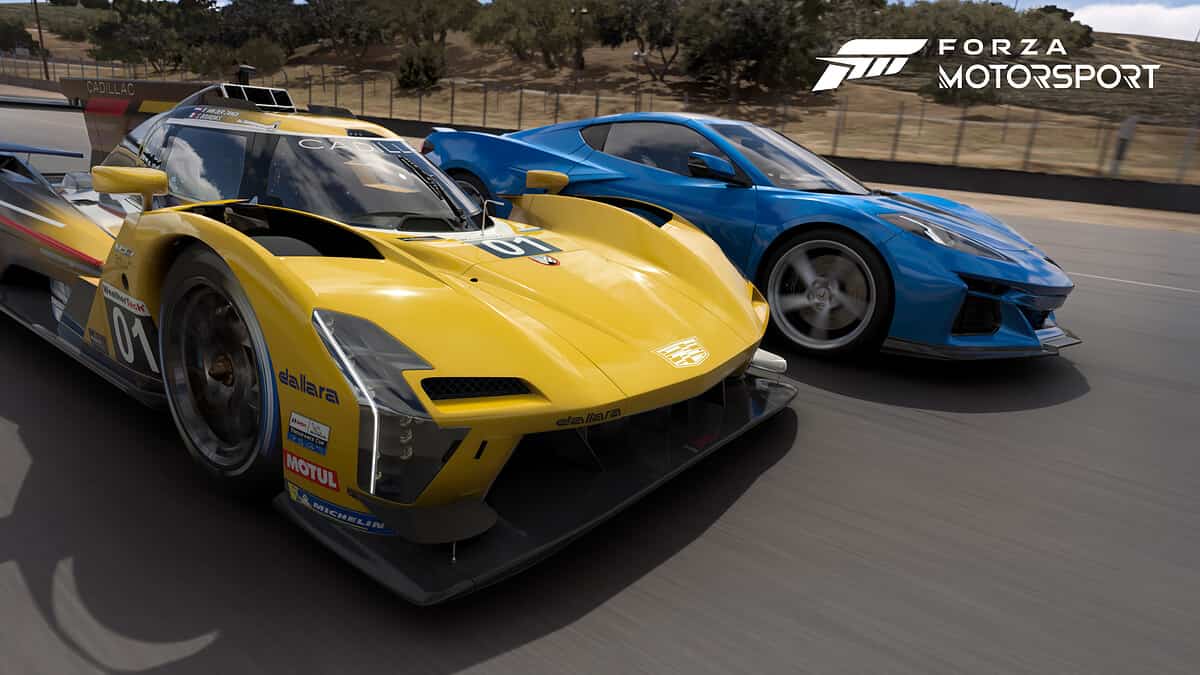 Before hitting the trigger on the controller for your first acceleration down the track, you're given just a few seconds to enjoy the surroundings before taking the wheel in a live race. But in those first few seconds, you're already presented with sufficient information about the game's graphical capabilities. Although under the lights of a night race, the lighting effects are adjacent to that of a JJ Abrams-directed lens-flair fest.
However, the lighting makes sense in this instance and feels far more realistic. For instance, you drive straight towards the sun and encounter several track layouts. In some cases, some races occur in the late afternoon setting sun, which, if realistic enough, will make for quite a fair amount of glare. We've all experienced those moments as the sun rises or sets and hits the windscreen at the correct angle, making it an absolute pain to be on the road. And this is precisely what it feels like as you attempt to manoeuvre your way across the track, avoiding other cars while simultaneously battling the elements and the lack of vision.
This lack of vision isn't only a direct result of the sun's glare. In some instances, driving too close behind an opponent who kicks up a bit of dirt as they drive off-road makes for hair-raising situations where your visibility is hindered. This happens often, as several real-world scenarios also present themselves in the game. This includes rain, dust and dirt build-up, windscreen damage and more. In many cases, you're not simply racing against opponents. You're battling the elements as well, both physically and visibly.
Dynamic Gameplay
Strip away all of the glitz and glam, and the one aspect of the Forza Motorsport game that Turn 10 Studios would like to emphasise is the dynamic gameplay.
There's a lot to be said about adding different weather options or allowing weather change within a race. However, the developers have gone beyond that in how it is implemented. Coupled with elements such as ray tracing in real-time and track wear from all the rubber you and your fellow racers left behind on the track, the entire system is meant to be an ever-evolving landscape for players to observe and traverse.
The change of weather affects cars as you'd expect, with slick tyres not being able to grip, forcing the car to slide around quite often. While on the earlier tiers with street-legal tyres fitted to your hatchback, the effect isn't as harsh, although you'd still experience it. Switching up the tiers, you'll tiptoe around the track before switching to whole rain tyres to keep a handle on things.
How the rain falls, adding volumetric effects such as fog and mist and even a 'procedural cloud system' all make for adaptive racing. Each element has subsystems and particle tracing to create a fully immersive experience and a realistic aesthetic.
Lastly, there's the damage option. This feature has also existed since simulation racing games early beginning. However, they're often added as a step approach with thresholds like 0%, 25% and up to 100% damage. They don't always feel too realistic, especially after only a few scrapes off the line into the first corner. Forza Motorsport also has a dynamic management system with varying degrees of damage depending on the impact force, angle and part of the car that's taking the damage. If you're selecting this option in your racing as you level up, avoid too many contacts, which could easily result in a slow puncture and wreak havoc on your result.
RELATED: Forza Motorsport 7 Review – A Beautiful Flight Of Fancy
Some Glitchiness Off the Line
It may be due to an early release availability for the review, but the game had a few bugs at the start. While many are simple annoyances, the one that got under my skin often was the freezing at the loading screen. This forced me to exit into the Xbox home menu, close the game and relaunch. Even more frustrating was that it could freeze at the start of your next event and cause your entire previous race weekend to be erased.
There aren't any actual save points or manual interventions available. Once you've completed the race weekend and unlocked the next, there is an expectation that the progress will be logged and saved. So, to have to redo all that again, and after some intense racing to the podium, can drain the fun out of the experience at the time. This often caused me to take an unwanted break just to realign and have a go at it again.
Let's hope this gets ironed out with a Day 1 patch, as it may be a bit of a talking point for many players if it persists.
Simulation Racing for the Ages
It's hard to believe that it's been three years since Forza Motorsport (2023) announced the Xbox Showcase in 2020. At the time, it was three years after the last title, Forza Motorsport 7, was released, leaving a six-year gap between the two titles. Thankfully, the Horizon series kept the Forza franchise alive for Xbox Studios. The original Forza franchise was the Motorsport series, so, in essence, it's going back to its roots in more ways than one with the latest title. And what a glorious return it is.
There are countless details to enjoy, from the visual aesthetics to the faint tyre squealing as you push them beyond their limits. At its most basic, it's a pick-up-and-drive game that users can enjoy without too much bloat, apart from the abundance of choice in selecting a car. For the enthusiast and hardcore simulation racer, there is an even bigger abundance of upgrades and countless tweaks to achieve your best results.
Forza Motorsport (2023) officially releases on 10 October 2023 and will be available on Xbox Series X|S, Windows PC and Xbox Cloud Gaming. While there are perks to purchasing the game – like five-day early access – it'll also be available from Day 1 on Xbox and PC Game Pass.
The Review
Forza Motorsport (2023)
If you love cars and simulation racing, Forza Motorsport (2023) will arguably be the top title after its release. The game offers every dynamic environment in its gameplay, making the racing as realistic as possible for seasoned racers. It also offers a far more straightforward approach to casual racers, making it a tremendous pick-up-and-drive game.
PROS
All-out racing
Absolutely amazing graphics
Exceptional dynamic system (weather, tyre wear, etc.)
An overabundance of cars and upgrades
CONS
No storyline or open world if that's your jam
Pre-launch bugs
Review Breakdown
Gameplay

0%

Graphics

0%

Replay Value

0%

Sound and Music

0%

Progression

0%