Xbox Game Studios' Forza Horizon 5, the 12th title in the franchise, is about far more than racing. It's difficult to describe but the developers have somehow created such an interesting world that you'll most probably find yourself just cruising around exploring the beautiful and breezy open-world environment for hours on end. In fact, the races, which are exceptional too, and the over-the-top set-pieces, which are really fun, seem second to just enjoying the stunning cars, the chilled mood and the welcoming tone of the game.
No, the real star here is the gorgeous world, and it's absolutely breathtaking. In fact, I'll go so far as to call Forza Horizon 5 a digital tourism game set in Mexico.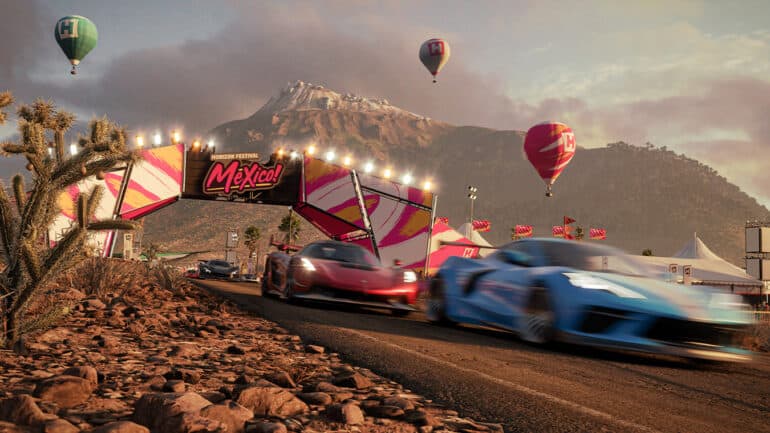 From the very first moments you load up Forza Horizon 5, it's plain to see that Playground Games put their heart and soul into creating an experience rather than just pitting you against opposing fast vehicles. The game somehow manages to find inspiration from various sources (including Fast and the Furious) to create a racing title that's for just about everyone – beginners, newcomers and dedicated fans.
I often complain that games like F1 2021 or Project CARS 2 are far too technical for the casual average joe to enjoy. And while there is a space for that, nobody seems to find the middle ground between simulation and arcade. Until now, of course. Forza Horizon 5 takes fun seriously.
Whether it's throwing you into dust storms and tropical storms or getting you to race against planes, or even dropping you from the sky, the game finds new and clever ways to keep you entertained throughout. But it also gives you the freedom to get a little technical. You could supe up your vehicle by upgrading pretty much all the elements – for those who want to play mechanic. Accessibility settings can be adjusted to your play style.
If you've played previous titles in the franchise, you'll know that racing in Forza Horizon 5 is about scope, scale and big set pieces. The game's simple story leans into that. There's no rival racer or villain. It's just about enjoying the festival and making a name for yourself. You can do this by roaming around and taking part in various events or challenges — like racing down a volcano or taking pictures in the middle of a desert storm.
When you match that to the glorious Xbox Series X graphics, you'll find yourself screengrabbing fairly often. The visual upgrade is huge – especially to the elements (dust, smoke, lighting).
In a nutshell, Forza Horizon 5 is everything fans wanted. The snow, rain, beach and forest environments are immersive. The car roster is massive. And most importantly, it remains loads of fun.
The Review
Forza Horizon 5
Honestly, Forza Horizon 5 might be the most fun I've ever had with a racing game.
PROS
Beautiful
Fun
Tons of racing events
Loads of cars
Review Breakdown
Gameplay

0%

Graphics

0%

Replay Value

0%

Sound and Music

0%

Story

0%