I'm starting to notice a trend. For every F1 release, there's a Forza release too. And this creates a problem. Forza is a really good title but, when compared to the corresponding F1 release for that year, it gets held up to a very, very high bar. F1 is the pinnacle racing sim set in the world of the pinnacle of motorsport. Forza is also a serious racing game but does not hold a candle to F1. Forza Horizon 4, on the other hand, doesn't necessarily demand that kind of focus. It is unashamedly a more arcade game, and I think that's what saves it.
Having said all that, is Forza Horizon 4 different enough to Forza Horizon 3 to justify you parting with your not inconsiderable amount of hard earned cash?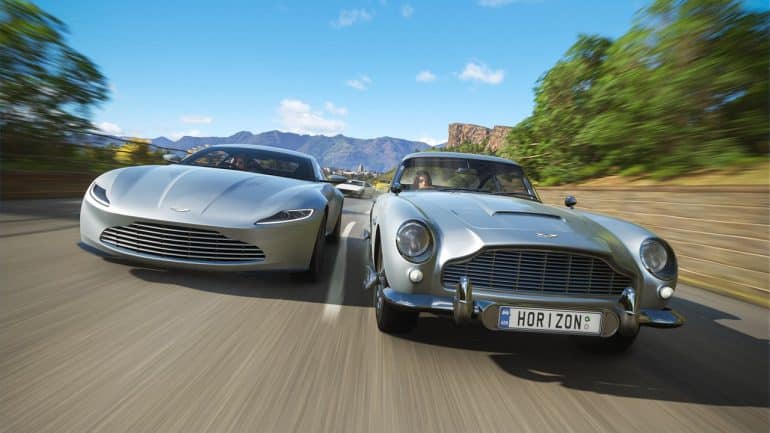 For starters, this year it's set in Britain. The last instalment took us to the tough, unforgiving Australian outback, with beautiful beaches and the somewhat characterless cities. This year, Britain. Personally, going to Britain for its scenery is like going to Germany for its cuisine, or Italy for its engineers. You just know you're not getting the best but, fortunately, they have given it the surreal treatment and Britain has never looked this good in reality. At the moment you are limited to a map covering 3 areas of the Great Blighty, namely the Cotswolds, Scotland and the Lake District. This is sure to increase over time but, as an initial offering, there is more than enough to keep one going for a very long time.
The main stars of this game are the cars and Playground Games have always nailed this, even back in the Xbox 360 days. I would go so far as to say this is the most beautiful racing game out there, especially at Xbox One X resolutions and frame rates. There are 100 more cars to choose from over Horizon 3, bringing an already huge variety up to a whopping 450. You get a few freebies for each discipline when you stand as is standard fare, growing your reputation and bank account unlocks newer, better and rarer cars. A new element is a Need or Speed-esque Wheel of Fortune, where you get to spin a wheel and win some cool stuff, from clothing to cars.
There is also an auction house where you can sell your beloved machines and buy others. This is the kind of focus they have put on online gaming in this release. This is, at its core, an MMO. You can now buy other player's cars and this comes in really handy when you want to modify a vehicle but couldn't be bothered to get into the modification menu system, which is very complex for an arcade-style game. Fortunately, this is not a prerequisite. You can go to the auction and buy a car that has the modifications you want from a player somewhere in the world who has taken the time to get it just right.
Forza Horizon 4 is massive in the number of events you can participate in and the number of disciplines you can grow in. I may have mentioned in the past that I do not play well with others and you can enjoy this game in its entirety playing solo, but the MMO-ness of it is so subtle and so natural that I actually found myself looking forward to the interaction.
A lot has been made of the weather system in this release, where the time of year and time of day are more than just cosmetic. The season completely changes the handling characteristics of the cars and the tracks, but what really blew me away was that, once you receive tour yellow wristband for qualifying to take part in the Horizon 4 event, you automatically get synced to the game's world clock and all players experience the same time of year and the same time of day, and the season changes once a week. That's pretty cool.
To answer the question, yes, Forza Horizon 4 is Forza Horizon 3, but just much (much!) better in every respect. You can still decide to give all the mayhem of racing a skip for a while and just drive around, enjoying the British countryside, taking pictures of your car in the Lake District at sunset while streaming music from the FH radio station. The cool thing is that you don't just earn points from racing but also from just about anything you do. This game wants you to explore every aspect of it and rewards you as such.
So to summarise, racing and winning in Forza Horizon 4 is actually the least thrilling part of the game. Losing yourself in this beautifully rendered alternate universe where Britain is beautiful is really what it's all about. Playground Games and Microsoft had knocked out another winner and this game has so much expansion room that I see a very long life ahead for it.
The Review
Forza Horizon 4
Playground Games' impressive streak continues with Forza Horizon 4. It's not about beating your rivals and reaching the finish line first. It's about the racing experience.
Review Breakdown
Storyline

0%

Gameplay

0%

Graphics

0%

Replay Value

0%

Sound And Music

0%