The first season of Fortnite Mythic Royale was an incredible success for the ACGL (African Cyber Gaming League). South African esports fans had such an amazing time that tournament organizers have announced a second season.
But that's not all! Season two comes with another amazing prize pool of R30 000, and other goodies to be won over the next five months.
So how does the tournament work?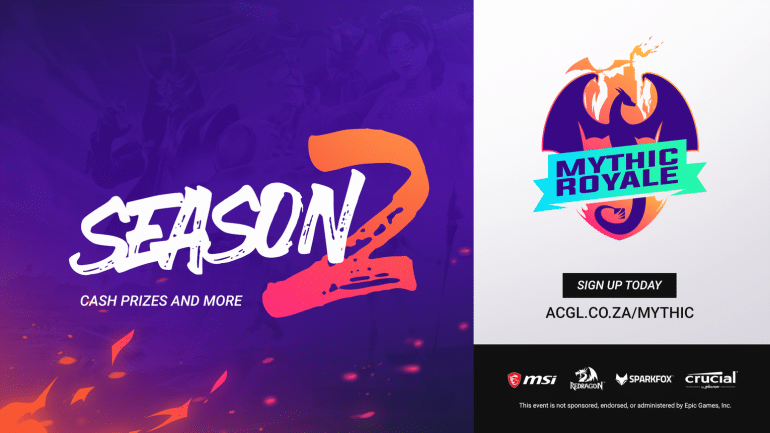 Fortnite Mythic Royale season two is an evolution of the first season, offering competitors more ways to qualify, compete, and win.
From now until November 28th, Fortnite players in South Africa will be able to compete in two custom lobby qualifiers each month.
Players across all platforms (PC, Console, and Mobile) can compete in ACGL's regular weekly tournaments and daily match-finders, accruing ELO points as they play. Top placed competitors will earn direct invites to the monthly finale.
Additionally, players who do not make it into the monthly cash finale will be invited to compete in the Challenger Cup which has awesome products up for grabs. Further announcements will be made about other ways to win, so it's worth keeping an eye on ACGL's announcements.
Dates for the Fortnite Mythic Royale monthly finales are as follows…
August 1st
August 29th
September 26th
October 31st
November 28th
Each month's finale will be live-streamed on the official ACGL YouTube channel.
For more information about the tournament and other local esports news, you should follow ACGL on Twitter and Facebook. And don't forget to join their Discord server too.