On Friday 15 November, my wife and I were invited to watch Ford v Ferrari at the V&A Waterfront in Cape Town. We were told it was going to be a swanky affair: formal dress, cocktails and finger foods, surrounded by some of the most iconic and beautiful machinery ever created.
I did not need any persuading. My wife was a different story. For her, it was a toss-up between staying home and shaving, plucking and waxing, or going to watch a movie "about cars". I tried to explain that this is not just a movie about cars; it is about one of the greatest stories in automotive history. It was about two of the most iconic brands in the world going head to head. It's about David going up against Goliath and winning. It's one of those "What-If?" stories, like, what if Germany won the war? What if Ford HAD bought Ferrari?
Not to sound dramatic, but that would have changed my world completely. What would a Ford Ferrari look like? What would Formula 1 look like? Would the Ferrari badge be seen at NASCAR? I guess Ferrari would have gone the way of Porsche. Maybe we would be seeing soccer moms driving kids around in their Ferrari SUVs. Or maybe the Ferrari badge would have been relegated to the role of just being Ford's "hot" option, like AMG is to Mercedes (or Shelby is to Ford). Maybe we would have the option to buy a Ford Focus, Focus ST, RS, Ghia and then the REALLY hot Ford Focus Ferrari. Fortunately, when I catch myself descending into a panic attack thinking of this fresh new hell, I just have to remind myself, it did not happen.
Old man Ferrari, Enzo, wasn't the nicest human being, but he was a master designer and engineer. For all his failings as a person, his pursuit of perfection was and still is admirable. Ferrari, in the '60s anyway, was little more than a woodshed enterprise tucked away in the hills of Modena Italy. Enzo was a born racer, everything else was secondary. He built road-going cars to sell to (what he considered) stupid Americans purely to fund the Scuderia. Scuderia is the name he gave to his racing team because the word in Italian means stable, specifically a stable for thoroughbreds. It is the reason he has the prancing horse as the Ferrari badge.
This pursuit of perfection came with a price, however. A very high price, as is mentioned in Ford v Ferrari. At the start of the '60s, Ferrari was bankrupt. Parallel this with what was going on "across the pond" and Ford was experiencing one of its worst financial runs since the war.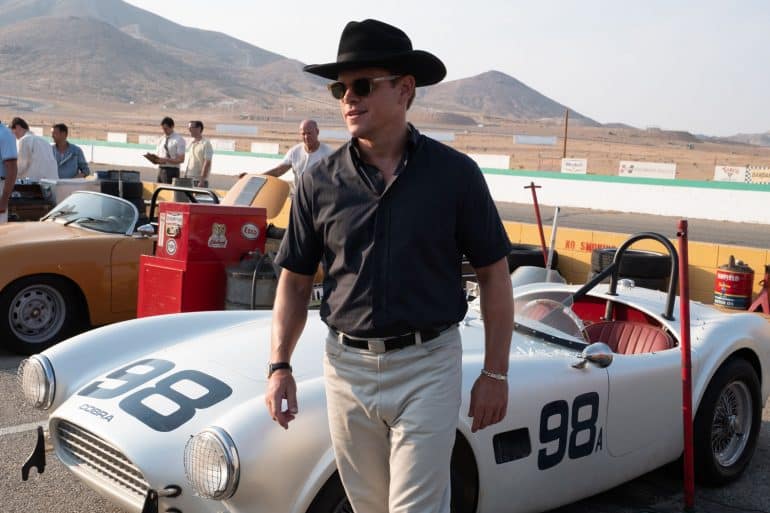 Early on in Ford v Ferrari, Henry Ford II comes marching into one of the assembly plants in Dearborn, Michigan and brilliantly brings the viewer up to speed on exactly where Ford came from, where it currently is and, unless someone comes up with a brilliant plan, where they are going. Remember, Ford was in a heated battle with Chevrolet at that time as well. Chev was much smaller but were making some of the most exciting cars in America at the time.
The man with that brilliant plan was Lee Iacocca. The head of Marketing for the Ford Motor Corporation, he realised that Ford was making cars for a post-war world. Cheap, reliable, the last piece of the picture that makes up the American dream. Iacocca saw that the focus needed to change from the parents to the kids. As Jon Bernthal so brilliant puts it in the movie, "What did those soldiers do as soon as they got home from the war? They had sex," implying that, 17 years after the war, Ford had a whole new target market. 17-year-old kids with licenses, being influenced by actors and films and trends from Europe. Think James Bond, The Beatles, Raquel Welch…
To appeal to this crowd, Ford needed to be seen on the international stage. Though they were competing in NASCAR, Iacocca suggested they needed to be seen as winning in Europe. In the '60s, that meant one thing, Le Mans. Ford at the time was a corporate giant, completely wound up in its own bureaucracy. For the Ford Motor Company to change its direction to making sportier cars would take decades of planning, marketing and changing of perceptions. Leo Beebe, Henry Ford's 2 IC and, for the sake of the narrative, the bad guy, tries to shut the idea down and basically destroy him as a human by saying that Iacocca has been in charge of marketing Ford into its worst financial situation since the war.
Having said that, Lee Iacocca was a brilliant man and keeps the idea afloat by suggesting Ford purchase Ferrari. Ferrari had been winning at Le Mans year after year after year. His cars were fast and reliable. He also trained his race drivers like machines. For Ford to buy an outfit like that would mean they could start capitalising on Europe immediately.
Ford v Ferrari really starts when Enzo asks about Fords influence over the Scuderia and Iacocca has to admit that, if Ford decided, Ferrari would not be allowed to race. That historically is accurate. What is still the topic of some debate is whether Ferrari ever really intended to sell to Ford, or was Enzo just using Ford to get the attention of FIAT? In Ford v Ferrari, it is strongly suggested that that is the case. Many who knew Enzo Ferrari say that he was way too much of a nationalist to ever sell to Americans.
The story really develops from that point on and the story gets the Hollywood treatment, obviously. A lot of creative licenses are taken. Like Carrol Shelby and Ken Miles punch up on the street, probably didn't happen. Carrol putting Shellby American up as security against Miles winning Daytona to ensure he gets to drive Le Mans also probably didn't happen. But it doesn't matter, because you just fall in love with the character.
Matt Damon brought the Texan fighting spirit of Carrol Shellby to life to such a degree that at this year's Indy 500, where him and Christian Bale were honorary starters for the race, people who knew Carrol Shelby said the way Damon spoke and smiled and reacted was as if Carrol was there with them again. Now that is saying a lot.
Racers are not the kind to forgive inaccuracies when it comes to their sport. They are probably one of the toughest audiences to please, largely because of their passion for it. For a race driver to express his love for the sport is to literally take their life in their hands for 20 minutes, or 2 hours, or, in the case of Le Mans, 24 hours.
Like Carrol Shelby says in the movie, a race driver lives at 7000 rpm. At that speed, at 200 MPH, that's when time slows down, they speed up and everything is perfect and this is brilliantly captured in the scene towards the end when Miles is on the Mulsanne straight, the GT40 MK2 is purring at 7000 RPM, the speedometer is sitting at 210MPH and he is singing "I'm H-A-P-P-Y…!" He then quietens down and you can see the emotion in his eyes as everything just quietens down, there is no one behind him, no one in front and it almost feels like time has stopped altogether.
I'll be honest, I got a lump in my throat. I cried for the first time in a movie since the first time I saw the Star Wars logo appear on the big screen and that orchestral crash of John Williams bombarded me as a child. In that case, the moment was just so big. I had no choice but let the tears flow.
Here, in Ford v Ferrari, it was just such a powerful moment. It was the culmination of everything that Ken Miles had gone through, the friendship with Carrol Shelby, his family's support, and everything, just captured in that moment. Knowing what happened next also added to the bittersweetness of the moment.
From a story perspective, Ford v Ferrari is a really great retelling of one of motor racing's great rivalries.
Something that has stumped me is how, as filming techniques have improved and equipment and visual effects have improved, every genre of film has gotten better over time. Every genre, that is, except racing. There have been good car films, like Fast and the Furious, Baby Driver, and The Italian Job, but to find good films about this specific racing series, you have to go back to Days of Thunder. It may not have been the most accurate depiction of NASCAR, but it was really well shot and had a solid story and acting.
The list of truly great motor racing movies is very short. There is Steve McQueen's Le Mans, Paul Newman's Winning and maybe the first half-hour of James Garner's Grand Prix. That is it.
Director James Mangold realised this, I think, because he chose to forgo massive VFX shots and did pretty much everything in-camera. The Ford factory in Dearborn, where you see the assembly of Falcons, was made up of real cars and parts sourced from collectors around the world. The Le Mans racing cars were either genuine collectors' items or terrifically accurate replicas made for the film. The director of photography on the film is Phedon Papamichael who apparently watched Le Mans and Winning over and over again to recreate those shots and then hired the grand Daddy of high-speed photography Allan Padelford who created a new technique of filming racecars to best capture the speeds at which they travel.
Like those iconic films from the '60s, Papamichael wanted his cameras hard-mounted into and onto these racing cars so he could capture the feeling of speed, the rough grittiness of being strapped into an aluminium shell with little to no suspension, being flung through corners at speed and seeing the effects of real G-force on the human body. It works. All of these little details add up to create the feeling that you are in the car with Bale, travelling at 200MPH.
Ford v Ferrari is just a fantastic film. No agendas and no BS. It's just a great story about a great story, with some of the best actors and technicians working in the industry today.