FNB's eBucks rewards system seems complicated, doesn't it? Well, let us simplify it for you. Here's how you could maximise the reward system and earn more eBucks.
When I started off earning income from my first full-time job, I had simply transitioned from the bank I had at varsity. This was mostly a result of the reduced fees and student benefits. For many people, this would most often link back to which bank your parents are using, as it would make life easier to transfer those much-needed funds whenever they were necessary, or where you received your bursary or stipend from. Fast-forward nearly a decade, and I've pretty much streamlined how I shop, in line with getting the most rewards each time I have to spend.
Over the next few weeks, I invite you on a journey with me. I'll take you through some of the tricks and practices I've personally set up across a wide variety of banks, retailers and the likes all with one goal in mind: getting the most rewards possible.
Whether it be your bank, in this case, FNB, or where you buy your groceries (Woolworths, Checkers, Pick n Pay, Spar), there most likely is a reward or saving to be had with every purchase. Irrespective of whether you'll take my advice presented in each article, just remember this simple notion: "If you're not maximising your rewards systems, you're simply paying for someone else's."
What you need to know about FNB's eBucks
Switching to FNB
This may sound like a hidden advertisement, but that's not the case. Having been with each of the four main banks in my varsity days, each with varying fees, rewards and ease of use, I had settled on the one that gave me the most at the time. When I had my first job, I had kept using the bank as I transitioned, although at the time I was scouting a few options based purely on fees.
I had decided to stay with FNB. This wasn't as a result of reduced fees, but given that they were all fairly similar, I had not wanted to rock the boat, having already established my details across the board with my employer, debit orders, subscriptions and even the loan I had taken out for the move, some 1,000KM north from the coast.
I had not known much about it at the time, but I had signed up for two features that would have a substantial effect on how I spend down the line: eBucks and Bank Your Change. The latter had some benefit in paying off a fine I had received a year later, having not spent any of the accruals of R5 every time I swiped my bank cards. However, it wasn't until four or five years later when I had fully delved into the world of eBucks that I began to change my pattern of spending.
The benefits were, and still are, huge.
Maximising Your FNB eBucks Reward Level
Whenever I come across a fellow FNB banker, chances are that they're fairly naïve to the benefits of that eBucks reward level, ranging from 1 to 5. For many, reaching that sweet Level 5 seems unattainable, but it really isn't all that hard.
All that's required is to open the FNB app, navigate to the eBucks section, and select the Earn option. Here you will have a view of everything related to gaining the maximum from your FNB eBucks rewards.
Firstly, there's the Track My Rewards section. This breaks down all the various option on how to earn points which is then accumulated towards your overall level. Every year, around July, FNB makes changes to the earnings of these points. It's important to keep track of this, as it will allow you to climb that ladder you once thought impossible.
While there are quite a number of listed items in the sub-sections, there are a few steps you can take to gain quite a healthy number of points without too much effort:
If you don't already have a Credit Card, I would advise you to get one. FNB offers a reasonable deal to have a cheque and credit card bundle that would reduce the overall price of having both separately. If you're worried about buying on credit and the likes, don't be…
Transfer all your debit orders and disposable income to your credit card. It won't cost you anything when compared to debit or cheque facilities, but what it does is open a few doors and benefits:

For starters, spending on your credit card, even when your balance is positive as a result of you transferring your disposable income to your credit card, will earn you double the eBucks gained. Double!
Making more than 75% of your general store purchases via your credit card earns you a solid 1,000 points towards your eBucks level. This means, that without any of the other steps, you would have jumped a level already.

Setup your FNB Pay

If you have a supported smartphone, you can set up FNB Pay to tap for payments using your credit card via the FNB app. Having more than two taps earns you another 1,000 points.

Open and read the tips via the Track My Rewards tab

This is by far the easiest step to earn points, and will net you an easy 500.

Use the FNB app often – at leaest six times

By using the app to make transfers, payments, buying electricity, Powerball and the likes, you can gain as many as 2,000 points

Pay for Online Streaming

Being in the digital age, you no doubt would have some online subscriptions such as Netflix, YouTube, YouTube Music or Google storage, etc.
Adding these monthly payments via your credit card (or cheque card if you still don't see the need for a credit card) will gain you a further 500 points for each platform, with a maximum of 2,000 points

Never use the ATM

If you think I'm kidding, I'm not. If for some strange reason you still want to carry cash around with you in 2021, do not use the ATM. Instead, make use of the Cash@Till options available at PnP, Spar, Checkers and others.
FNB incentivises its users to get cash from other vendors, which makes it less likely to need to have to maintain and stock its own ATMs. Switching to this method of cash withdrawal earns you another 1,000 points.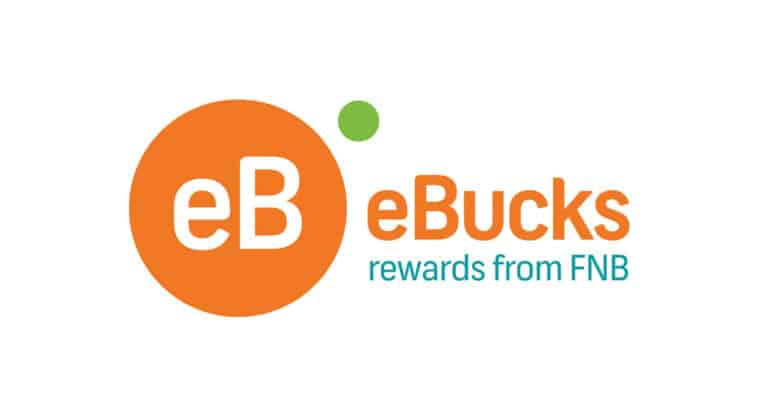 You're now already halfway to reaching that Level 5 goal on your eBucks level. You'll need a monthly recurring tally of 12,000 points to reach and maintain that mark, gaining you the maximum amount of eBucks as you spend, while also earning your up to 40% discount on the eBucks store and selected stores.
It's important you run through the remainder of the list on your FNB App under the Track My Rewards section to see where you're most likely to earn the most points. Each person is different, so you'll need to adjust accordingly. If you're someone who is able to save, then pay close attention to the savings tab which will indicate where and how you should save your money to get the most rewarded. You can also set up a monthly budget in the nav>>Money section under the 'nav-igate life' tab.
Selective Spending
This isn't about choosing how to spend your money. This tutorial isn't about that. Instead, it's just a few pointers on where to spend, especially if you want to maximise your eBucks rewards at the end of the month.
Maintaining a Level 5 score will also earn you around 7% back on your total spend, which can be boosted to around 15% when using the correct stores. It'll also earn you some eBucks when you fill up for petrol. However, selecting where is critical.
Firstly, let's look at your groceries. For many people, they often tend to have a favourite store for some or other reason. But, if you're likely to get similar products across each store, why not use the one that's going to benefit you the most? For example, if you buy milk, bread and sugar at PnP because it's closer, you're losing out on earning 15% back in eBucks rewards. If you're spending R100 at Checkers or Shoprite buying the same items, you'll earn back R15 (150 eBucks). The same applies to Clicks.
When filling up for fuel, don't just go to the one closest to your house. This is often where you'll lose the biggest chunk of your eBucks rewards as a result. The selected filling station for FNB users to gain the maximum eBucks is Engen. I know this isn't ideal for cities where there aren't as many filling stations, but if you plan your route to and from work, find where the nearest Engen is and work it into your weekly routine. This means that if you've arrived home with the light on and then need to fill up, you don't need to drive further than necessary if you've already pre-planned where to go.
Check out the list of eBucks partners here, on where you should be shopping more often. Do not buy products at other stores that can be bought at one of the selected partners.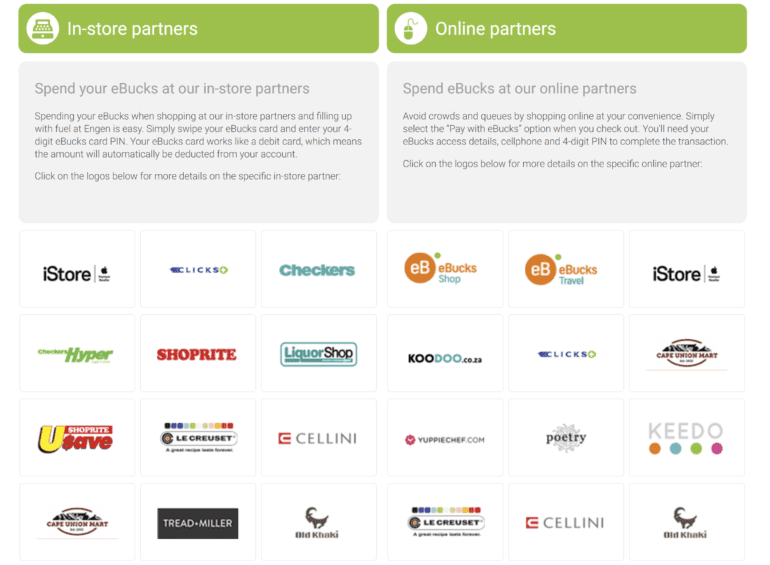 Spend Smart with Smart Spend
FNB Smart Spend is linked to your credit card spend. So if you haven't completed Step 1 above, then this wouldn't apply to you. But just consider the below if you're still on the fence about adding a credit facility to your account.
Smart Spend is broken down into five spending thresholds. These thresholds are different per account type. In other words, a Gold account will have different thresholds compared to a Premier account. These five thresholds are an indication of how much you should spend to then unlock additional eBucks.
There is a potential to earn 6,000 eBucks if you tick all the thresholds. Provided you have reached Level 5, that's R600. Considering that you can get a joined cheque and credit card account for less than R300 (depending on your level), you'll be earning double in rewards. That said, you're not always going to be spending to the maximum amount each month, but if you follow Step 2 above, you'll at the very least be making your money back. That without factoring in any of the other eBucks earned through the other channels.
If you set up any debit orders to be deducted via your credit card, it'll add 1,000 points towards your eBucks level. However, these debit orders (or transfers) won't be factored into your Smart Spend totals. Only payments made via credit card when you swipe, pay online or use FNB Pay (linked to your credit card) will you earn.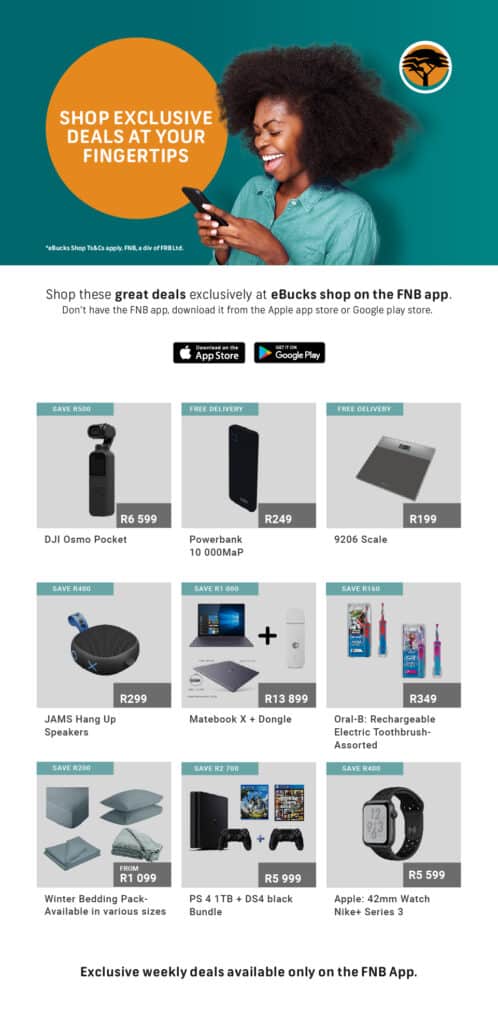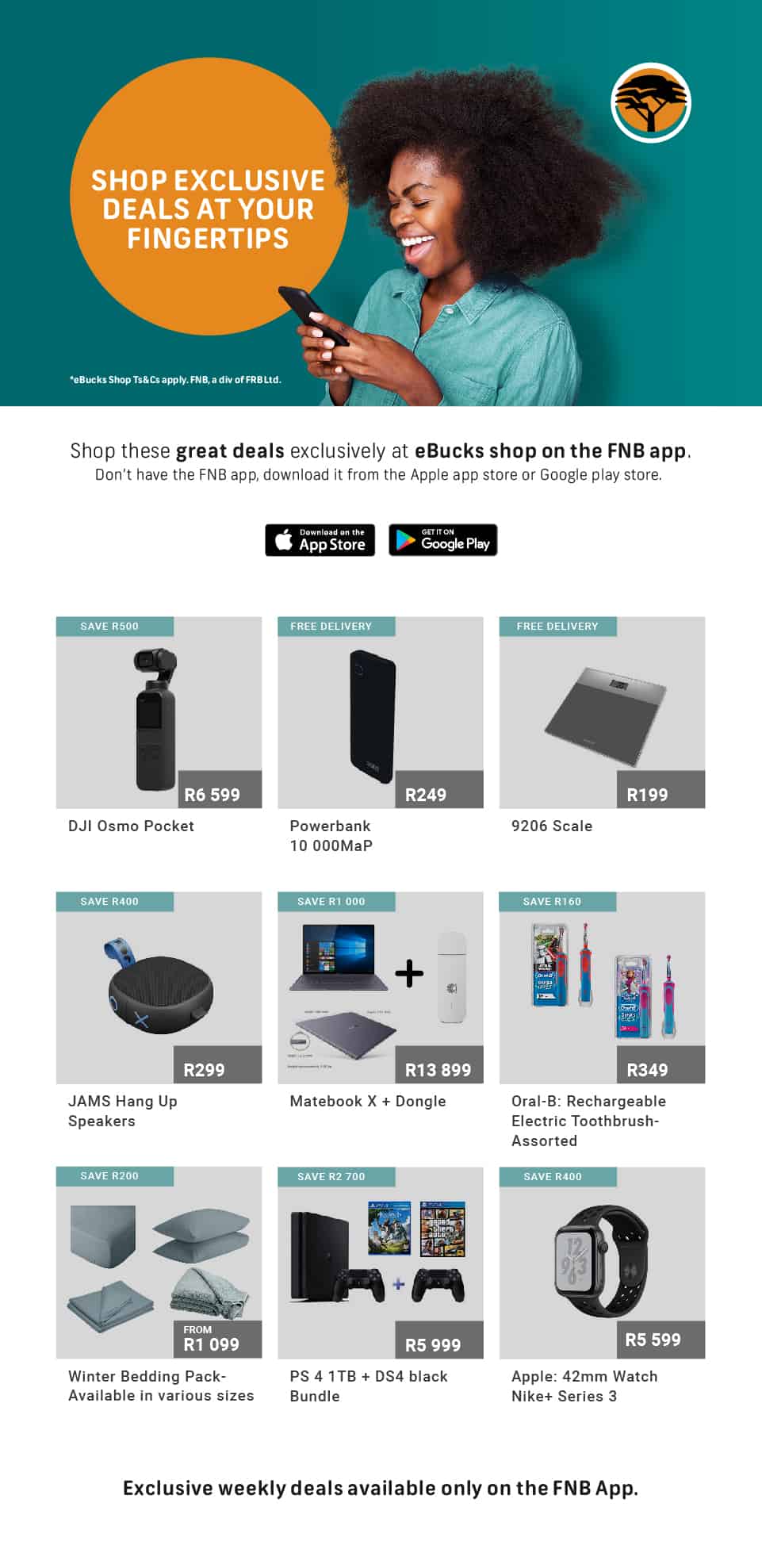 What You Could Earn eBucks
There are varying degrees of success to be achieved through FNB eBucks. At a minimum, you should be earning sufficient rewards equivalent to your FNB accounts. If you're not earning that as a basic, it means you have not followed even the easiest of tasks laid out above. I will, again, state the notion that if you're not earning rewards on your account, you're simply paying for someone else's.
Being on Level 5, in an average month, I earn a very reasonable 6,000 to R10,000 in eBucks – or R600 to R1,000. Additionally, with the Smart Spend feature, I earn a further R400-R600. At a minimum, I'm earning back R1,000 in value. That's almost five times my FNB account fees. And this is without any loans or any of the additional services where you could also be earning towards your level or direct eBucks return.
I often compare this to the other rewards systems from other banks. This is easy to do with colleagues who bank with Absa, Standard Bank or Old Mutual. The highest any of my colleagues earn back in a good month is R200. It's not easy to see why I prefer to stick with FNB, without even factoring in some of the other services advantages over other banks, especially what you can do via the FNB app.
Tying It All Together
For me personally, I have a selected group of rewards, each with its own benefits based on my monthly requirements. Almost every major outlet these days has a rewards programme in some form or another.
Although you may not know it, many of these actually link quite nicely together. This includes the likes of the Clicks Club Card, Checkers, Woolworths, Discovery Vitality and more. I know this because I have all the mentioned rewards and use them to earn rewards on two or more programmes simultaneously. I'll take you through a few more of these in the upcoming weeks.
What's great about these rewards is that you don't need to carry around cards for each of them in your wallet anymore, you can sign in using their respective smartphone apps, so you'll never miss out on earning rewards when you've lost or left a card. It also makes it easier for your partner to also contribute to the rewards programme to really maximise on it.
Tell us, what have you bought using FNB's eBucks rewards?