In Flash Forward #2, the multiverse is in danger. Tempus Fuginaut, the cosmic entity who keeps the balance between worlds has tasked Wally West as the saviour of the cosmos. Wally has to stop the spread of darkness or else all is lost.
Chapter two of Flash Forward begins with Wally and an injured President Superman on Earth-23. The President was attacked by an unknown creature who soon finds the two heroes and attacks. Afterwards, Wally goes to the Grand Canyon, the source of the dark matter enveloping this world and Earth-8. Once there, Wally has to face-off against a team of heroes who mistake him for the cause of the problems on their world.
This issue of The Flash suffers from too much exposition. Often characters, including Wally and President Superman, explain previous events and plot points with abandon. The editors of the book should have requested readers be shown the action instead of being recounted by a character. In its haste to set Wally up as the hero on the road to redemption, the story jumps too far forward at times.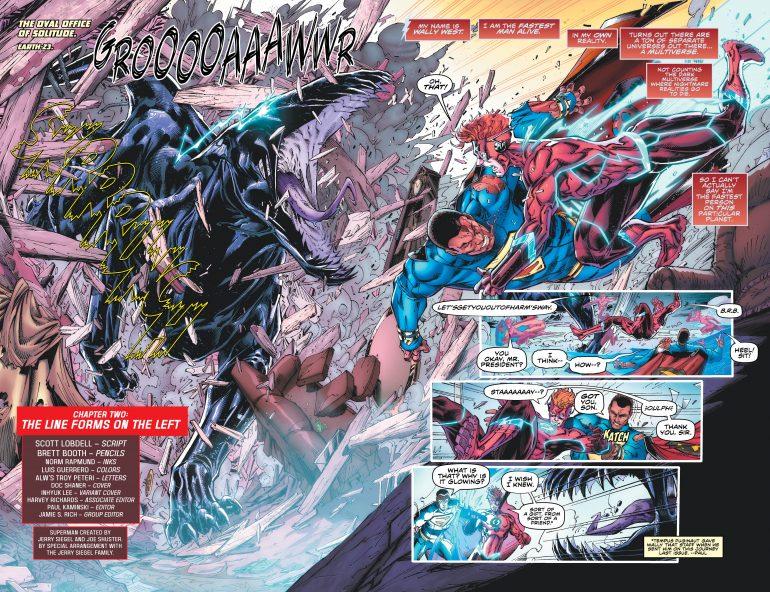 However, the galactic road we travel with Wally has great adventure, fun and drama. It's refreshing to see Wally unburdened and at ease as he battles to save the cosmos. Lest we forget, Lobdel reminds us of the heavy road Wally has been on. He includes brief dramatic moments that tie the story back to the shattering events of Heroes in Crisis.
Brett Booth's artwork has some confusing panels. Deciphering the action and tracking who does what can be a task at times. Yet his work has a keen sense of drama and energy that flies off the page. Booth's costume designs are magnificent, brilliantly conceived for each character. Once more, his images of Tempus Fuginaut are stellar, the inks and colours sumptuously rendered as well.
The Review
Flash Forward #2
This book may have some flaws, but its heart is in the right place. Wally has to become a hero once more and his story needs to be told.