I'm a huge fan of Disney and Pixar. I love almost all of the Disney/Pixar animated films, although, there is one that is near and dear to my heart. Since I saw the awkward and adorable Baymax first appear on the big screen with my family, I fell in love with the friendly inflatable robot. Naturally, this meant that when I got the opportunity to review the Big Hero 6 Flame-Blast Flying Baymax figure, I was more excited than an adult of my age probably had the right to be.
Firstly, this isn't your run of the mill standard 4-6inch figure. This is a huge 10.5-inch figure with a 20-inch wingspan. Not only is the figure surprisingly large, but it is also packed with features, including being able to emit various catchphrases from the film. For such a large figure, I was surprised at how light it felt when I picked it up. This doesn't mean that it is a flimsy figure though as it is sturdy enough to take some punishment from over-eager kids. Although Baymax might look, at first glance, like he could be a bit top-heavy, he is actually able to stand on his own without continually falling over, which is always a plus point for those who would like to display the figure on a shelf.
As mentioned, the Baymax figure comes packed with features. By pressing a button at the back of Baymax's neck, you can cause his wings to pop out and extend. This feature works really well and has a nice solid movement.
Along with the popping out wings feature, the figure can also fire one of his fists when pressing yet another button on his forearm. And while the arm does go a respectable distance, it probably for the best that it doesn't pack the sort of punch that can take out an eye.
The Baymax figure can also emit up to 20 different phrases, including many of my personal favourites. I couldn't help but laugh when the toy blurted out the iconic "Falalala!" phrase. I had to force myself not to fist bump it. Each phrase is clear and easily understandable. Interspersed between the phrases are some action sounds such as explosions and the classic "whooshing" sounds.
My favourite feature, however, is the flame-blast. This is where Hiro comes in. Hiro has little areas on his knees and palms that attach to the back of Baymax. Once he is attached he can be pressed, just like one big button, which then activates the flame-blast. When this feature is activated, little purple plastic flames pop out from under Baymax's feet and a hovering sound is emitted. I have to admit that I was startled by the force that these plastic flames popped out with the first time I activated them. After the flames appear the figure emits a sound resembling Baymax hovering in the air. When you then move Baymax the sounds change, depending on whether your figure is ascending or descending. Having these noises be motion activated is genius and just adds to the overall playability and fun factor of the toy.
One thing that stood out to me when it came to the toy's features was just how well each button blended into the main figure's body/armour. It's done in such a way that I wasn't sure at first where each button was and it's great to see that the effort was made to make them less conspicuous.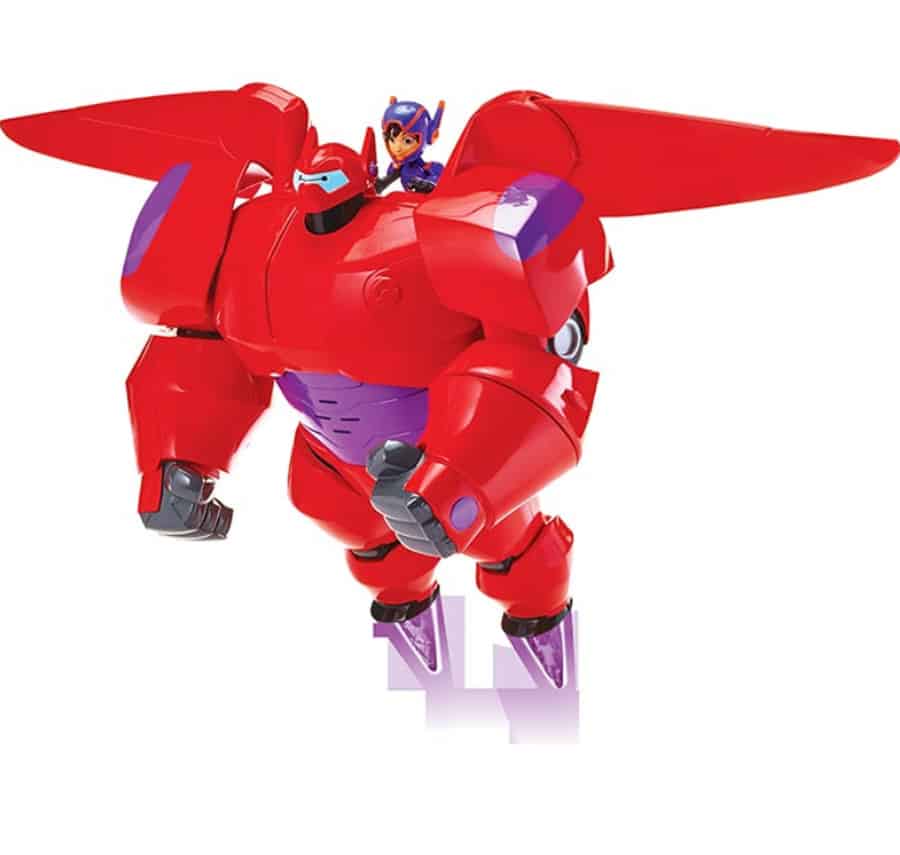 The figure set actually comes with two figures, the large Baymax and a smaller Hiro figure that can attach to Baymax's back. Both of these figures are really well painted with no overlapping visible on the figure I reviewed. Both of the figures quite accurately represent their onscreen and TV series counterparts.
While I was pleasantly surprised by the paintwork on both figures, I have to say that I felt a bit let down when it comes to their articulation. Baymax's arms have quite a wide range of movement and even his head and shoulder-plates can move around freely. Unfortunately, his legs are stuck in place meaning that, should there ever be trouble in San Fransokyo, Baymax would be better off flying there as the limited articulation in his legs might hinder him getting there on time. I do get that part of the reason is due to the flame-blast feature that needs his legs to be fixed in place for the flames to shoot out, but it would've been nice to at least have some range of motion in his hips or thighs.
Hiro, on the other hand, has almost no articulation and basically just serves as a cool way to activate the flame-blast mode. His permanently bent knees and weird angled arms mean that his playability is severely limited.
I would be lying if I said that these little nagging issues made me dislike this figure. There is just something about the Baymax's shape and voice that makes you fall instantly in love with him. With spot-on catchphrases, some really interesting and smart action features, as well as great paint job, the Big Hero 6 Flame-Blast Flying Baymax figure is probably one of my favourite toys. It finds the perfect balance between playability, quality and features.
This toy will make a great gift for fans of Big Hero 6 whether they be young or old. The only problem I have now is that my kids don't want me to display the figure on my collectables shelf as they love playing with it too much.
Big Hero 6 – Flame Blast Flying Baymax is distributed by Prima Toys.
The Review
Flame-Blast Flying Baymax
With spot-on catchphrases, some really interesting and smart action features, as well as great paint job, the Big Hero 6 Flame-Blast Flying Baymax figure is probably one of my favourite toys I have reviewed this year.
PROS
Packed with features
Surprisingly large toy
It's Baymax
Review Breakdown
Packaging

Durability

Paintwork

Detail

Features

Fun Factor