A few weeks ago, Fitbit launched its latest collection of smartwatches to their portfolio. This included the Fitbit Versa 3 and the Fitbit Sense. The latest range of wearables from the brand brings with it a host of new features to not only improve your fitness but your general health and wellbeing. More than any of its previous launches, Fitbit has focused heavily on your health management.
Ever since I joined the fitness tracking community five years ago, there's only been few occasions when I've been without one. Minus taking it off for a shower or a swim, my wrist has been almost permanently decorated by a fitness tracker. During this time, I've managed to review close to 15 different products of differing capabilities. But I've always come back to one brand, Fitbit.
With its latest releases, as well as the enhancements to the software and ecosystem of many of their wearables, I'm excited with the next step to health management. The only question that remains is whether it's all worth it when packed into the diminutive frame of the Fitbit Versa 3.
Build and Design
Rewind back to March 2018 and we'd stumble upon the first iteration of the Fitbit Versa range. The unit was a more streamlined smartwatch from the brand, having previously entered the market with the Fitbit Ionic the year prior. Fast-forward to 2020 where the third iteration (4th if you count the Lite) of the Versa has hit the shelves. The Fitbit Versa 3 has not straight too far beyond that initial design.
The squircle (round and square) design is back. Just as with the majority of smartphone designs, the smartwatch has found itself in a similar mould. On the first two iterations of the Versa, the bezel had a much more elaborate slant off the face. It appears slightly more rounded on the Fitbit Versa 3. However, it keeps the two-step sides, one outer and one inner before it tucks away underneath to sensors.
The face is a 40mm AMOLED display. It's not a huge size difference over the 39mm AMOLED display on the Versa 2, but it's still a welcome upgrade without taking up more real estate. The display itself has seen a more impressive upgrade, thanks to the 336x336px display. This compared to the 300x300px on the Versa 2. Overall, it looks a lot crisper and brighter than the previous iteration.
The design is a lot sleeker as a result of the change to the left-hand side button. While the previous models had a physical button, the Versa 3 follows the trend set by the Charge 4. The new capacitive button is nothing more than an indent. While operating under normal conditions, it works well enough. There is a small vibration to indicate when it has been selected. While on a run, however, it's a lot trickier, as it requires a small bit of pressure. And with sweaty hands, it makes it all the more difficult. Thankfully, the touchscreen interface resolves any such issues.
It may look empty, but there is a tiny slit on the right-hand side of the device as well. This slit houses both the speaker and the microphone. This interface allows you to interact with the assistant feature included on the Fitbit Versa 3.
Two of the more impressive aspects of the design changes lies with the redesigned strap as well as the charging mechanism. The straps are far more robust while also being a lot easier to attach and detach. Simply press up on the tiny latch and the strap is released. You'll just need to push it back in and it will reattach. It's quite impressive in its simplicity. There has always been some or other issue with straps on various wearables, not just limited to Fitbit. With this new approach, it's quite a refreshing, but insignificant change that it stands out to me.
As for the strap itself, it's not one of my favourites. This is especially true for being a regular runner. The new 'Infinity Band' silicone strap doesn't have a buckle. Instead, you click it into the nearest slot as it feels comfortable on your wrist. You'd be best served to switch out the strap for something more comfortable, especially if you're going to participate in high-intensity sports and activities.
The new charging setup removes the housed approach as with previous devices and, instead, opts for a magnetic dock. The magnets align on the back and 'click' into place. It's a lot easier to manage than the previous chargers.
While not fully waterproof, it is water-resistant up to 50m. Fitbit has confirmed that you should be more than comfortable taking a shower or going for a swim with the device without suffering any damage. It's also safe in the ocean in saltwater. It does, however, issue a warning against saunas and the likes.
Fitness and Health Features
With all previous releases of the Versa range, the Fitbit Versa 3 is packed with features. As mentioned in the introduction, Fitbit has added quite a number of features linked towards tracking health, in addition to the abundance of fitness features. One of the biggest updates on the Fitbit Versa 3 is the improved SpO2 tracking. However, the enhanced performance required a firmware upgrade. As such, I'll be covering that, as well as additional features thanks to the upgrade in a follow-up review.
Being an avid runner, one of my favourite features, and a must-have these days is the GPS tracker. Fitbit has added even more trackable workouts than before and with the enhanced GPS tracking makes for much better results. This is even possible down to swim a few pool-lengths, provided you're not in a closed-off building. With a few tweaks, even when the GPS signal is lost momentarily, it is able to continue tracking based on the averages, and once reconnected, it readjusts the calculation accordingly.
The unit builds a list of your favourite exercises, which makes it easier to select from the top of the menu. This saves a few seconds of scrolling through the now lengthy list of activities to choose from.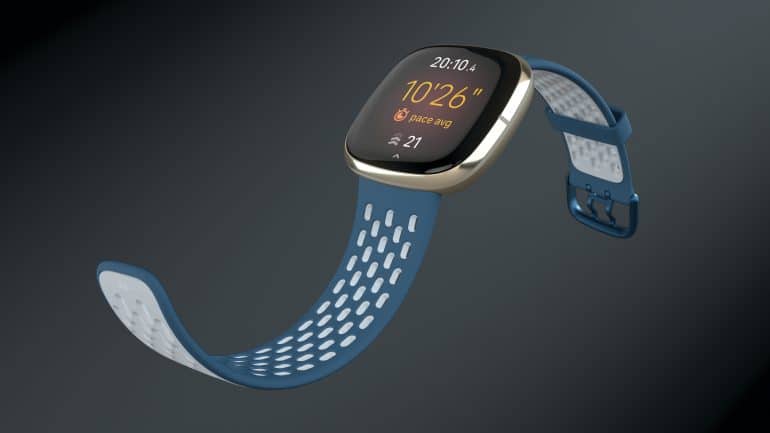 Although I wasn't able to do much with it – possibly more to come in the future – the Fitbit Versa 3 monitors my skin temperature variations. This is mostly tracked while you're asleep and gives you a summary view of the recorded data via the Health Metrics dashboard.
The Health Metrics dashboard itself is new to me. The feature is available on the app but isn't standard. You'll need the Premium licence subscription to receive this data, along with a few other key metrics. This includes Breathing Rate, Heart-Rate Variability, Oxygen Saturation (SpO2) as well as Resting Heart-Rate.
There are also a few other new features, including Mindfulness. Setting this up via the app will provide some alerts to your smartwatch to prompt you to relax and take some time to breathe. I found it interesting that it picked up that I had not moved for a bit during mid-afternoon and suggested I take a break from work for some lunch. There are a few other such reminders thrown in at different times of the day depending on your movements at the time. You can also set some daily goals to help reduce stress by means of breathing exercises and such. These are quite useful features, especially today.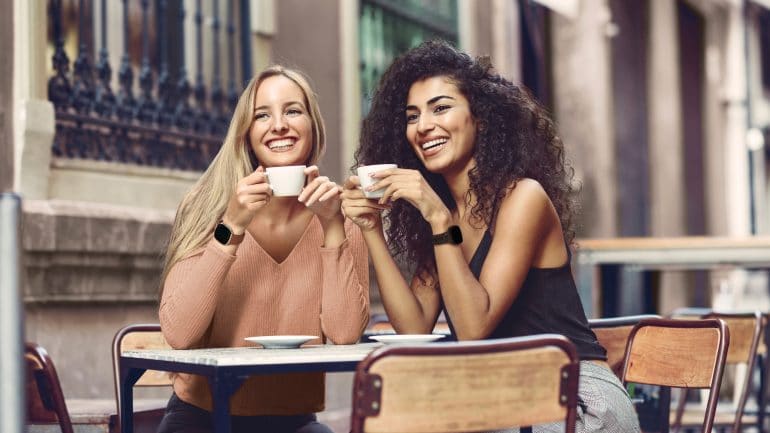 Smartwatch Features
Despite being labelled as a smartwatch, Fitbit never tried to compete with Samsung and Apple in this department. Instead, it keeps its core focus on fitness and health goals. It has a few smartwatch features thrown in for those who need it. As such, it's not the greatest at providing these features.
The first upgrade over previous models is that it offers call answering from your wrist. This, however, does require an update from the out-the-box firmware. By means of the Bluetooth connectivity and built-in mic and speaker, you can communicate directly from the watch without using your smartphone.
As with previous Versa devices, you can receive emails, notifications and other messages. You can select which apps you can receive notices from by means of the Fitbit app. For a few of these apps, you can even determine pre-defined quick responses. It is, however, limited in that you cannot conduct more details replies, but that's fine with me.
Straight out of the box, the Fitbit Versa 3 comes with Alexa voice assistant. Once you've connected to your Amazon account via the Fitbit app, you can ask simple questions for a quick view. This includes the weather, adding reminders and alarms and more. If you're lucky enough to have a few smart home accessories, there may also be a tie-in app from the Fitbit app list, which you can then prompt to perform functions such as turning the lights on or off.
The list of apps for the Fitbit ecosystem has grown somewhat beyond just being a store for clockfaces. Fitbit has also changed the layout to make it easier to traverse the app menu with one-touch install options. This was a huge frustration for me previously and I'm glad it has been resolved.
One key update, especially for users in South Africa is the inclusion of Fitbit Pay. Users can load their credit card details into the app and use the Fitbit Versa 3 to tap and pay at tills using NFC. And if you're worried about someone snatching your watch and making purchases, there's a level of security built-in that requests your pin code whenever it detects the device has been removed from your wrist. I tested this out a few times to be on the safe side and was accurate every time.
While it does support Spotify, it doesn't allow for native streaming. Instead, it's reliant on the smartphone to pair and stream via Bluetooth. I'm not one to run with my smartphone, so this makes the feature a bit useless while out for a jog. Thankfully, it still supports playback directly from audio loaded onto the device via Deezer, but this is limited in terms of your music options then.
Performance and Battery
Based on the features, there is quite a lot unpack when it comes to your health, fitness and everyday tracking. As with many previous Fitbit devices with heart-rate monitors, the Fitbit Versa 3 has all-day heart tracking. This includes your sleep, exercises, or just resting on the couch. Heart-rate during sleep, rest and exercise aren't new. However, the newly added Active Zone Minutes allows you to measure your daily and weekly burn zones while adding points to intensity levels. This is gamified by setting a weekly target to keep your blood pumping.
There a host of other reminders, notifications and the likes to keep you aware of your daily routine. This includes resting and wellbeing by means of the Mindfulness tracking, exercise routines, hourly movements and more. This is all tied together with the Health Metrics addition via the Fitbit app. Here, you can view the summary of your heart rate variability, breathing, skin temperature, Oxygen saturation (SpO2) and resting heart rate. It's quite a significant set of stats to know quite a lot about your current state.
However, these metrics stop short of tracking illness and other warnings to keep you more alert on your overall health. Yes, you can track your breathing and even skin temperature, but that's not going to mean much if you're not going to be able to use it. That said, with all these new metrics tracked and stored, there's a sense of Fitbit heading in that general direction over time, as I imagine not being able to track illnesses with a certain degree of accuracy may lead to a lot more questions from the public in the end.
With the built-in GPS you'll need to wait a few seconds before it activates and you're good to go. During the first few days using the Fitbit Versa 3, it took an average of between 30-60s to connect. Over time, however, this reduced quite significantly, taking between 10 and 20s to connect once an activity is selected.
Then there's the actual tracking of the GPS. Having reviewed quite a number of trackers, as well as using my car, GPS devices and Google to map out the distance of my daily route, it's is fairly accurate. During the first few days of usage, it was off by a few hundred metres over my 5KM run, but this narrowed to within 10m currently. I also found that running between taller buildings, which I purposefully attempted over the space of a week increased with accuracy with each run. During the first few runs, it would lose GPS signal once or twice but had no such issues later on.
When it comes to the battery life, running four times a week on average using the GPS, the battery lasted close to a week. I was impressed. This was a long as my previous Charge devices without the GPS or AMOLED touchscreen. When it comes to charging the device, it also takes a matter of minutes. Once in the position to charge after having received the alert, typically between 10 and 20%, it would take less than 30 minutes to fully charge. So, you're never too long without the device back on your wrist measuring your vitals.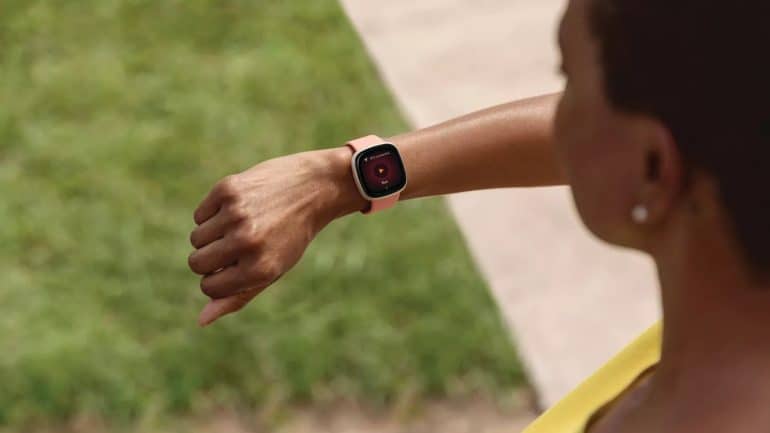 Conclusion
At the start of the review period for the Fitbit Versa 3, I was concerned and sceptical about the new device, not just in regard to the new health metrics, but also my daily routine, from my running to my sleep tracking. Interestingly, the device seemed to have been learning and adjusting to my usage, improving with each day and each activity.
The newly-added health metrics are a welcome stat, especially during these past few months. However, the lack of summary in putting these metrics into meaningful data leaves a lot wanting. In addition, many of these new features require a premium Fitbit subscription, which also needs to be factored in. Purchasing a new Fitbit Versa 3 provides a six-month subscription to these services, which is useful.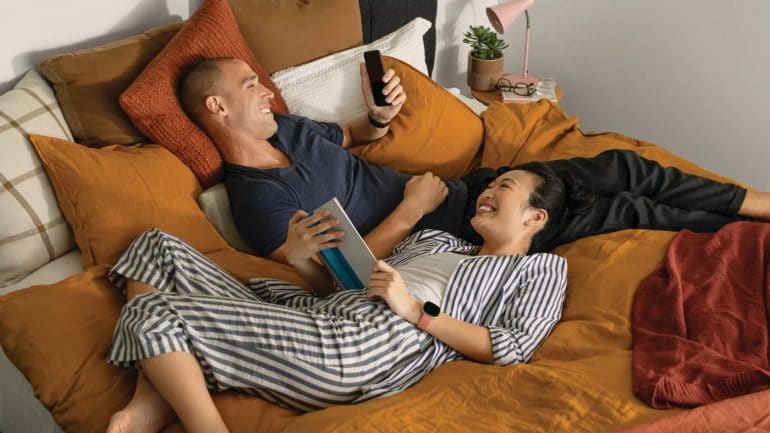 The Fitbit Versa 3 has a retail price of R4,999. This puts it at the same price point as the Apple Watch Series 3 and Samsung Galaxy Watch2. It is also worth noting that these two smartwatches are a few years old already, with their latest iterations around R12,000 and R9,000, respectively. This makes the Fitbit Versa 3 a smartwatch of great value if you're interested more in health and fitness tracking compared to reading mails, answering calls, and other such smartphone features.
Fleishman Hillard, on behalf of Fitbit South Africa, provided the Fitbit Versa 3 unit to Fortress of Solitude for the purposes of this review.
The Review
Fitbit Versa 3
With the evolving world (especially 2020), Fitbit has adjusted to the changes with great benefit to the end-user. The newly introduced health metrics allow you to keep track of important stats, while still offering the most from your fitness activities. There is a sign of more to come yet with the number of features packed into the Fitbit Versa 3.
PROS
Enhanced health features
Improved battery life
Fast-connect GPS
Simplified strap attachment
Responsive UI
New metrics sign of future reports
CONS
Voice assistant still not great
Still no offline Spotify support
Requires premium subscription for some features
Review Breakdown
Ease of Learning

0%

Ease of Use

0%

Design

0%

Performance

0%

Enjoyment

0%

Value for Money

0%