Fitness trackers have become quite a staple for many users around the world. Between 15 and 20% of people around the world have some sort of fitness device. This spans a wide range of reasons, whether it be for your health, your insurance or even as a style piece. In April 2021, Fitbit launched its latest line of fitness trackers in keeping with the latter. The new Fitbit Luxe was designed as a luxury tracker all about style.
What's interesting is that at the end of 2019, fitness tracker sales were on the decline. There are many factors for this, which included a saturated market, price increases and not very appealing options for new buyers. However, with the pandemic hitting in 2020, sales soared once again. This was as a result of many people requiring home workouts, as gyms closed or the appetite to work out in public spaces declined.
While we're getting ever closer to more integrated tech in our clothing and the likes, we're still left having to where fitness trackers on our wrists. Some of these are much larger than others, with smaller wearables often having to sacrifice some features to decrease its size. With the Luxe, Fitbit aims to play in this space, offering plenty of features while looking a lot more stylish while doing so.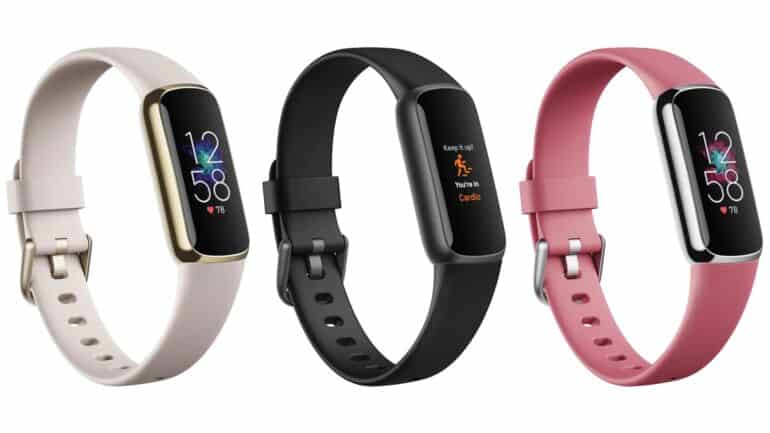 Fitbit Luxe Build and Design
The Luxe isn't Fitbit's first attempt at a jewellery-esque fitness tracker. A few years ago, it attempted this with the likes of the Fitbit Alta. However, while it offered a few interesting straps, it wasn't all that much smaller than the Charge 2 at the time and didn't quite look all that premium either. With the Luxe, this has all changed.
When buying the Fitbit Luxe, you have the choice of three standard straps. This includes the Lunar White with soft gold stainless steel, Black with graphite stainless steel and Orchid with platinum stainless steel. Already, these silicone straps look great and make for very decent luxury styling on your wrist.
However, it is the fourth, special-edition option that stands out. This is the Gorjana Soft Gold stainless steel Parker Link Bracelet. It looks great right off the bat. If, however, you've purchased one of the standard models, you'll have the option to upgrade and style up your strap with a host of options available. This includes the platinum stainless steel Gorjana Parker link bracelet, a soft gold stainless steel mesh or a wide variety of leather straps, including the Horween Leather Double Wrap.
With a decent mix of straps and bands to choose from, many products don't always integrate well with the main pod. The Luxe has a stainless steel case which is available in various colours, as listed above. It curves around the edges make it less angular, as we've seen on many previous models.
Whereas many brands have promised luxury fitness trackers designed as jewellery, they don't often live up to the hype. The Fitbit Luxe bridges that gap quite significantly with its offering of stylish good looks.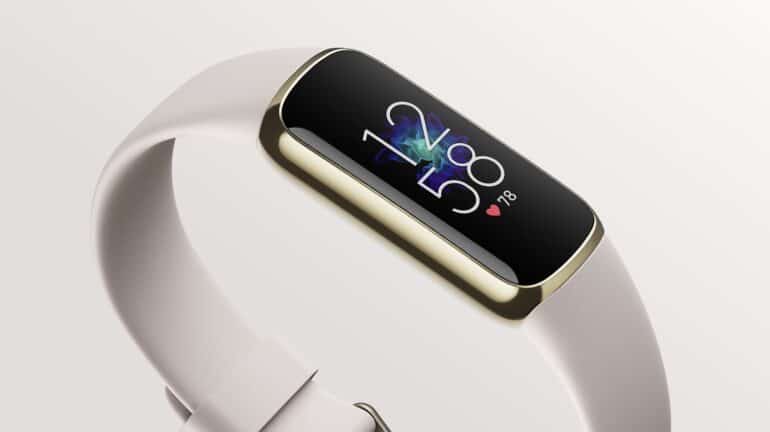 Fitbit Luxe Screen and Display
The Luxe's pod measures in at around 36x17x10mm. This is fairly small. As a result, its screen is also just as small, measuring 0.76". The screen features an AMOLED panel with a touchscreen interface. This makes it easy to navigate through the settings, choosing your workouts or logging daily tasks.
The AMOLED panel has a 124x206px resolution. It doesn't take up the entire glass screen, as it has quite a thick bezel relative to its dimensions. With the AMOLED tech, it offers great brightness, with clear and colourful imagery. It also brings with it slightly better efficiency, as the black portions of the screen aren't lit up when displaying text and other similar content.
Given its diminutive size, the screen doesn't make it easy to read while you're in the middle of an activity. It's also not the easiest to scroll and interact while you're in the middle of a run, with the screen as thick as your finger itself. Fitbit has promised a redesign with a pending update to the firmware, which will make things much easier to read on the go.
Another aspect of the screen I found annoying was its sensitivity. In most circumstances, this would be ideal. However, while on a run wearing a long-sleeve top, it doesn't bode well. On one of my runs on a cold morning, I had my top's sleeves over the Luxe's screen.
Nearing the halfway distance of the run, I noticed that the screen had paused. Unpausing it to continue tracking, I kept checking every minute or so thereafter. I had confirmed that depending on the position of my arm, if the screen had come on, the chafing of the sleeve would 'hit' the pause option. Needless to say, I never ran with a long sleeve over the screen again.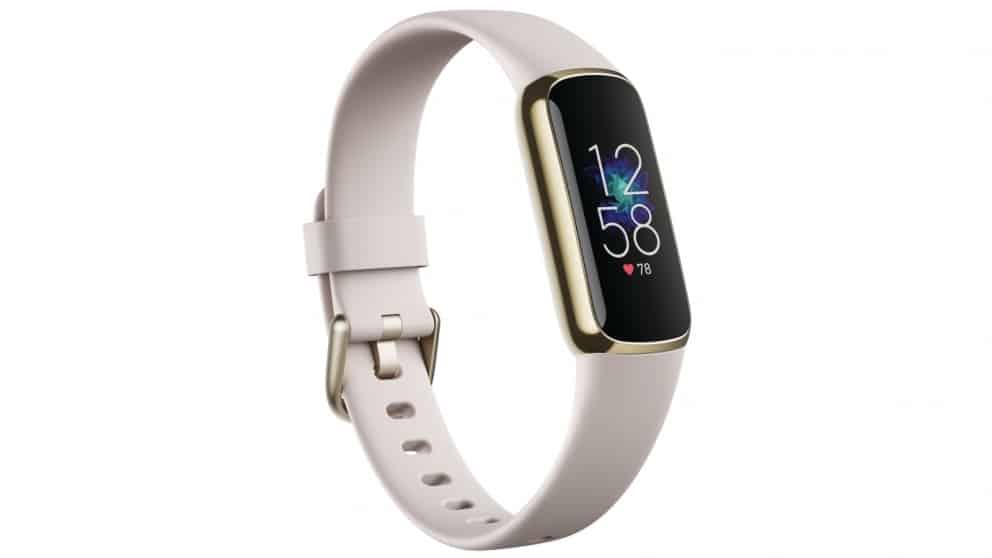 Setting Up the Fitbit Luxe
As with all the recent Fitbit wearables, it's not difficult to setup the tracker. Once you're ready and have powered on the device, you'll simply open the Fitbit app and choose the Add Device option. If you're already paired to an existing unit, which I was, it will ask you to confirm whether you'd want to unpair first.
Thereafter, you're presented with the menu showing the list of Fitbit devices to choose from. Choosing the Luxe will then take you through to the pairing screen. Here, it will connect via a few options. For starters, it will pair via the app using Bluetooth. You'll be asked to type the code provided on the Luxe to be typed into the app as a security measure. At the next screen, when attempting to read your contacts list, etc. For later use, you'll then be asked to pair the Bluetooth again directly from your phone's settings.
After a few additional screens which serve as tutorials on how to use and clean the Luxe, you should be all set to go.
On the device itself, there are a few additional options you can customise, including the main screen, the layout and additional shortcuts. Many of these require the Fitbit app to make changes, but that isn't too much of an issue with Fitbit's much-improved app. You can also download additional apps to use on the tracker to align with your daily usage.
Fitness and Health Features
As a fitness tracker, the Fitbit Luxe offers quite a significant number of features. It's not going to be competing with smartwatches, which are often larger and have more capacity for hardware under the hood. That said, there are still quite a few to note.
As a must, it covers the all the major necessities. This includes constant heart-rate monitoring, active zone minutes, sleep monitoring with SpO2 and some 20+ exercise modes. In addition, it offers a number of daily tracking and activities, such as breathing exercises, stress management, sleep scores, skin temperature variation, breathing rate and even menstrual tracking for women. This, of course, is on top of the basics, including alarms, reading texts, timers, stopwatch and more.
Over and above this, for premium users, there are a host of programmes and events to sign up for. This will allow you to plan and schedule your routine or fitness challenges among the Fitbit community. I don't often make use of these myself, but every so often I do participate in a challenge or two. All of these are meant to promote motivation and a sense of community, especially if you're more dependent on that virtually.
Unlike the Fitbit smartwatches, it not as easy to log daily goals. This includes your water drinking and the likes. It's also not as easy to read notifications. While they do appear on screen for a bit, to read notifications requires you to scroll to the right of the main menu, and then down to read the list of messages and notifications. You'll then need to scroll all the way to the bottom to clear them all, which is quite a mission at the best of times.
Performance and Battery
As an avid runner, keeping track of my routes, distance and time is important to me. While I tend to run the same route about 80% of the time, I occasionally mix it up just to avoid the repetitiveness that running can sometimes have. This is why it's important for me, personally, to use a GPS-enabled tracker. Unfortunately, the Fitbit Luxe does not include this. However, knowing the main route I use, I was able to gauge how it faired against many other devices I've used in the past.
The first thing I noticed during the first few outings with the Luxe is that it was off by about 100m per kilometre I ran compared to the GPS-enabled units. At the end of my route, I was close to 600m ahead of my typical distance as the pedometer added a few additional metres per stride. After a few additional jogs, it started calibrating a bit better, lowing the error to about 400m over the same distance. I noticed that the pace I ran also dictated the distance, with less aggressive swinging of the arms when running slower. All in all, not a bad distance tracker considering it's only using my steps for accuracy.
During other workouts, there's varying information provided onscreen. The primary by default is always the timer. However, you can view your distance if you're on a run, your heart rate for exercises, lengths for swimming and much more. It's hardest to read while on a run due to the smaller text but isn't as bad for most other activities.
During any activity, it provides feedback such as your heart-rate level – including fat burn stage, peak and the likes. It also shows your progression against your weekly targets within your exercise, including Active Zone Minutes.
Fitbit claims that the unit has a five-day battery life. This wasn't true by my testing. I often found that I was one to two days better off between charges, averaging around six and a half days each time the battery gets below 5%. Given its size, that's quite a great achievement.
Bottom Line
The Fitbit Luxe is one step closer to that crossover between jewellery and wearables. While the accessories do add a small cost to the initial purchase, they will definitely improve the looks quite significantly. One thing that Fitbit has not forgotten is that the Luxe is a fitness tracker first. And, as such, it offers quite a few of the modern necessities when it comes to tracking.
For road-runners, however, the Luxe isn't the most suitable. While it looks the part and is quite small, I would prefer a GPS-enabled unit for better accuracy. That said, the Luxe isn't for everyone but is a great alternative to other standard and mundane fitness trackers on the market.
At a price of R2,999, it's not the easiest sell by any means. There are plenty of straps available on the market as after-market purchases, and plenty from third-party brands as well. This is where the Luxe will stand out.
The Review
Fitbit Luxe
The Fitbit Luxe is well on its way to bridging the gap between fitness and fashion. With quite a host of features to boast, it checks all the basic checkboxes when it comes to implementing the necessities. However, with its after-market accessory options, you can swap out styles to fit your look. And this is the major selling point of the Luxe.
PROS
Stylish design and accessories
Decent battery life
Diminutive frame
AMOLED screen
CONS
No built-in GPS
Requires premium subscription for some features
Overly sensitive touchscreen
Review Breakdown
Ease of Learning

0%

Ease of Use

0%

Design

0%

Performance

0%

Enjoyment

0%

Value for Money

0%