Have you ever wanted to be enrolled in a magical school, but also lead an army of teenagers into battle, while under the guidance of an authoritarian church-state? Oh boy, fans of that incredible niche genre – do I have a game for you! Fire Emblem: Three Houses is an incredibly dense game, in terms of gameplay and plot elements, and much denser than it initially appears on the surface. I also happen to think that its an incredibly good game, so let's look at why that might be.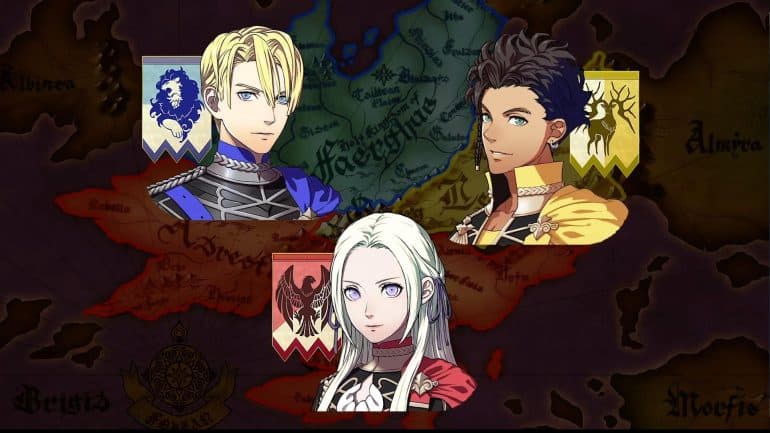 Fire Emblem: Three Houses is set on the continent on Fodlan, where three territories live in relative peace with one another. The Royal Kingdom of Faerghus, the Adrestian Empire, and the Leicester Alliance. They are all united under the general guidance of the Church of Seiros, the dominant religion of the land, which is powerful enough to run a military academy at the centre of the continent and enforce its own military strength. You play as Byleth, whose name and gender can be selected at the start of the game. Byleth is a mostly silent protagonist, although you can select dialogue options as choices during conversations. Byleth is a young mercenary, and after saving three young trainees of the church's military academy, Byleth is invited back to the church to become its newest young professor. As it turns out, the three trainees you saved were in fact the leaders of three Houses at the academy and are also the heirs to each of the respective territories in Fodlan.
After getting to know some of the students and teachers around the academy, you make your first choice: which house you will lead. The Black Eagles are from Adrestia, the Blue Lions from Faerghus, and the Golden Deer are from the Leicester Alliance, creating a very easy to follow red, blue, and yellow colour scheme to keep track of. This choice of house is significant because it completely changes the entire second half of the story. Therefore, it's completely worthwhile to play through each storyline to get the full perspective of the plot. You and your choice of house then settle into a rhythm of life at the academy, alternating training and socializing with battles and battle training. The story really kicks up halfway through the game, where a time skip raises the stakes dramatically.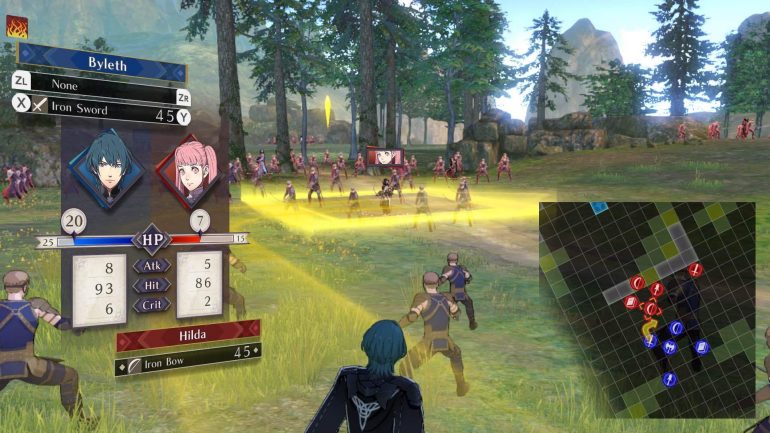 This direct summary of the plot really only skims the surface of what is going on in this world, and there's no way I could explain all of the backgrounds, humanizing details too – there are issues of class divides, nobles against commoners, political intrigue, religious fanaticism, racism, past traumas that connect various students, issues of magic and cults, and so much more. It's a lot more intense and well-thought-out than the slightly anime-esque art-style would indicate, but it contributes amazingly to the game feeling like a well-thought-out, real-world in which you are living. I got to the end of my first playthrough and felt like there was still so much more to see, and I immediately started my second playthrough from a different house's perspective. I advise that you should pick the house with the characters you seem to enjoy the most, but in general terms, the Black Eagles are probably the most directly relevant to the plot, while the Blue Lions are the most traditional good-and-evil story. The Golden Deer are somehow always a bit rebellious and off having their own great time without getting involved too much in the huge events of the story unless they can help it, but I find them enormously endearing perhaps because of that.
The gameplay in Fire Emblem: Three Houses split into two main formats, exploration and battle. Chapters in the game are divided into months and weeks. Each week, you have a choice of activities, and you can do one per week: explore the academy, go to lectures, do some battling, or rest and recover. Regardless of which option you choose, you will also hold general classes that help teach your students in their respective roles. Basically, as their teacher, you choose what abilities and skills you want them to practice, and over time you assign them the various battle classes that they will act as in combat. Your students will also come to you with concerns and issues, and you can make choices about how to guide them.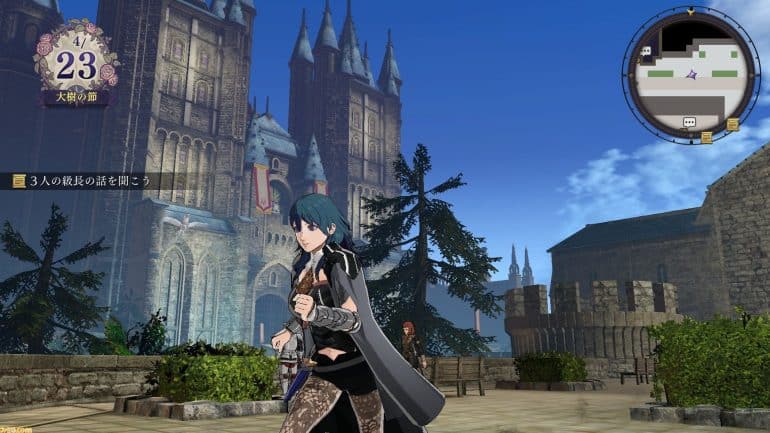 The exploration of the academy is probably the most interesting part of the game outside of battle. The academy has been rendered in stunning full 3D and is populated by all the students, staff, and teachers for you to interact with. You can speak to them, socialize with them through gift-giving and sharing meals together, engage with side quests, go fishing and gardening, go for choir practice, go for personal training for Byleth, and so on. All of these activities help build up your relationship with both staff and students. Not only does this make characters more effective in battle, but it also unlocks more scenes which contextualize the relationships between characters, and nearly every character has an interesting story to tell, especially in how they interact with each other.
The characters can feel a little anime trope-like at times, but they all have enough depth or charm to keep them from being irritating. You can also recruit teachers and students from other houses to join your own house, if your stats are high enough or if they like you enough, and this is more important than it might seem at first when you consider what might happen after the time skip when the conflict between the nations heats up in earnest.
Fire Emblem: Three Houses does not have the extensive marriage and baby system from previous titles (look it up if that sounds weird to you). It exists in a vestigial sense, in that Byleth can get an ultimate relationship with some characters, but you must choose one near the end, and Byleth will either marry them at the end or form some other kind of close, personal connection with that special person. The time skip halfway through stops it being weird that you're potentially doing this with a student, I promise.
There's also a battle system in this game, wouldn't you know. Battles take place on a standard strategy RPG framework: a grid-based system viewed from above, and you deploy warriors, move them around, and guide their offensive and defensive actions. The game has both difficulty settings and character settings, in the sense that you can choose between permadeath of your party members being a thing or not. This means that you could, effectively, be leading teenagers to their deaths every battle, which can be quite tense when you get to like them so much. Luckily, there is the ability to rewind time on a limited basis, which serves as an anti-frustration feature when a sniper has just taken out your favourite mage.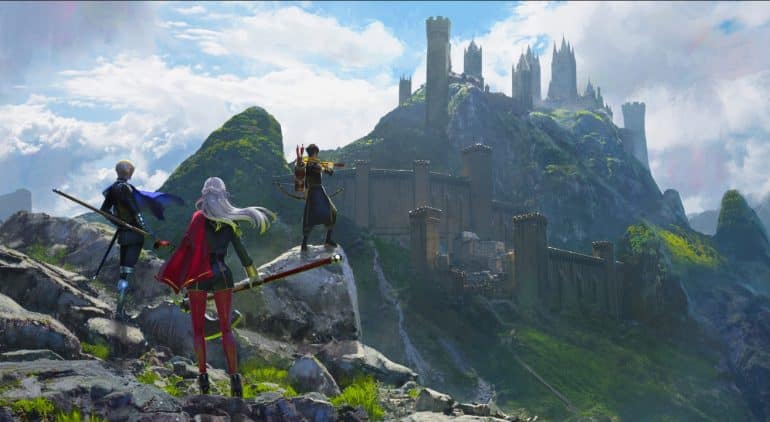 The classic "rock paper scissors" system between weapons from previous games has been removed and has been replaced instead with a slightly more dynamic and yet intuitive system. Basically, each character will strengths or weaknesses with certain weapons, and the weaknesses of enemies are largely apparent: mages are strong against magic themselves, but squishy against big axes. Flying units are nimble, but a well-placed arrow takes them out too easily. Over time you will find these nuances quite manageable to work with, and you will stratify and diversify the classes of your own units to create a well-rounded team.
Weapon durability returns, for the first time in several games, and with that comes weapon skills, which use durability as a resource to use. Therefore, the big smashy attack might be best against this armoured fellow, but it would also use 5 durability points, and you can't risk breaking your axe in this battle. Durability is close to being irritating, I find, but never quite reaches it – it creates another level of micromanagement, which can be good or bad depending on your mood at the time.
Units can also equip battalions, which serve as supporting armies. They can raise the stats of your unit and can be used as an attack with various effects against the enemy. It creates a feeling that you really are leading armies into battle, rather than just individual soldiers, and the graphical displays of armies clashing in the background as you strike with a specific unit really do bring this feeling to life. The buddy system from previous titles does not return, but you can assign adjutants to units that function similarly, although you are limited in that by the instructor level you currently have.
What's great about Fire Emblem: Three Houses is that it can be as in-depth as you want it to be. Aside from the difficulty settings, almost every part of the game (from the training to the battles) can be automated to larger or smaller extents. So, if you're here for the schoolhouse socializing, you can do less battling, and if you're here for battles, you can skip all of the walking around and talking. You lose something of course by doing so, but the option is there. The game is also pretty substantial, with a first playthrough taking anywhere from 25-40 hours on average, and as I say, you really do need to play it multiple times. There's a heck of a lot of game here to enjoy.
I like that each Fire Emblem game can come out feeling so distinct while tying together the common themes that make it a game in this franchise. I have reasons to go back to Awakening and Fates, and I have reasons to replay Three Houses. They don't supersede each other but create different perspectives of the same core concepts. And the narrative and world in Three Houses really is compelling, along with the characters, and gives me plenty of reasons to keep on at it.
If I have any complaints. It would be in the small fiddly details, which sometimes can be wearing on a person. The UI and menu-ing, for instance, can be irritating and tedious to manage at times, when you have lots of units and items. The second half of the game also would have benefited from more new things to do with your characters after the time skip, but instead, it leaves the game feeling a lot more weighted towards the first half of the plot, and a bigger rush towards the end.
Still, if you want a mix of Harry Potter, Persona, Naruto, and Game of Thrones, where else are you going to get it? Fire Emblem: Three Houses is a fantastic addition to the Switch library, and I highly recommend it.
The Review
Fire Emblem: Three Houses
Fire Emblem: Three Houses is a compelling game with characters and a narrative that gives you plenty of reasons to come back for more combat and socialising.
PROS
Deep and interesting characters and world
Complex and challenging battle system
So many hours of content
CONS
UI optimization sometimes lacking
Plot speeds up towards the end
- Mechanics not always explained the best
Review Breakdown
Storyline

0%

Gameplay

0%

Graphics

0%

Replay Value

0%

Sound and Music

0%