Final Fantasy XIV: Shadowbringers delivers a dark and fascinating narrative that pays respect to the near-decade that long-time fans have spent engaged in its world and characters.
I've been a Final Fantasy fan for most of my life. Needless to say, like most big fans, I have intense opinions about which entries in the series were the best and on which ones the quality inevitably dropped off.
When I started playing FFXIV, the current MMO, back in 2013, I had no idea that this entry would somehow become the one in the franchise that I not only spent the most hundreds of hours on, but the one where I became so incredibly attached to the characters, world, and plot. I mean, it's an MMO, right? I just came for Chocobos and fan service. But here I am, having just experienced Final Fantasy XIV: Shadowbringers up to the current patch release, and feeling like I just can't wait for more.
Final Fantasy XIV: Shadowbringers is an expansion, so that does mean it carries on right in the middle of events. It can seem incredibly daunting to new players to jump right in – you can pay extra to speed your way up to the current content, but why should you?
The major impact of everything will only hit hardest if you play through all the previous versions content, of which there are many hundreds of hours' worth. And while I agree that it does start off slow, you are doing yourself a disservice to your own investment if you skip it.
Or maybe you just want to raid, what do I know?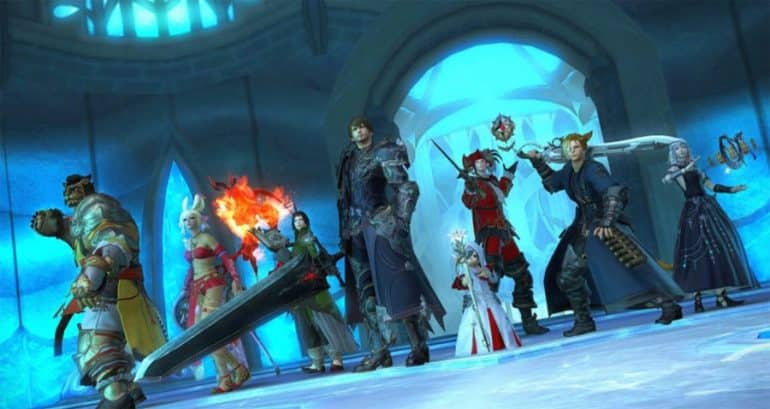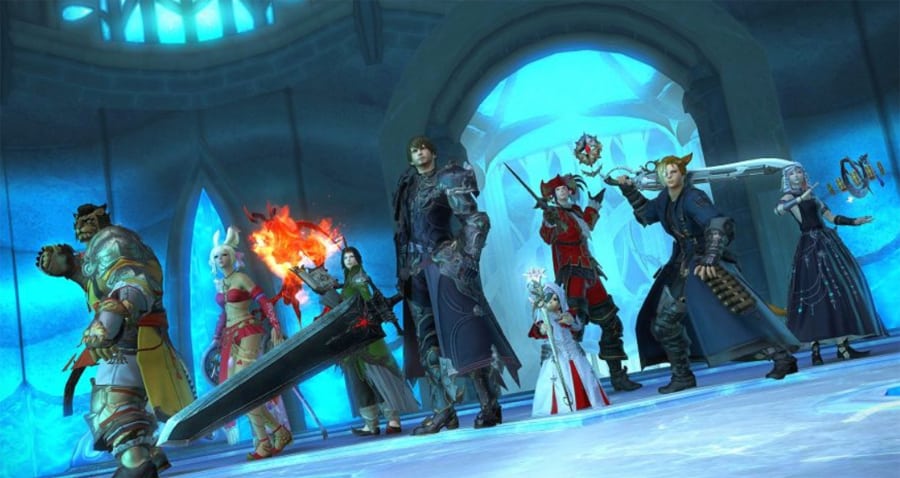 Here's the plot of Final Fantasy XIV: Shadowbringers, as best it can be described: towards the end of the previous expansion, Stormblood, the war against the despotic Garlean Empire was ramping up, but a mysterious sickness was striking down each of your colleagues, leaving them seemingly in comas.
As Shadowbringers reveals, it turns out that they had been summoned to another plane of existence – while your world of the main plot is called the Source, this reflected alternate dimension is called the First Shard. You too are brought there, and are informed of the crises affecting that world, and why you were summoned. A cataclysm 100 years ago brought the world almost to the point of destruction, where the elemental force of Light destroyed almost everything except very small pockets of civilization, collectively termed Norvrandt. The First is poised to be completely destroyed at any time, which will have damaging repercussions in your home of the Source. You must stem the tide of destructive Light by destroying the Sin-Eaters, monsters that have formed in this post-apocalyptic world, and their leaders, the Light Wardens. At the same time, you must contend with the overarching villains of the entire plot, the Ascians, who originally caused the near destruction of the First.
If that doesn't make sense to you, don't worry. The plot is incredibly dense at this stage; far more than any game has any right being. It's got that perfect mix of JRPG silliness (Light and Darkness as physical forces of magic, etc), and also grounded consequences (post-apocalyptic setting, evil Empires acting in genocidal ways, etc). But here's why the plot was so amazing for me, as someone fully committed to this story – it turns so much of what you had become accustomed to on its head, and let you appreciate your position as the main character in so many new ways.
In your world, you are acclaimed by all you meet as the Warrior of Light, champion of all that is good and right. In the First, the force of Light has destroyed nearly everything, and Light has become a cursed, oppressive force. In-game, this is reflected by the sky above you being a perpetual, hazy, uneasy bright light colour. The people of this world dream of a Warrior of Darkness emerging, and when you start to act in the plot, they begin to hail you by that title.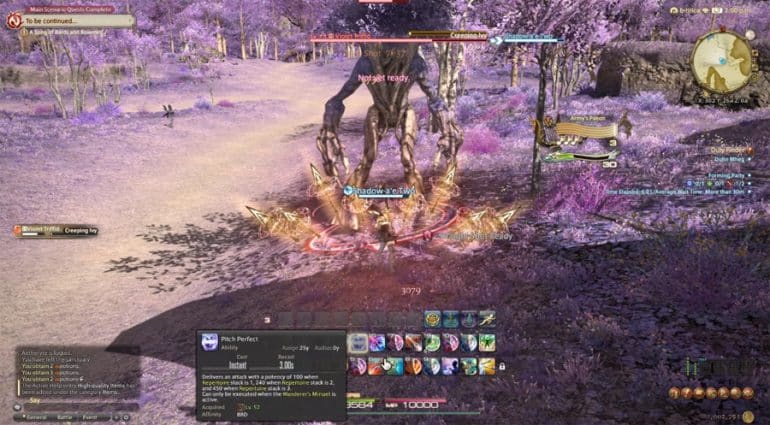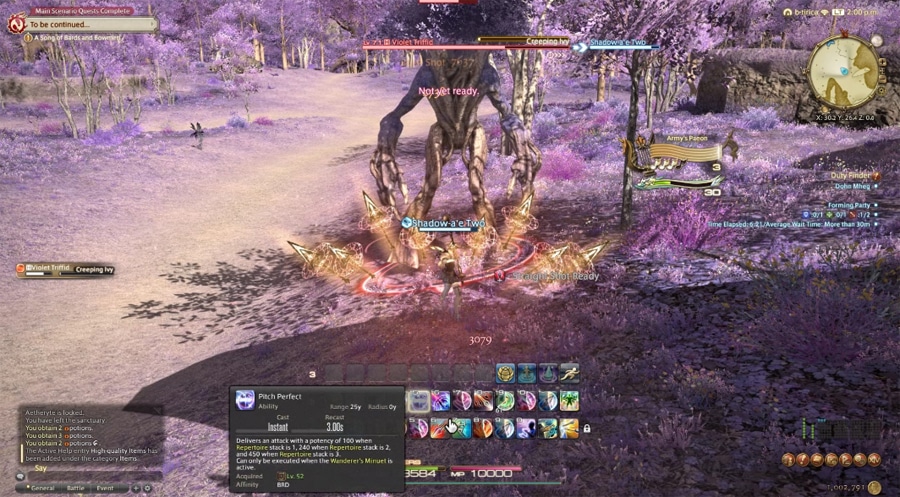 The consequences of this post-apocalyptic world are also explored in surprising depth for a teen-friendly, cartoony MMO. The destruction of the world may be seen both physically in great and small details, but also in conversations you have and in quests you do. You really get a great sense of what people have lost in the past 100 years.
Add to that the force of the Sin-Eaters, which basically act like zombies: you get hurt by one, even if you don't die, and eventually, you become one. This is brought to life for the player in what might be one of the most disturbing cut scenes I have seen in any game of recent memory.
Final Fantasy XIV: Shadowbringers also concludes a plotline that we didn't even fully know needed concluding – that of Ardbert and his allies, the original Warriors of Darkness, who were brought in as minor antagonists a couple of years ago. We learned that they were in fact not evil, but we're just trying to save their world, the world of the First as it turns out. At the end of that plotline, they went back home, and in Shadowbringers, we see the consequences of their actions.
There are so many things I love about the story in this expansion – the way even small side quests play on your established notions of fetch quests, where a basic quest to pick up a small something turns into a gruesome tale of horror for the poor NPC involved, because of this terrible world you're living in. The way you spend so much time with your allies of the Scions of the Seventh Dawn.
We have of course spent a lot of time with our NPC friends in these games before, but we have never been so intimately involved in the same adventure. This comes to the fore when it is revealed that you can now undertake the new 4 person dungeons with them in your party, adding dialogue to the quest in that dungeon (and saving wait time, if you are a DPS main like me). We learn so much about them and they really become so much more fleshed out as characters and companions in this adventure.
The absolute peak of the storytelling comes with the conclusion of the main Shadowbringers plot. I won't spoil much of it, but it gives you an entirely new understanding of your enemies, the Ascians, and was one of the most emotional experiences I've had from a Final Fantasy plot in ages. To be honest, I actually wanted to defect and join their side.
Look at me, spending 1100 words talking about the plot in an MMO. I suppose there's also gameplay in this thing, isn't there. There haven't been any major changes to the core system – still the same hotkey, global cooldown skills with some burst effects, combo chaining-style battle system. But over time, things always do get more refined.
Character Jobs (their classes) are always being buffed or debuffed, so this will get outdated very quickly, but at time of writing, my overall impression is that things have become simplified in the majority of classes. Some extraneous skills have been removed, combo chains are easier to manage, and the new skills for the level cap increase fit well into existing combos. The only class that I think has been majorly damaged has been Astrologian, but hopefully, those mains get sorted out soon.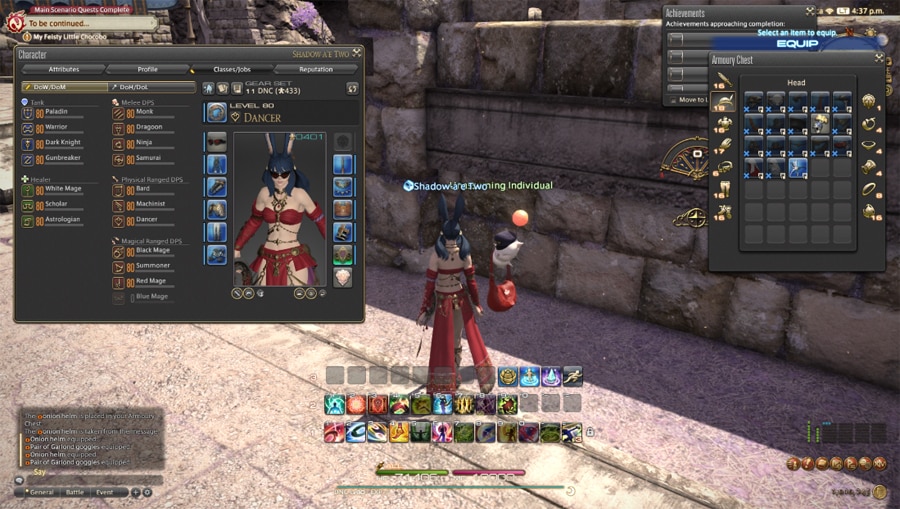 We have two new Jobs too: Dancer and Gunbreaker. Dancer is a ranged DPS-support class, with very low personal damage by comparison but great contributions to parties. Gunbreaker is the new tank class, and a homage to FFVIII, which I am so glad to see. Right now they do seem to be the new hotness, with their DPS being ridiculous for a tank class. Disciples of the Hand get a bit more love too (the crafting classes) with a questline about restoring the Holy See of Ishgard.
Two new races are also present for character creation: the masculine, lion-like Hrothgar (so you can finally make a Ronso character from FFX) and the feminine, rabbit-like Viera from the Ivalice games originally. The new areas in the game are diverse and interesting for the most part, with it ranging from a desert to a swampy giant forest, to an undersea trench, to my personal favourite, the magic-overrun land of the Fairy Folk.
As with all new content releases, at launch, we had about 8 new dungeons and 3 trials, with Extreme modes also on the trials. The first of the 8-person raids came in recently, centred around Eden, in another homage to FFVIII (yay).
In coming patches, we will also get the first of the 24-man Alliance Raids, which will be based on the YorHa from Nier Automata. A New Game Plus mode is also to be included, where previous Main Story Quests will be replayable again, but I'm not sure of the details yet at the time of writing.
There have been quite a few small quality of life improvements in ordinary gameplay. One of the main ones is how the Main Story Quests handle loot rewards that to keep your gear up to the right level: you now receive a box which will say it has a certain item in it, which will change depending on what class you open the box with. This makes it all together much more possible to control which of your alt Jobs gets what loot.
Another great inclusion is level scaling for sidequests. Now you can take on any side quest in Norvrandt from level 70 on, and it will change its rewards and difficulty depending on your current level. You can run through all of them with your level 80 Job, and then switch to your level 70 alt job and hand in the quests, making it much easier to level up using side quests.
One of the only negatives I might see for some people is that the Job Quest lines from the earlier expansions are no longer present: instead, you have a choice of four Role Quests based off of your role (Melee DPS, Magic DPS, Healer, Tank) which have their own self-contained questlines and which tie into the main plot too. This does make some sense, as you are meant to be separated from the original world and characters within it.
Hopefully, the job quests come back in the next expansion, as these ones were very much only related to the world of Norvrandt and the First. Strangely enough, you also need to complete one of those Role Quests all the way up to level 80 (the level cap) as part of finishing the Main Story Quest which is only at level 78, meaning the carefully guided level progression of the Main Story Quest goes out the window a little.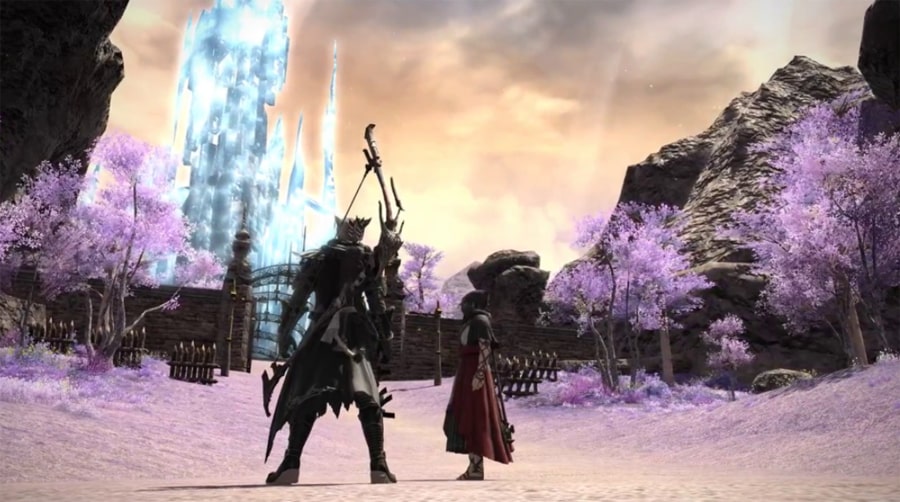 But those are minor quibbles – ultimately, if you don't like the MMO gameplay of FFXIV, you will not like it any better with Final Fantasy XIV: Shadowbringers. It is more of the same. However, if you were only tentatively on the fence, or if you played it a while ago and haven't come back recently, I strongly recommend you come join this world again. It was an amazing experience, and what I love about FFXIV is how it is just going from strength to strength. After the deluge of filler expansions at the end of version 2.0, it felt easy to give up hope, but the three expansions, Heavensward, Stormblood, and now Shadowbringers, have all gone from strength to strength.
I'm not the kind of person to make alt characters for every class – I have my one character and he takes on all the jobs and stories to tell. And I never thought I would grow so attached to an OC-insert create-a-character as I have done so throughout FFXIV so far. And I'm looking forward to where he goes next.
The Review
Final Fantasy XIV: Shadowbringers
Like the previous expansions for FFXIV, Final Fantasy XIV: Shadowbringers has helped the MMO go from strength to strength.
PROS
Fantastic, engrossing story.
Interesting new world and setting.
Huge amount of content.
CONS
More of the same kind of content, if that doesn't appeal to you.
Review Breakdown
Storyline

0%

Gameplay

0%

Graphics

0%

Replay Value

0%

Sound and Music

0%