What a week it's been. About the only thing I'm sure everyone can agree on is that the Final Fantasy 7 Remake, is not a shot-for-shot remake of the original. And where you fall on the side of whether that is a good thing or bad thing is where, ultimately, your opinion will lie on a game that has proven itself in very short order to be incredibly divisive. I shall make no bones about it: I fall on the positive side, and while I shall try my utmost to give a balanced account in this review, dear reader, please accept this principle of mine at the outset, lest you find yourself underwhelmed or angered by the end.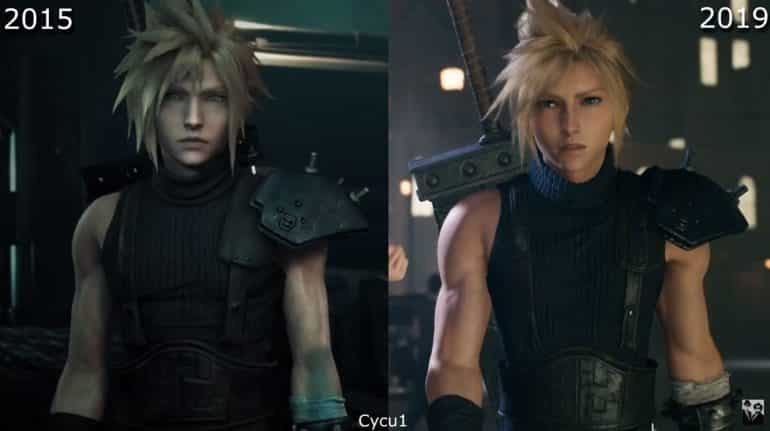 When the demo for Final Fantasy 7 Remake launched a couple of months ago, there were subtle enough changes to the original narrative that many of us wondered how far the developers would make those changes. For the most part, you still play the same game as the original Midgar section of Final Fantasy 7: Cloud Strife, mercenary, teams up with eco-terrorist group Avalanche to fight against the mega-corp Shinra in the city of Midgar. All that is intact. But only after playing through the whole title has it become clear that there are three main types of changes made in the remake:
Practical changes, that account for the new gameplay modes, art design, and increased technology of the remake.
Expansive changes, that flesh out existing characters, events, themes, and places in ways that do not deviate significantly from the existing plot, but which help turn a 3-hour segment in the original game into a 30-hour instalment of a game here.
Creative changes, that significantly alter the narrative not only in this title but which also set up a myriad of changes in future titles that we cannot yet anticipate fully.
Of these three types, the first two are fairly innocuous at worst, and noticeable improvements at best. Yes, I know you preferred the pre-rendered static backgrounds of the original, and that's fine, but you couldn't have expected them to stick with it here. As for the expansions on existing characters, places, and themes, I am really impressed with what the developers have done here. Every character has been fleshed out in ways that enhance who they were in the original (with, perhaps, the exception of Sephiroth, who is a bit of a caricature in his brief appearances here), and some that received very little screentime have become some of my favourites, like Wedge, Biggs, and Jessie.
These additions really add to the impact of certain events in the game, Even Cloud, the protagonist, undergoes subtle and clever points of character development here, and there are several moments where he interacts with other characters that are genuinely heartwarming, humorous, or charming in natural ways for these characters. These characters have become icons to fandom, and for the most part, I was very pleased with how they were handled.
But, as I am sure you have noticed, I have been writing this entire time as if you are in on the joke as if you know what the hell I am on about. As if you know that there is both a Final Fantasy VII and a new remake of such and are intimately familiar with both. The truth is, as I suspected in my demo review, this game is very much one for existing fans, and offers much less to new players. While new players will still find an engaging enough narrative and exciting gameplay, nearly all of the subtleties will go over their heads, and I strongly recommend that they begin with the original title before ever playing this one.
I think the right choice was made: the developers had options before them. They could either remake the game to be more accessible for everyone, do the one-for-one remake of the original, or develop something that builds on what everyone knows about the original, but which then subverts those expectations at a certain point and builds on them further. The pun is in the title: this is both a "remake" of Final Fantasy 7, and a "redoing" of the plot to some extent. And while I'm dancing around much of the spoiler territory here, the truth is that things do get wild at the end and have major repercussions for later instalments in this remake series. We shall have to see how it all pans out.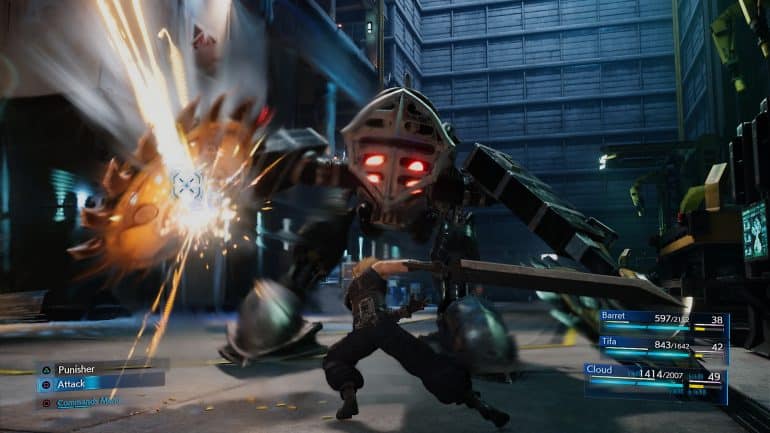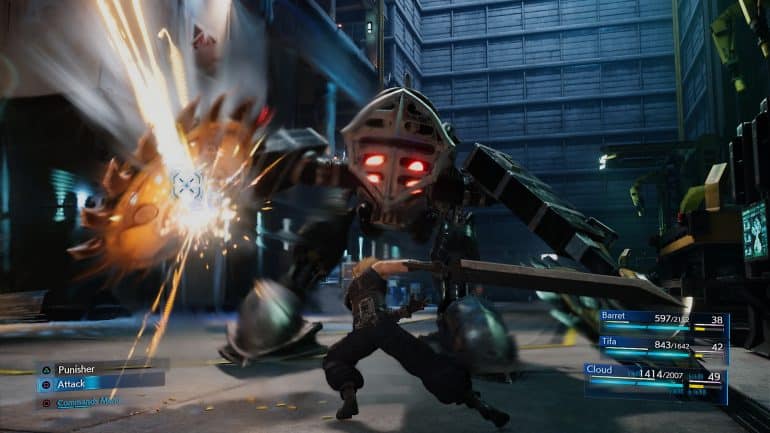 But surely there's a game in here too, and we could talk about that? Yes of course. Gone are the turn-based battles, and instead you are given live, action combat, interspersed by pausable moments where you can activate special moves of one kind or another. Each character has, by default, a normal attack, a special attack, and weapon-skills that can be learnt from each new weapon. Add to that the materia system, where you can equip a series of active spells and abilities or passive buffs of one kind or another to your character, and you have a range of customization available, even if each character will remain better at one thing than another due to their combat style. Each character plays differently, and you will have up to three in your party at once that can be swapped between on the fly in combat.
I like the uniqueness of each character, but I really dislike the poor AI of each team member when you are not controlling them directly. This game is crying out for even a basic version of the Gambit system from FFXII, because you have extremely limited macro options available here as-is, and your team end up requiring you to set every single move they do manually. This is probably the biggest gripe I have with the game, and one I really hope gets addressed in later episodes. Overall, the combat is both flashy and pleasing to engage with, and even though it takes a while to build up complexity, it does get there eventually. Don't expect a Devil May Cry level of action and you'll come into this with the right frame of mind. The boss battles, for instance, have a tendency to go into cut-scenes in the middle of a fight, taking control away from you for a cinematic moment, and that, I think, demonstrates exactly what kind of game this is.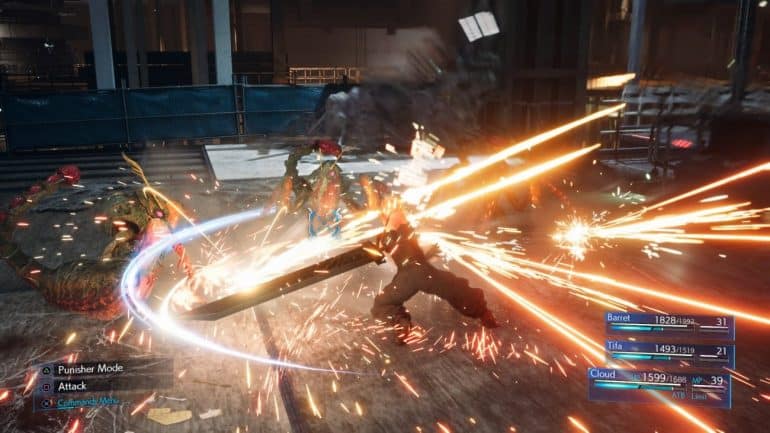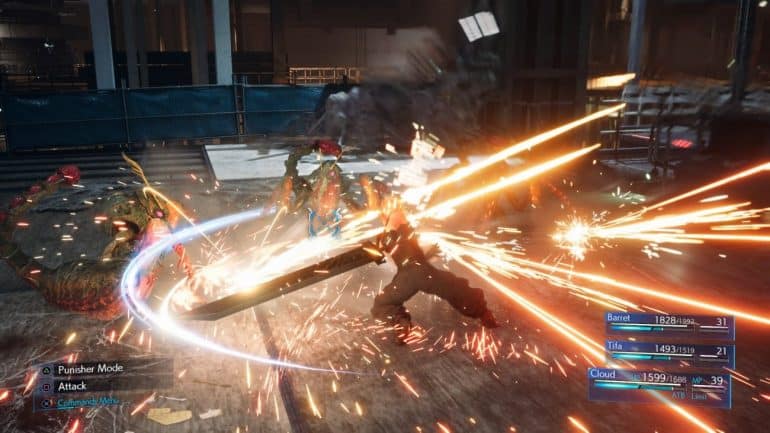 The graphics in Final Fantasy 7 Remake, on the whole, are very appealing, especially when you compare them to the scale of the original. There are a lot of particle effects, but the broad vistas and wide spaces of the city and of Midgar are truly a sight to behold. One criticism I can level at the graphics is that there is often some slow pop-in of textures when moving from long-distance to close-distance, and while the developers say this is a bug, it was still in the version I was playing and must be noted. As for the sound and music, I was in awe throughout at the subtle mix of the old and new when it came to the soundtrack, and even if it shamelessly plays on nostalgia, it was very affecting how the game used subtle motifs and themes at key moments here.
Once you have finished Final Fantasy 7 Remake's 18 chapters, there is a bit to do in the postgame, with extra side quests unlocked, a new difficulty, and you have the freedom to return to any past chapter to gather any items or quests you missed. There is even the added benefit of a fixed EXP boost being added. All of this is nice enough as content, but the fact remains that FF7 Remake is only Part One of a story that we are unsure of how many parts it will even have in the end. We are left waiting for more, and I hope Part 2 follows up on what was built here and what was in the original in a respectful way.
As a fan, I enjoyed my time with Final Fantasy 7 Remake enormously, and I think honestly, I enjoyed it more than if it had been a one-for-one remake of the original with prettier graphics and battle systems. It's doing something unexpected, and while there is the chance that Nomura ruins it all in later instalments, for now, that has not happened. I remain cautiously optimistic about the future.
The Review
FF7 Remake
FF7 Remake does the unexpected and is everything fans of the franchise and original could have asked for an more.
PROS
Expanded world, themes, and characters of the original
Graphics, sound and music
Updated battle system
CONS
Story changes are divisive
Some technical issues
Still only Part One of the Remake
Review Breakdown
Storyline

0%

Gameplay

0%

Graphics

0%

Replay Value

0%

Sound and Music

0%