The Final Fantasy 7: Remake demo gave us all a sneak peek at the very first level of what will eventually be a multi-year, multi-game remake spectacular. While we have no idea what the Final Fantasy 7: Remake will look like in 2030 (I'm guessing), when the entire game has been released, we do have a fairly good idea about what its initial, iconic, Midgar segment will take the form of. And has it been worth the wait? For long time fans, absolutely-positutely. For everyone else? Well, this game never really was meant for you anyway.
From its first stirring musical beats to that opening cinematic, to the high-definition, glossy portrayals of our characters (who actually look like humans now), the Final Fantasy 7: Remake knows exactly which crowd it is playing to. Final Fantasy 7 has been mythologized over the past two decades, as much as any media franchise can be, and has taken on a life of its own in pop culture. To say that the stakes were high were, to put it mildly. And despite the fact that the entire project is entirely built on a foundation of nostalgia, I wouldn't necessarily call that a bad thing. I'm a long-time fan of Final Fantasy 7, and I'm glad that it's playing to me rather than to the broadest possible audience possible.
Let's look at the demo for what it is though. It's the very start of the game, so you have an intro cinematic followed by about +-45 minutes of gameplay and +-5 minutes of additional cutscenes as you go. You start in control of Cloud, the main protag big-sword-spikey hair JRPG archetype. After a period only handling him, you get gun-wielding Barrett added as an additional party member. You are eco-terrorists, on a mission to destroy a planet-ruining power plant in the megacity Midgar. Once you fight your way down to the reactor core, you fight a boss, set your bomb, and rush to escape the building before it all comes crashing down around your head. A brief video montage highlights what you can expect in the full release before directing you to a purchasing screen for the game. Classy, but fair. A demo is a glorified advert after all.
As for gameplay, you are no longer in the realm of turn-based battles of the past. Basic attacks are handled in real-time, with real-time party-switching possible. As you attack, a bar fills up in segments, and you can initiate special attacks with the cost being a segment of that bar. These special attacks include more powerful effects and also magical spells. A block and dodge mechanic adds to what your character can do under your control.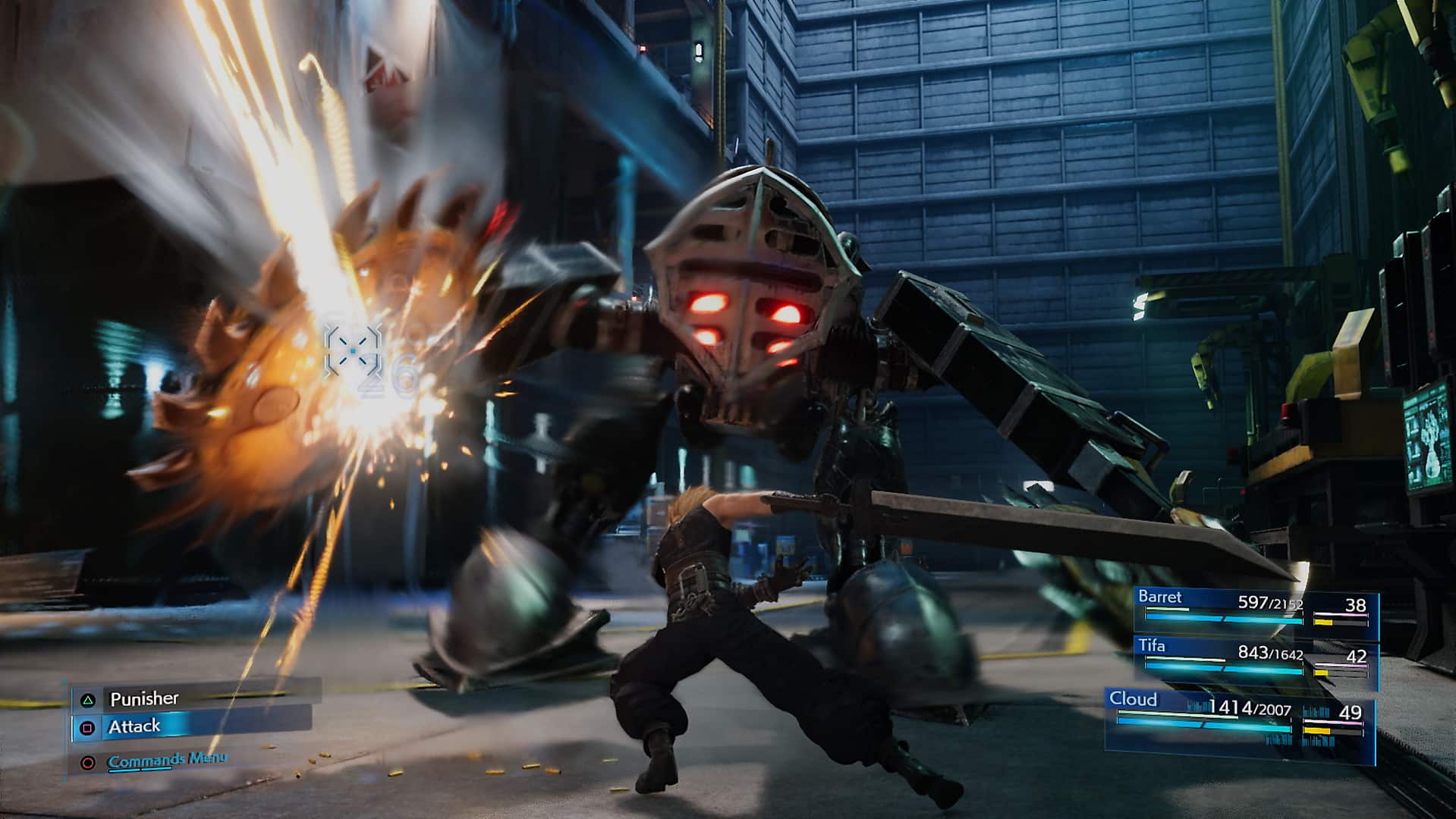 Being that this was the first level of the game, it was rather easy to complete, actually too easy, even on the highest available difficulty. The main challenge came from the camera in the small corridors, which did not always do the best job of keeping up as it should. The most we saw by way of tactics was a staggering mechanic, where spells and attacks can be set up between your party to combo in such a way that the enemy is staggered for a while and made more vulnerable (think Final Fantasy XIII but in real-time movement). However, compared to the initial demos seen at E3, Cloud's stats had been boosted, so my assumption is that Square-Enix wanted this demo to be as accessible as possible. I hope the final release ups the tempo a bit in terms of challenge, but it's not a deal-breaker for me. However, The Final Fantasy 7: Remake is not ever going to compete with the Devil May Cry's and Bayonetta's of the world, and not even with Kingdom Hearts 2 on its best day. There's no actionable jump button for one, and combos are rather more simplistic. Its not a fluid action game like the others I've mentioned, it is very much its own reimagining of the original game, which also didn't have hugely complicated battle systems. Many people have mentioned that this game is what we all imagined the original game looked like in 1997, and I think that's a fair comment. The demo didn't let us play with materia, the games customizing system, so I can only assume more depth will be added there.
What the Final Fantasy 7: Remake does seem to be doing well is adding depth and character to the world. NPCs like Biggs, Wedge, and Jessie are made a touch more involved in the plot than they were in the original, and additional cut-scenes help flesh out what the bad guys are doing while you are busy on your mission. Not all of these changes will please everyone though. Some of the most vocal fan demands were for this remake to remain as authentic to the original as possible, including every story beat and weird little memorable moment that people loved. People also weren't keen on every plot element of the somewhat bloated spin-off games to make it in. And while those much-loved key moments of the original do still seem to feature, the demo already indicates that the plot has been altered in small ways, some of which might upset purists. For me, it creates a different interpretation of the same essential story, but I am just giving you a heads up that if you expect it to be a beat-for-beat remake for the original in every way, it is not, and that's for better or worse.
As a devoted fan, the demo succeeded in its aim of hyping me for the release of the game next month. Its actually the most I've been excited for a game in a while. However, I fully recognize that people who are not at that same level of excitement probably won't enjoy the Final Fantasy 7: Remake in nearly the same way. It's a great looking, good feeling game, but I appreciate the fact that if the Final Fantasy branding wasn't all over it, it wouldn't be nearly as popular or well-received on its own merits. But that's fine. Nostalgia is okay if you indulge in it from time to time, and I plan to have a grand old-time next month doing so.