With each passing year, it's becoming harder to defend EA's annual sports games like FIFA and NBA Live. With a new generation of consoles on the horizon, it feels like the developers have taken these titles as far as they can go on the current-gen, both in terms of their looks and the way they play. The result, then, is that FIFA 20, the world's top-selling and most highly acclaimed football game, feels very much like FIFA 19 on the pitch, with only minor tweaks and tuning to separate it from the previous release. This, of course, really is a shame, especially since another football title might finally take its spot as the go-to all-action soccer simulator for fans.
Each September a new FIFA appears in stores with the promise of evolution and revolution. But as fans of the series have come to know, that isn't always the case. Sometimes the latest iteration of the beautiful game feels more like a cash grab that could have been altered with a patch or two instead of being released as a standalone. FIFA 20, the seventh next-gen release, again, although brimming with content, like the former title, isn't a breakthrough in the franchise and only makes marginal updates and refinements. Unlike previous years, however, FIFA didn't really have PES to compete with, at least not to the extent that gamers are questioning which title is better.
To their credit, EA knows they have found a successful formula and do just enough to entice fans to purchase another release. In order to stay relevant and fresh, this year they have added a story-based street football mode, titled Volta Football, that feels like a mash-up of the long-forgotten FIFA Street and The Journey, the single-story mode of FIFA 17, FIFA 18 and FIFA 19.
Volta takes the popular sport back to its routes: the streets. It allows players to create their own highly customisable character and play in very competitive but short 3-vs-3, 4-vs-4 and 5-vs-5 matches in very different and fresh indoor settings, sometimes an abandoned building or an indoor arena. Volta matches are much faster than regular games of football and allows freestyle players to show off their skills with flashy dribbling, feints, flamboyant tricks and skill moves.
Those who owned FIFA Street will have a strange sense of deja vu as they play through, although, to be fair, it's done with a lot more finesse here. The music accompanying is brilliant and there is an overall excitement here that isn't present in the large stadiums. It won't suit purists, but it's a lot of fun.
That said, the story is quite limited. As your player rises to glory, you'll get a sense that you've seen all of this before. Nevertheless, there is enough to do in Volta to keep you busy for months to come. In fact, I'll bet it will keep your mind focused on looking good while scoring goals rather than being engrossed in storytelling.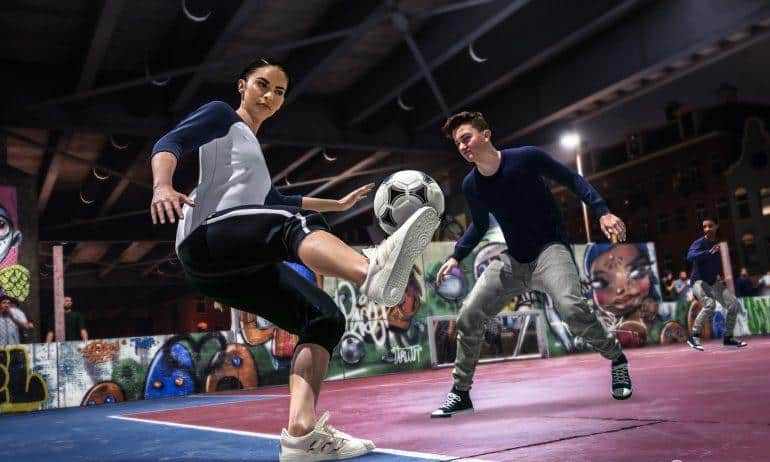 Outside of Volta, FIFA 20 sees gameplay on the pitch slowed down significantly again. Of course, this allows for passing and shooting to feel a lot more realistic, while player movement feels a lot more natural than before.
Most reviews list a long list of changes to the game. However, because they are mostly so trivial this year, it seems silly to go through all of them. The only real major change comes with the penalties and free kicks systems, which now uses a reticule and multiple inputs. It's very awkward and is bound to irritate those who have mastered the previous games. On the other hand, one could argue that it will just take time to get used to. But aside from that, everything remains mostly the same.
With 30 official leagues, 700 teams, and 90 licensed stadiums, FIFA 20's depiction and presentation of football remains top notch. Duplicating a TV matchday experience, the visuals are still great and the commentary still feels accurate and natural. Off the field, menus are easy to navigate and all the graphics have a bit of flair. It remains solid and focused on presenting the beautiful game in its most beautiful form.
If were to judge the game on presentation alone, it would soar above the competition. However, the real magic happens om the field with the gameplay and, unfortunately, FIFA is a few points behind PES. Where PES 2020 somehow feels natural, both with gameplay and its animations, FIFA 20 feels stiff and predictable with its movements. Even with the improved AI and the tweaks to passing and shooting, it just doesn't compete.
As always, this annual FIFA title will find an audience, but just how long will it take before the game's fans give the competition a try? As a mentioned at the beginning, it's becoming harder to defend the game, especially FIFA 20.
The Review
FIFA 20 Review
While Volta is fun, FIFA 20 is pretty much the same game we've played for the last three years.
PROS
Great presentation
Street football is fun
Review Breakdown
Storyline

0%

Gameplay

0%

Graphics

0%

Replay Value

0%

Sound and Music

0%