Late last year we reviewed FIFA 14 on the then current-gen consoles, which suffered from being mostly the same as FIFA 13, minus a few changes here and there. With next-gen consoles now available locally, EA Sports has another opportunity to impress. Thankfully, FIFA 14 on PS4 and Xbox One boasts an entirely new engine and one-ups its PS3/Xbox sibling, even if just slightly. Everything has been modified and tuned enough to impress fans and surpass the previous generation version. Most importantly, the gameplay and graphics are much smoother.
EA Sports brings FIFA 14 to the next-gen consoles of the PlayStation 4 and Xbox One with a brand new engine (Ignite) built from the ground up. According to EA, Ignite allows for new artificial intelligence which will allow in-game players to "think like real athletes". And rightfully so, there is a noticeable difference in the AI with FIFA 14 vs 13. Everything responds better and quicker; more realistically. The new engine also advances physical aspects of the game and the players. Player's bodies and clothing respond to better physics and the crowds (now 3D models) look like individuals rather than clones. Everything is much sharper and detailed this time around, with nice updates in the textures. Although it still doesn't look half as good as NBA 2K14 (which looks remarkably real), there are a number of good looking new animations. Pity that that the creators haven't spent much time on facial expressions as yet.
Another noticeable change can be found with the physics of the ball. Unlike previous versions, the ball now reacts more realistically; it is unpredictable, blowing/curling in the wind and isn't glued to the player's feet. This results in players losing the ball easier, but also allowing gamers more free runs down the field and less static play. But it's the fight for the ball that feels more physical in the PS4 version, as small touches and even pushing and pulling that make all the difference. Another new gameplay alteration that undoubtedly improves the gameplay is the ability to now have more than one defender contest an aerial ball. This wasn't possible before. Of course, this also leads to pile-ups and clashes with team members now too.
As always the commentating is top notch, with Martin Tyler and Alan Smith providing up to date information from the game. All the game modes are also transferred from previous versions (minus Tournament mode, which is perhaps making room for next year's World Cup release).You can even transfer over progress from the PS3 versions to the PS4 version.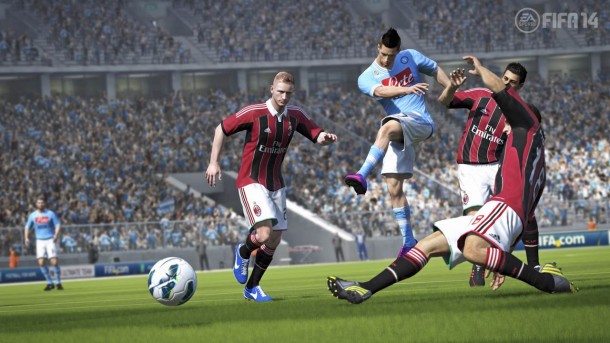 At the end of the 90 minutes, FIFA 14 feels like an improvement over its former counterparts, but leaves us questioning; 'Is this the next-gen sports game we deserve?' There is certainly still a lot of room for improvement, but as always FIFA remains the top soccer game choice in the world. There is a lot of gloss to the game and even after all these years it's still tons of fun!
[yframe url='http://www.youtube.com/watch?v=MdYlCAjH97w']