Infused with moments of true spiritual upliftment and almost unbearable heartbreak, Denzel Washington's Fences does justice to one of the greatest American plays of the 20th century. And damn, it's well acted. Washington and Davis deserve the highest praise for their performances.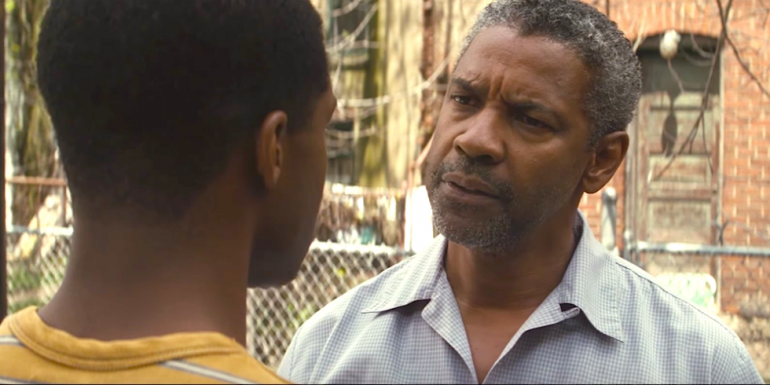 Fences takes place in the mid-1950s at the home of patriarch Troy Maxson (Washington), a former Negro baseball player and ex-con, who now spends his days working on a garbage truck before coming home to his wife, Rose (Viola Davis), and their son. The story picks up on Fridays at various points in the life of Maxson as he struggles being a good father, husband, brother, friend, and neighbour. Most of these Fridays are spent with Maxson sharing a bottle of gin with his co-worker Bono and telling stories of the injustices in his life. The men contemplate death, life, love, loss, the Devil and what it means to be a black man in a cruel world. As the years go on, times get tougher and Troy must face some of the biggest challenges of his life.
If I said it once I'll say it again: Denzel shines as Troy Maxson. There isn't a performer on this Earth more suitable for this role. He gives the character enormous weight and presence. He is only matched by Davis, who manages to stay on par with his abilities. Together the pair create movie magic. Your jaw will literally drop as the two exchange blows on screen.
The dialogue is amazingly written and explores the deepest parts of the character's minds. When the final credits roll out, you'll feel like you've spent the last two hours in 1950s Pittsburgh. Like the play, it's a very talky production, but the rich dialogue only adds to the strength of the film. You'll laugh as Maxson tells stories about meeting the Devil and you'll shed a tear as he confesses his failures to Rose.
If you love film and you love drama, then Fences will truly feel like a godsend. It is pure gold.