Winning Eleven. Pro Evolution Soccer. PES. eFootball PES. These are the many forgotten names of Konami's football simulator, which at one point surpassed or at least felt like direct competition to EA's FIFA. Over the years, however, fans have become frustrated with the series. In an effort to win back gamers, Konami is rebranding again. And more surprisingly, eFootball will be a free-to-play game on the PS5, PS4, Xbox Series X/S, Xbox One and PC.
https://www.youtube.com/watch?v=Jzd7OpCHCi0
It's hard to tell what has led to the change, but eFootball looks like a very different football experience. It's not just cosmetic. Konami promises new modes (some being sold as DLC), a new engine (from Konami's FOX Engine to a custom-built new engine created with Unreal 4) and cross-play. It's a major move for the franchise.
Seitaro Kimura, eFootball's producer, mentioned the game will get regular and yearly updates for free. Furthermore, the football sim will only be available digitally and will launch on PlayStation 5 and PS4 this autumn.
"With the added power of new-generation consoles and by working closely with elite footballers, eFootball delivers our most tense and realistic gameplay to date. We'll share specific gameplay details next month, so stay tuned," said Kimura.
One of the biggest downfalls of previous releases was the lack of licensed teams. Again, Konami is promising "local matches using renowned clubs" with this release. This includes teams like Barcelona, Bayern Munich, Juventus, Manchester United, River Plate, and Arsenal now.
Peter Drury and Jim Beglin will both return as English commentators – which is great to hear.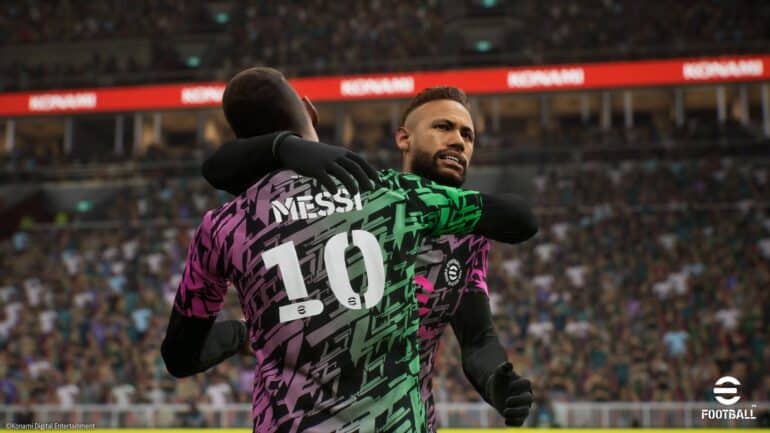 But is this enough to convince players to move away from FIFA and embrace eFootball? We're not sure.
The new model certainly seems interesting but only time will tell if this actually works out. Getting a great game for free is awesome, but there'll definitely be quite a few in-game purchases. Whether or not that system is better than paying once-off for a game is probably all up to preference.
Let's wait and see. eFootball might just revolutionise sports games forever.
Farewell, PES.