The obvious first thought I had when I heard about Far Cry: New Dawn was that it's another DLC for Far Cry 5. Based on the hit and miss success of the other DLC's, my enthusiasm was lukewarm, to be polite. I didn't hate the DLC's. In fact, I really enjoyed the quirkiness of them, but did I have it in me to commit to another supporting act.
Far Cry: New Dawn is a post-apocalyptic sequel to the oh so lovely Far Cry 5 and is set 17 years after everything went pear-shaped at the end of that game.
This is, I think, a really good tactic and one that works really well. Just think of season 9 of The Walking Dead. At the end of season 8, a really old and tired Rick manages to defeat his great nemesis and we have the powerful denouement between him and Negan, sitting behind bars. Start season 9 and we are 18 months in the future. We have new faces, new alliances and a new threat. No explanation needed because we have the passage of time to suggest these things all happened "while we were away".
Not sure where I was going with that, I think it was that the substantial passage of time means we can accept the really very beautiful environment that greets us without questioning why everything isn't still caught in a nuclear winter. So does it do enough to break out of the "just another Far Cry 5 expansion" category?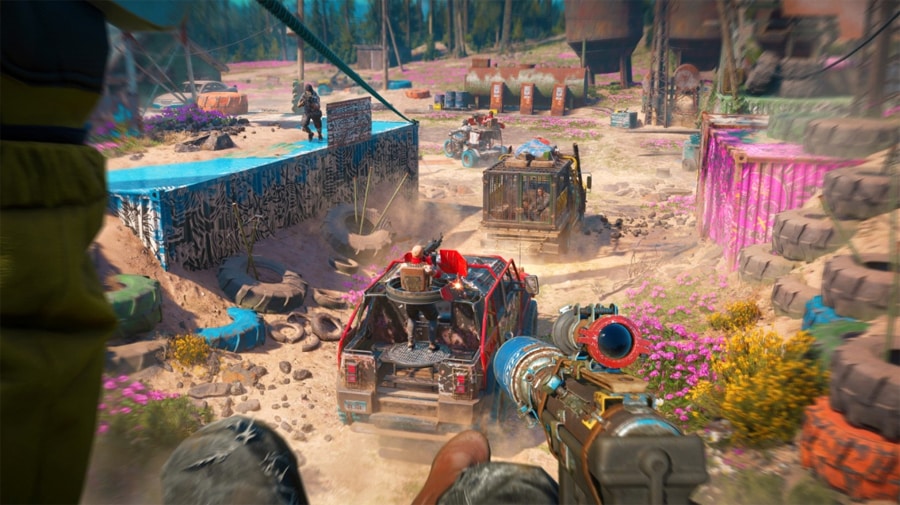 Visually, though it's an entirely different environment, Far Cry: New Dawn has a Far Cry 5 feel to it and this is a very good thing. Far Cry 5 is one of the most beautiful games I have played in a long while. Being set in a post-apocalyptic world, everything has a make-shift feel, not unlike the weapons and armour in Fallout 4. Guns are literally made of pieces of wood and duct tape. Not only is this a great visual treat but it means weapon upgrades become a case of attaching a piece of pipe to be a scope or a kitchen knife as a bayonet.
It is primarily set in Hope County and the main base of operations for our protagonist is actually John "Father" Seeds old ranch, Prosperity. This is a nice link to Far Cry 5 as the prequel. There are others too, like being able to take on the now 17-year-old Carmina Rye, daughter of Nick and Kim Rye, and the always crowd pleaser Hurk is yours to team up with if you can keep focused on the job at hand and not get distracted by his endless stream of "Hurk-isms".
I say that Far Cry: New Dawn is primarily set in Montana because the developers have introduced a new feature called Expeditions, which takes you to entirely new map locations like California, with completely specific environments. This is a great way to ensure the longevity of the game as they could keep adding Expeditions to every part of America. If a specific expedition seems to easy for your tastes, there are various difficulties to choose from just to make things a tad more exciting. Of course, these expeditions are optional but completing them nets you more recourses and loot to make things a bit easier when continuing in the main storyline.
The game is at its core about collecting resources which get used for everything from bolstering your base defences, to weapons and armour upgrades. Completing these expeditions gains you more loot to go towards upgrades.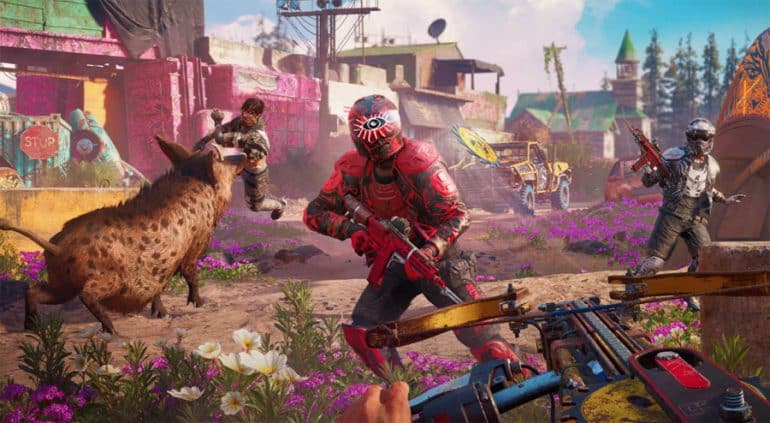 The fangs for hire mechanic from Far Cry 5 is also back allowing you to take some of your furry friends on missions with you as back-up such a giant boar or an Akita (breed of dog) named Timber.
These upgrades are vital to you and your group called the Survivors. The main antagonists this time around are a group of insane hunter/gather types called the Highwaymen. They are led by twin sisters who took over the leading of the Highwaymen from their dad after a difference in management styles resulted in them retiring him. Permanently.
They are fairly typical post-apocalyptic, Mad Max styled bandits, complete with what looks like ice hockey pads with pieces of animal skeletons stuck on as decoration. Not anything we haven't seen a million times before in games like Rage and Fallout. It seems when you lose your mind you stop needing to be in comfortable, practical clothing.
They do differ from the crazed fanatics from Far Cry 5 in that they don't die as easy. In Far Cry 5 one of the complaints, or in my case, observations, was that you could plough through a compound of nutters in Far Cry 5 fairly swiftly if you were armed well enough. This issue has been addressed in a very obvious way. Lower level minions are easier to kill and higher level Bosses are harder. Problem solved. Genius!
I'm being facetious, but it does give a bit of an RPG feel to the game, which I think is great.
So is Far Cry: New Dawn a true stand-alone chapter in the Far Cry story, or is it just a glorified DLC posing as a sequel?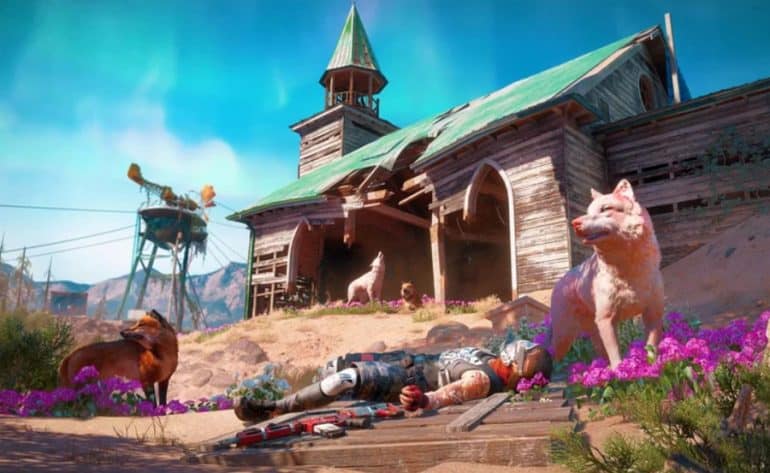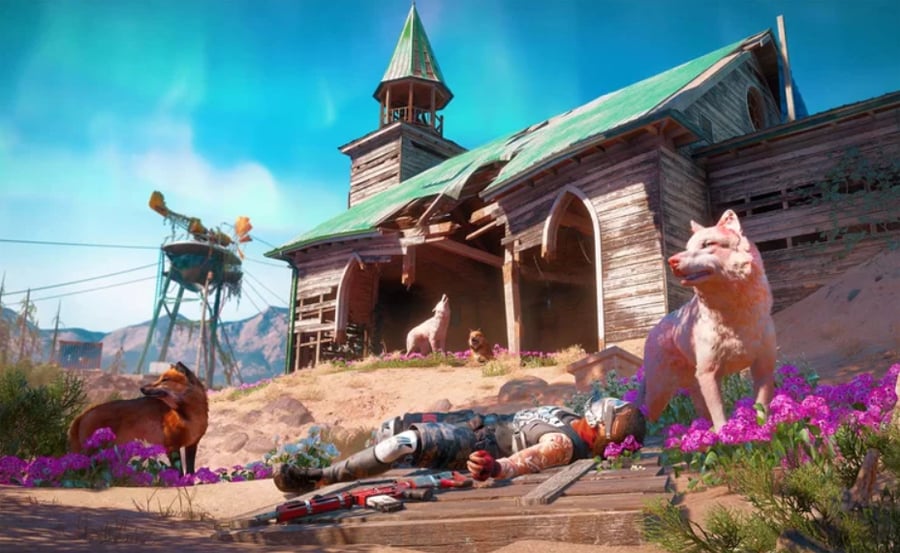 Based on my time with the game, I think it is a stand-out addition to the Far Cry series, not unlike Far Cry Primal. The game is more than just Far Cry 5.2 and adds just enough to make it stand apart from its predecessor thanks to some new mechanics. Having said this it still has, at its core, the same DNA that you would find in the more recent Far Cry games.
Add to that the fact the game isn't overly pricey and I think the clever boys and girls at Ubisoft have done something special here. I may even go so far as to say, keeping in mind that we are still at the beginning of the year, if you can only play one game this year, Far Cry: New Dawn would be a worthy candidate.
The Review
Far Cry: New Dawn
Far Cry: New Dawn might be a sequel to Far Cry 5 but it adds enough new things to make it stand out from its predecessor.
PROS
Beautiful world to explore
The Father is back
Expeditions
CONS
Does feel similar to Far Cry 5 at times
Review Breakdown
Storyline

0%

Gameplay

0%

Graphics

0%

Replay Value

0%

Sound and Music

0%