Far Cry 6 is the sixth instalment of the main franchise. In keeping with the franchise release timelines, we're slightly ahead of schedule with the latest iteration. As always, however, there has been a lot of excitement surrounding the latest instalment. Perhaps, in part, thanks to the casting of Giancarlo Esposito (Gus Fring from Breaking Bad), whose presence in the trailers was already sufficient to win over fans.
Ubisoft Toronto is back at the helm for the project, having developed the Far Cry 5 game as well.
Far Cry 6 has the biggest release availability from Day 1. The title will be available on Amazon Luna, Microsoft Windows, PlayStation 4, PlayStation 5, Xbox One, Xbox Series X/S and Stadia.
RELATED: The Best Far Cry Games – No.1 Is Pretty Obvious
The Main Story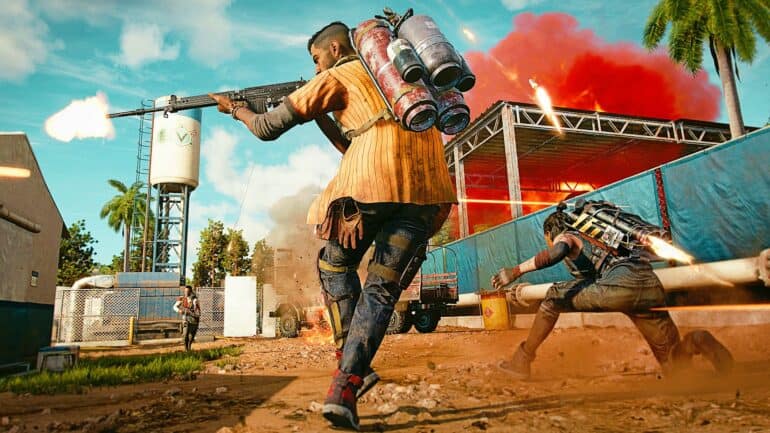 On the surface, the storyline in Far Cry 6 is pretty straightforward. You play the main antagonist, Dani Rojas, for which you're able to choose one of two genders for the character [The voice actors are played by Sean Rey and Nisa Gunduz]. Born and raised in the slums of República de Yara, we pick up the story where s/he is attempting to escape the island country in search of a better life in good ol' America.
As you can imagine, things don't go according to plan.
In attempting to flee, Dani's boat is hijacked and boarded by the country's dictator El Presidente, Antón Castillo (Giancarlo Esposito).
Castillo, who is attempting to instil his beliefs in his son, Diego, has been met by nothing but resistance. So much so that Diego is attempting, himself, to flee the country. This crossing of paths with Castillo sets in motion a chain of events for Dani, who has, in a way, been forced to become a guerrilla, having landed on one of the Yaran islands after the boat they were travelling was shot up and left to sink. The guerrillas are led by Clara Garcia, from the resistance group, Libertad.
50 years ago, Yara was a peaceful nation, living in a prosperous age for its inhabitants. All that changed with a revolution occurred, as revolutionaries attempted to overthrow the government. As a result of this, Castillo's own father, president at the time, was executed. The country fell into decline shortly thereafter, and once Castillo was elected president on the promise of returning to those glory days 50 years ago, he clamped down on anyone who attempted to speak out against his methods. These people would be rounded up into forced labour on the plantations, another course of major dissent amongst most Yarans.
Yara is loosely based on mid-1900s Cuba. So much is based on the region, including the culture, the music, the dialogue and right down to the marshy landscape. The Ubisoft team spoke to former guerrillas and their descendants to understand the true nature of living in such an environment and political nuance.
A lot can be said about the shortcomings in the previous instalment when it comes to touching on political material. The game's story and narrative directors have confirmed that Far Cry 6 is a political game. Needless to say, the developers aimed to get that right this time around. This is especially important today, where the success of games, movies and the likes can hinge on just one or two divisive issues presented incorrectly.
Gameplay and Mechanics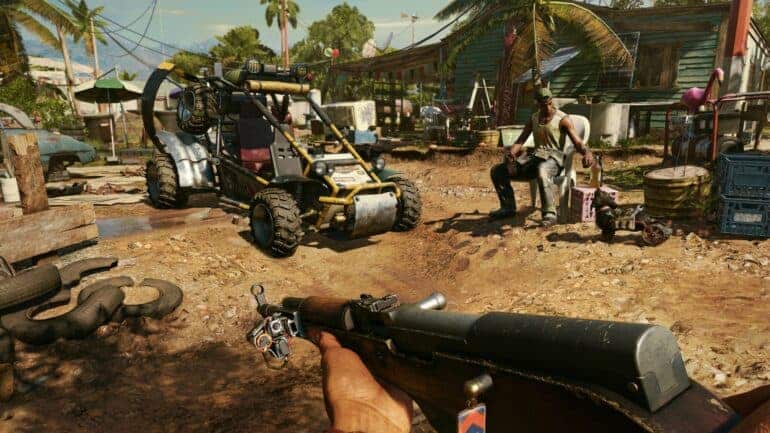 As with the other titles in the series, Far Cry 6 is an FPS game. However, it switches to a third-person view whenever you're in one of the designated safe spots. In addition to this, many of the aspects from previous Far Cry games are evident. However, there are new slants to these elements, making them feel fresh.
For many FPS games, the basic principles of going through the motion of an introductory mission to learn the basics, while also revealing the larger story, is again at play in Far Cry 6. At this point, there's quite a bit of narration, backstory and dialogue taking place. It did not feel forced, however, as the annoyance of the mundane tasks were unpacked with flair and comedic aspects. This is especially true when having to deal with Juan Cortez.
Once you've gone through the motions, you'll quickly become familiar with setting up your inventory, upgrading your weapons, getting around the map and unpacking the story one piece of the puzzle at a time.
At the start of the game, collecting materials to upgrade your weapons doesn't seem all that important. You'll quickly learn that fighting off soldiers in different parts of the map requires higher levels, which means better weapons. The use of all the elements is also very important. This includes reaching higher ground near army bases to scout the area with your smartphone, marking all the soldiers and their different weapons (snipers, pistols, bazookas and even tanks). A strategic plan may be required at times, as running in gung-ho is not always going to work.
One of the best aspects of the mechanics of Far Cry 6 is how the world interacts without you needing to get involved. There are interactions between NPCs where they're talking, having a laugh, getting into a ride and driving off. And then, there's quite a lot of crazy that happens.
The two that stand out the most were very interesting to watch. Both of them involved a bazooka.
The first incident occurred at an intersection. A civilian car had attempted to make a turn to the right, only for a soldier truck to pull up and be blocked as a result. An argument ensued. Things started to escalate quite quickly and I decided to get Dani out of the way and hide in the bushes. Gunfire started to ring out weapons were pulled out on both ends. With the incident unfolding near an army storage base, one of the soldiers ran out with a bazooka. After taking aim and blowing up the civilian car, the battle ended, and everyone went on their merry way.
The next incident is quite prevalent in the game, although not to the extreme. Living close to nature, you're bound to encounter stray dogs and wildlife. More often than I'd like, I'd have to battle a crocodile. And this is what also happened to one of the soldiers. After failing to kill it with mere gunshots, it had driven off one of the soldiers. Another soldier came out of nowhere with his bazooka and blasted the crocodile to bits.
I loved these moments in the game. Not because they're chaotic and entertaining, but because the world has a mind of its own. It's a functioning island, with each person attempting to get on with their daily lives and struggles.
RELATED: Far Cry 5 Review – You Will Become A Believer
The Wonderful World of Far Cry 6
I reviewed Far Cry 6 on the Xbox Series X. As a result of receiving a review copy, there were two keys provided. One of these was for the game itself, and the second was the HD graphics pack meant to download after the main installation. This is a clear indicator that there are graphical improvements of the game between the console generations. And it pays off, handsomely.
There are two types of games when it comes to graphics. One that's based on photo-realism, with the other type opting for various effects and features – this includes 8-bit graphics (think Fez), cartoon-style imagery (Borderlands) and more. Because you know what you're going to expect on the latter as non-real, it makes it easier to focus on gameplay, story and other features the game has to offer.
However, when it comes to photo-realism in games, it's often easy to lose that connection whenever you encounter bugs, lack of rendering performance, or other elements that don't quite fit how you'd perceive it in the real world. Thankfully, there are no such issues during my encounters in-game. In fact, it's quite the opposite. I was completely engrossed in Far Cry 6's surroundings, almost as if I was exploring Yara myself.
The interaction with the environment is what I enjoyed the most. Yes, there are breathtaking sunsets and sunrises, night skies, and ocean views to absorb, but it won't really matter if it's just for show. Being a marshy landscape, for the most part, Yara has an abundance of vegetation. My favourite is the bountiful water lilies you encounter either when walking or swimming through the area. When you're swimming, you can see how they interact with the waves of the water, at times even wrapping around you for a split second.
Another of my favourites is the thundershowers, where you're blessed with the sight of lightning strikes in the distance. It's amazing to just sit back and watch. I found myself attempting to take a screenshot or two of those moments, with the precision you can expect when taking lighting shots on your smartphone in the real world. It's extremely difficult to capture, but all the more satisfying when you do.
The Extra Nitty Gritty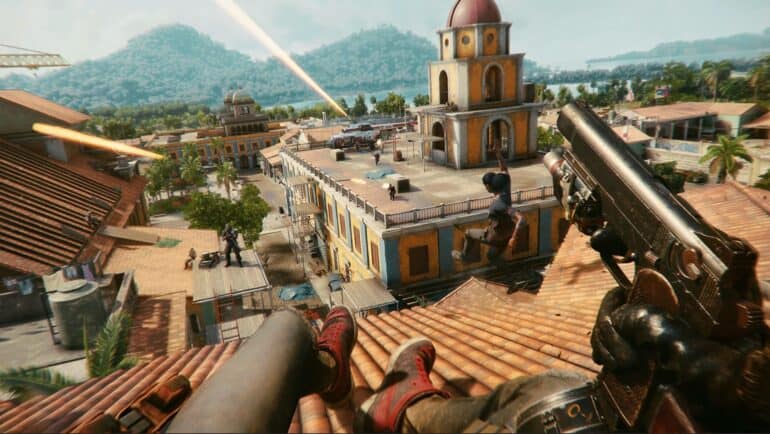 Far Cry 6 is filled with plenty of story, action and more. Across the islands of Yara, you'll be able to set up various camps and upgrade them to assist with your missions and your weaponry. Your main contact when it comes to all things weapons-related is Juan Cortez. He takes you through the various aspects of finding weapons, crafting new weapons (known as resolvers) as well as customising each of your weapons via the workbenches, which are available at each of the 'safe houses.'
Additionally, you'll also have the option of running alongside an Amigo. Although you may think of this as a human partner, it is not. Instead, you have the option of partnering with one of the animals from the island – in less technical speak, a pet. Your first Amigo is Guapo, a ferocious crocodile belonging to Cortez, but whose mission is to protect you. Other Amigos include a leopard, a few dogs and more.
Given the nature of the island life, there are quite a few methods of getting around in Far Cry 6. While the easiest would be to select the fast-travel feature between safe houses, you're expected to travel to each unexplored part of the island before you can do so. In order to achieve this, you'll have plenty of options. First, there are your feet. Obvious. However, the next step up is to travel by horseback. This is especially helpful in the rugged terrain as you traverse mountainsides and swamps.
Once you've levelled up sufficiently in Far Cry 6, you have the option of calling cars. Here, a simple phone call will send one of Cortez' men to drop off one of the selected cars at your location. Some of these cars are also fitted with guns and more, depending on the need you may have. However, given that most of the island is locked down with numerous checkpoints manned by soldiers, it's not so easy to just drive from one section to the next. In fact, crossing a checkpoint in a vehicle will put some heat on you immediately. Getting through on horseback is the safest bet. There is an alternative, however.
When reaching your next checkpoint, you can attempt to take control of it and win it over for Libertad. Some are much harder to achieve than others, ranging from a simple assassination of two or three soldiers, while others through the full force of the army at your in tanks and helicopters. The choice is yours.
There are alternative routes within Yara. These were carved out by Libertad, allowing you to pass through regions without issue. However, you can think of these as non-toll roads. This means that they're not up to code, the majority of which aren't tarred and a few which cannot be travelled by car, as they take you through tunnels, swamps and more. Along the way, however, you have many other guerrillas with horses or suggestions (or missions) as you pass by.
A Few Hiccups
While I haven't yet run into any noticeable bugs within Far Cry 6, I did have the odd interruption during the review period as a result of major updates. Given that the game is still in the pre-release phase, that was always to be expected. However, the issue I had was that the two major updates were almost the size of the original game download, at 27GB each.
These major updates threw my schedule out somewhat, with the download servers for the pre-release not up to speed. The first 27GB took some four hours to download on my 5G network, where I would've expected that to be completed within the hour. The second was even more frustrating, having taken overnight to complete, not allowing me to play the game without the update either.
With Far Cry 6 not officially released as yet, there aren't any Xbox Series X features available such as Quick Resume, or even allowing you to play once the download has reached a certain point. I expect this to be different when the final release of the game is available.
The Wrap-Up for Far Cry 6
Far Cry 6 is a rich game. From the cultural aspects to the finer details of what it's like being a guerrilla. In addition to that, there are tons of missions, side-quests and secrets to find on Yara. The story is engaging, with quite a few twists throughout, and right off the bat at that. With its non-linear progression of the plot, you get to choose where to go next as your work your way through to the final stages of the story.
The Far Cry formula is easily spotted again in this game, where a series of circumstances lead an unwanting participant to take up arms and battle. That said, there are sufficient differences in the story, gameplay and surroundings to make this all feel new. Although you're able to choose to be male or female, it does not impact the story. It would have been great to find out that there are slight differences in the end.
Whichever the outcome, though, you're bound to have quite a bit of fun in Far Cry 6.
The Review
Far Cry 6
There's a lot to love about Far Cry 6. From its story, its twists and more, to the dynamic and rich environment. With a huge list of missions and side quests, you'll be kept entertained for hours on end.
PROS
Immersive world
Accuracy of the setting
Graphics are great
Dynamic NPCs
Review Breakdown
Gameplay

0%

Graphics

0%

Replay Value

0%

Sound and Music

0%

Story

0%