Far Cry 5 is the 11th instalment in the franchise and the 5th carrying the franchise name. It is also easily the best game in the franchise so far.
Set in a fictitious part of Montana called Hope County, you play a Sheriff's Deputy sent along with the Sherrif and a U.S. Marshall to go arrest the leader of a cult who calls himself Father. He fancies himself a modern-day Moses and, with his 2 brothers and sister, goes about recruiting the townsfolk and those in the surroundings. To accept the invitation results in brainwashing through some pretty heinous "cleansing" rituals, to decline results in a slow and gruesome death.
You arrive at the compound called Edens Gate and arrest Father but things go tits up pretty quickly and the game starts for real at the scene of your helicopter's burning wreckage. From that point, it becomes recognisable Far Cry fare, which is a very good thing because, in my opinion, Far Cry is one of the best in the genre.
RELATED: The Best Far Cry Games – No.1 Is Pretty Obvious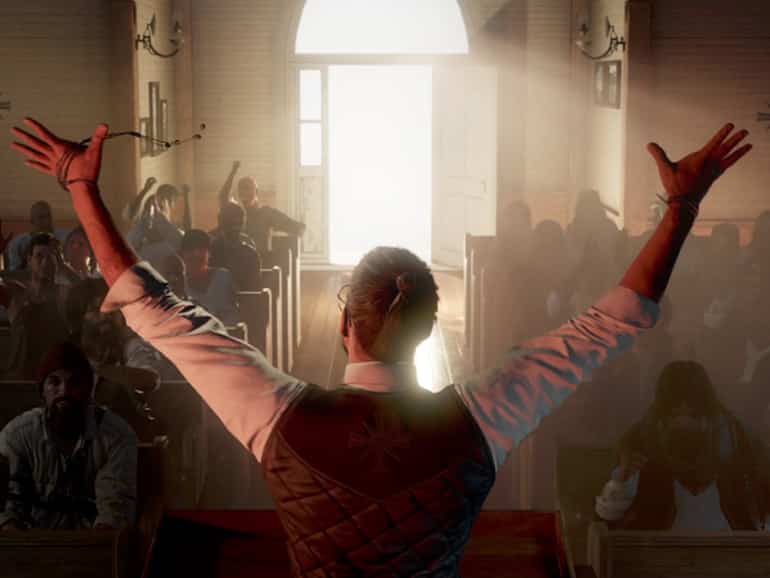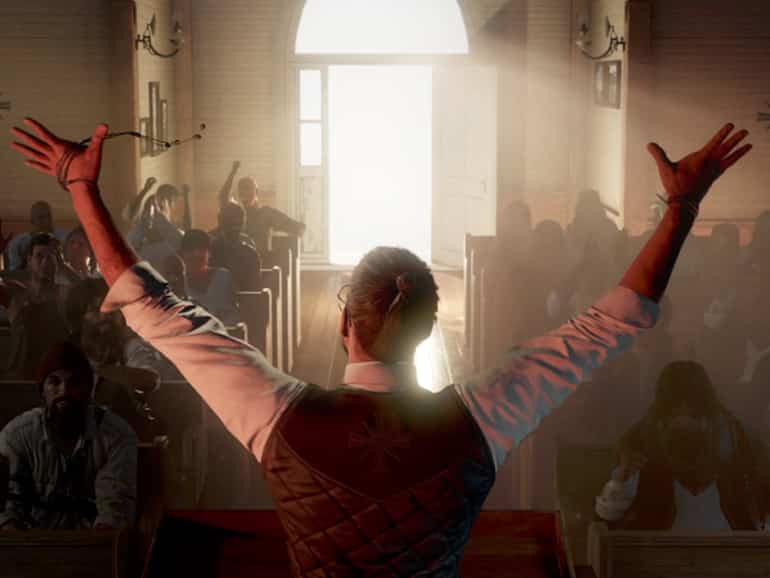 After playing for the first 15 minutes, this release starts giving up her secrets. It's the usual open-world style of gameplay, but instead of playing a standard character, you can customise yourself. It's not on the same level of customisation as Fallout or Skyrim, just the basic face, hair and clothing type stuff, but it certainly added to the level of immersion. My only complaint is that the face types didn't represent me. I felt underrepresented and took it as a microaggression.
If you are familiar with previous releases, you will almost immediately notice that the Outpost mechanic is very different. Whereas in the past you would reach an outpost and clear it of enemies and liberate civilians, in Far Cry 5 it's been heavily reworked, which finally makes the game feel "open world" on the same level as Fallout.
In the past, you would need to clear an outpost before you moved on and your map would un-fog up to the next outpost. Here they wanted to develop something called The Anecdote Factory. In essence, you enter the game with no directions or context and you just move around. The idea is that no two people will experience the game in the same way and you could share your experiences anecdotally. Everything you do affects your game experience and I think it's fantastic.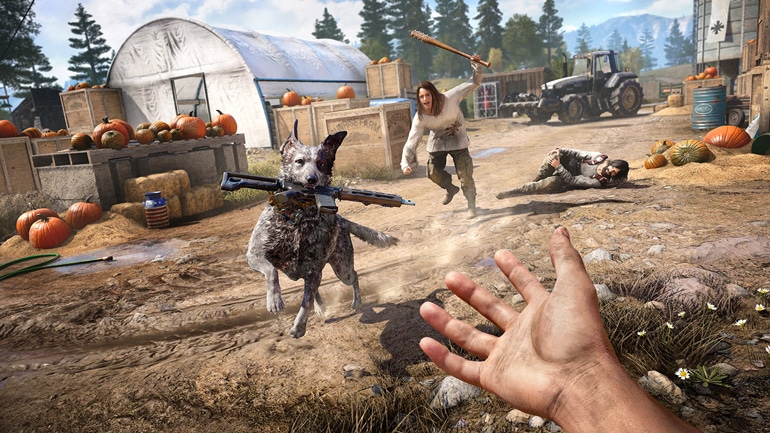 Everything about Far Cry 5 is brilliant. It is, without a doubt, the best-looking game I have played on a console. Ubisoft has done an amazing job of capturing Frontier America. Montana is a big sky country and you really feel it. I should imagine this game on the Xbox One X will have you singing 'Country Roads' and a bunch of other John Denver hits. Also, the tried and tested Dunia Engine has been tweaked and runs like a fat kid after cake. The only gripe I have is that in frantic shootout situations some aim assist would be nice.
The developers have looked at every element of previous games that have worked and made them better. In Far Cry 2, you had the buddy system, which was tweaked for Far Cry 4 and became Guns for Hire. In Far Cry 5, it's just called Recruitment, but the real beauty of this is that it does away with the beacon system from the previous titles where you would need to climb a bell tower to unlock new missions and objectives.
You learn about new areas and objectives by speaking with the locals and you can recruit them to assist you in that specific mission. It really adds to the realism of the game. While all these improvements truly add a new layer to the game and just makes playing it feel more natural, my personal favourite has to be the much talked about Fangs for Hire mechanic, which lets you fight alongside various animals including a diabetic bear.
RELATED: Far Cry 6 Review: Ambitious FPS Fun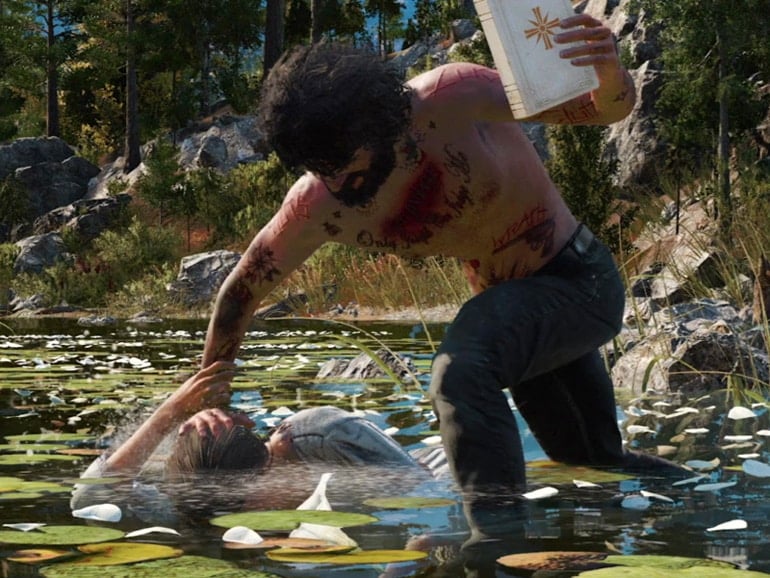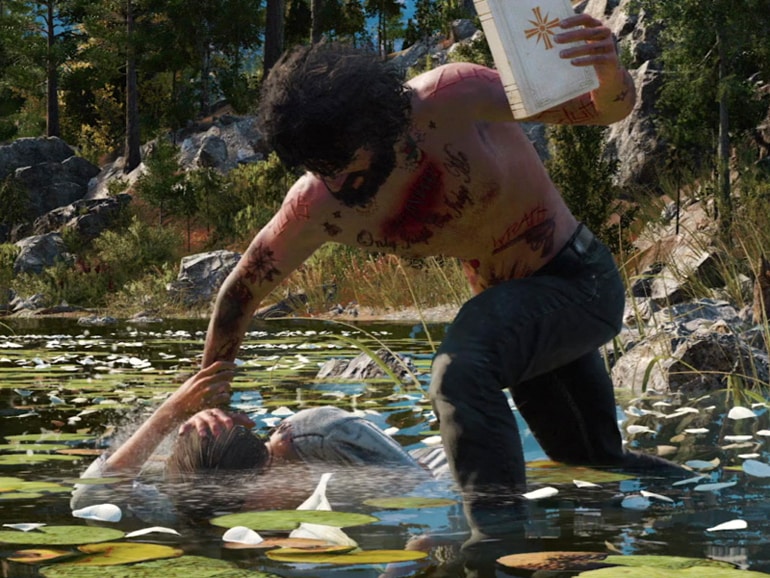 When you get tired of playing alone, Far Cry 5 lets you team up with a friend, thanks to the game's co-op mode – which lets you play the whole campaign alongside a buddy. It's an experience that makes this sometimes beautifully chaotic game even more so, and we all know that playing with a friend makes everything better.
Extending the game's longevity is the new Arcade Mode which gives players access to a new map editor. The map editor not only allows you to create, and share, your own maps but lets you do this using assets from various other Ubisoft franchises including the Watchdogs and Assassin's Creed series. This ambitious new feature is a great new addition and will ensure hours of fun blowing up enemies along with your friends in maps you or other players created.
From the second you start playing, you get drawn into the world of this cult and it is creepy. I'm not just saying it, the direction of the opening scene draws you in so completely, I wasn't just scared and I wasn't just creeped out and I wasn't just wary, but I was genuinely all of the above.
The voice acting is spot on and there is a tangible atmosphere, but I think most of the effect comes from the music. The music almost becomes one of the characters. It's subtle and changes mood just like one of these brainwashed cultists. It builds and builds – which is a good thing because they've put a big emphasis on melee combat with a bunch of nasty, heavy, rusty things to bring the pain.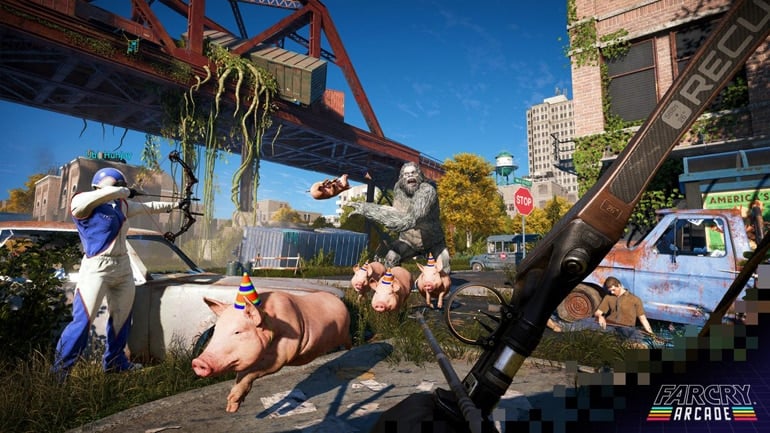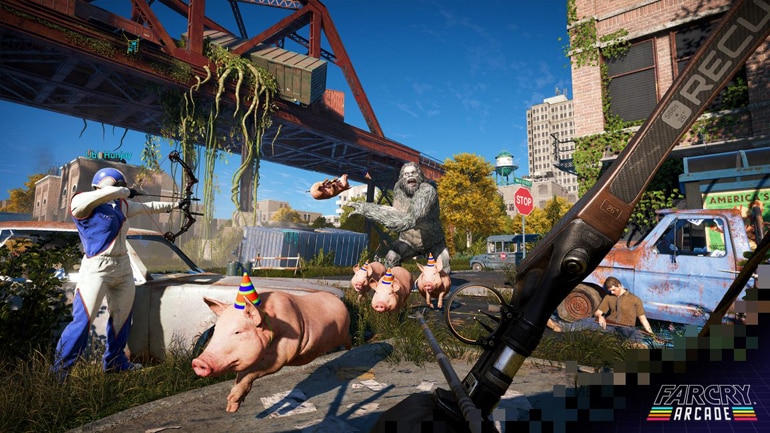 So, to sum up, you will love this game. It is the Far Cry I have always wanted and I can quite easily say this is my new favourite game. It looks beautiful. It sounds beautiful. It is almost completely immersive (I think if there was a PUBG-type mortality option where your health doesn't magically regenerate, it would take the game to a whole new level) and there are a ton of game modes which should keep you playing at least until Far Cry 6 is released. It's not going to be cheap, but it will be the best money you spend for a while. I'll stick my neck out and say the best money you will spend this year.
Far Cry 5 is fantastic. Buy it!