I reviewed Hours of Darkness, the first DLC for Far Cry 5, a little while ago and loved it. It felt like Far Cry Lite, only the good bits. When I finally got to play Lost on Mars, the second DLC, it was an event. I chased the kids out of the TV room, I had my snacks and comfy house slippers and the same kind of anticipation I had for season 8 of The Walking Dead.
The game started up and I navigated to the Additional Content section in the menu, after sitting through one of the best developers intro scenes in any game ever. There is just something so beautiful and dark about that opening cutscene of Far Cry 5, the barn with the Ubisoft logo and the rusty old pick-up with the Dunia Engine stamp, and the way the music changes from Deliverance-style banjo to gothic dark country is the entire premise of Far Cry 5 summed up in four-bar blues.
Anyway, so there I was, ready to play.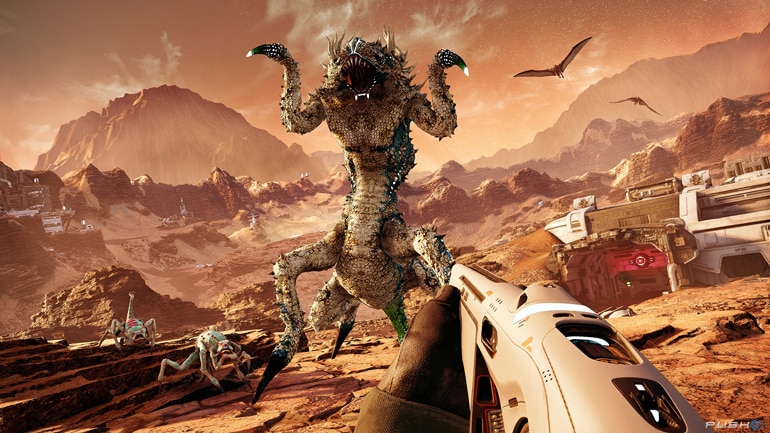 The opening animatic Far Cry 5: Lost On Mars is the same style used in Hours of Darkness, but tweaked to be humorous and it works brilliantly. We are introduced to two minor characters from the main game, Nick Rye and Hurk Drubman JR. You play Nick, on your way home from collecting some diapers for your young'un, when you get a call from your good buddy Hurk.
Collect "space jizz", kill Starship Trooper-style arachnids and help the benevolent A.I…
Hurk has made appearances in Far Cry since FC3, I think, and now has his own show, so to speak. Loveable and dumb as a stump, he reminds you of your promise made one drunken night years ago when he said if ever he got abducted by aliens and taken to their planet, you will come to rescue him. Well, tonight, that chicken has come home to roost.
One quick anal probe later and you are on Mars, being guided by Hurk in an endless barrage of Redneck-isms, which is all funny. He explains to you what your mission is: Collect "space jizz" (the material that allows you to 3D print new equipment and weapons), kill Starship Trooper-style arachnids and help the benevolent A.I that runs Mars wrestle control of the Red Planet back from said homicidal bugs, which, by the way, are planning a full scale attack on Earth.
Pretty straightforward stuff, a fact which both Hurk and ANNE (the A.I) feel the need to reiterate a few times in the opening scene.
Once you have your first weapon 3D printed, you head out onto the surface of the Red Planet to go retake a series of control towers for ANNE. It doesn't take long to realise that ANNE may not be who she says she is, but she has won Hurk over and that's good enough for me.
Gameplay in Far Cry 5: Lost On Mars is pretty standard Far Cry fare.
Gameplay in Far Cry 5: Lost On Mars is pretty standard Far Cry fare. You have a map and you can choose where you want to go and which towers you want to liberate (to use Far Cry language).
This game takes a lot of creative direction from existing games and movies, which seems to be the order of the day. Movies like Ready Player One have taken the art of the homage to the next level and I understand why people love seeing references to other things all in one place. It creates a feeling of anachronism, things being out of place and time. Far Cry 5: Lost On Mars does this too, only a little more subtly. You have Hurks severed head as a companion, ala God of War. Then he gets transferred into Brobot, which is not dissimilar to the Ghost in Destiny. Then there is ANNE who for all intents and purposes is the AI from the original BioShock (one of my all-time favourite games). And then the not so subtle Star Wars prequel references. Great stuff!
So you get started across the planet, collecting Hurks body parts and killing bugs. I was waiting for the games unique personality to start coming thru like it did in Hours of Darkness. The first hour past, then the second and then I began getting that sinking feeling one gets when you're waiting for a party to kick up a notch, for it to get to the point where its moved past socially awkward and the liquor starts loosening everyone up. Everything gets louder, the laughter/conversation ration flips in favour of laughter and girls start taking their tops off, but it never happens… The 2nd bottle of Chardonnay gets opened and the baby pictures come out and everyone leaves civil-like by 10:30… That's Far Cry 5: Lost On Mars. It a 30-something dinner party where everyone is watching the clock because they only paid the babysitter till 11.
The Starship Troopers-like arachnids attack if you step on the loose sand, exactly like Tremors…
The Starship Troopers-like arachnids attack if you step on the loose sand, exactly like Tremors (another cultural reference). You eventually get a jetpack, which in the game is called an Anti-Gravity Belt, but it's a jetpack, which allows for some fun aerial combat manoeuvres and there are about four different types of bugs you can kill, ranging from the cannon-fodder type drones to Big Boss Queens. Once you've killed one of each, that's that. It gets boring pretty quickly.
The terrain is interesting and the music is pretty cool, bouncing between rock-a-billy to '60s space movie cheese, so that's nice and then you have the golden thread of the whole thing, Hurk. His endless commentary is Robin Williams funny. If they released his dialogue just as an audio bite, I'd have it on my playlist, but that alone is not enough to drag this DLC out of the disappointing category for me.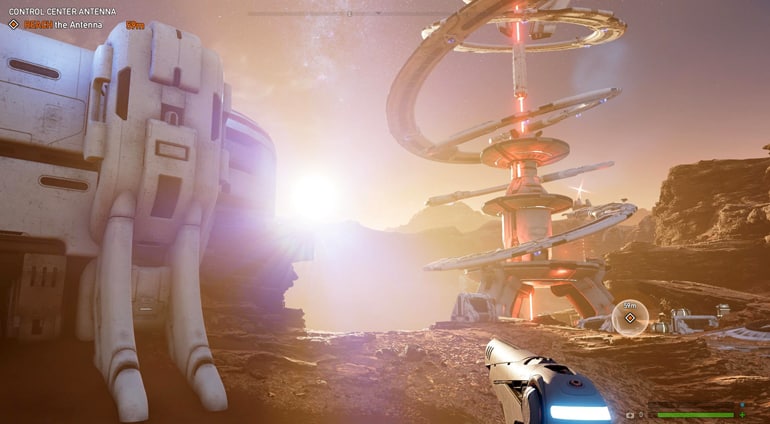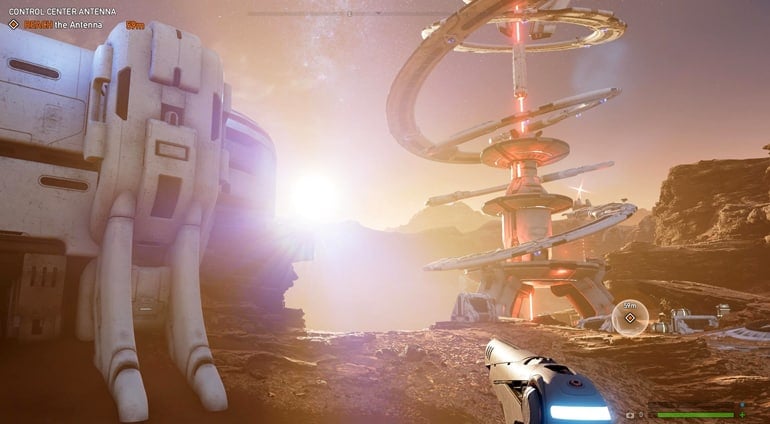 Hours of Darkness made a pretty good argument for paying for a Season Pass, but all that good work has been undone by Lost on Mars. If I didn't have the season pass, I would not spend the money on this DLC. It does keep the tradition of the Far Cry series, where they release something completely left field and out there, like Blood Dragon for FC2, but it's just not clever enough.
I'm disappointed in Far Cry 5: Lost On Mars. Just like I was disappointed by Season 8 of The Walking Dead. I'm just hoping that the next one, Living Dead Zombies, gets this train back on track.