When the Overlords of Fortress of Solitude contacted me to find out if I'd be interested in going to the launch event for Far Cry 5, I figured they must have hit the bottom of the barrel. If they were asking ME to go to this event it must mean that everyone else declined, which means that these launch events must really suck.
I agreed and, as this was the launch event, I would be one of the very few people in the room who had actually played the game, which surely would give me rock star status amongst the nerds. As the 26th crept closer, I began imagining what this event would look like – a pasty, overweight sausage fest with socially inept dweebs guffawing at lame jokes about being Lara Croft's Womb Raider and how their dermatologists have Ass Effect Too.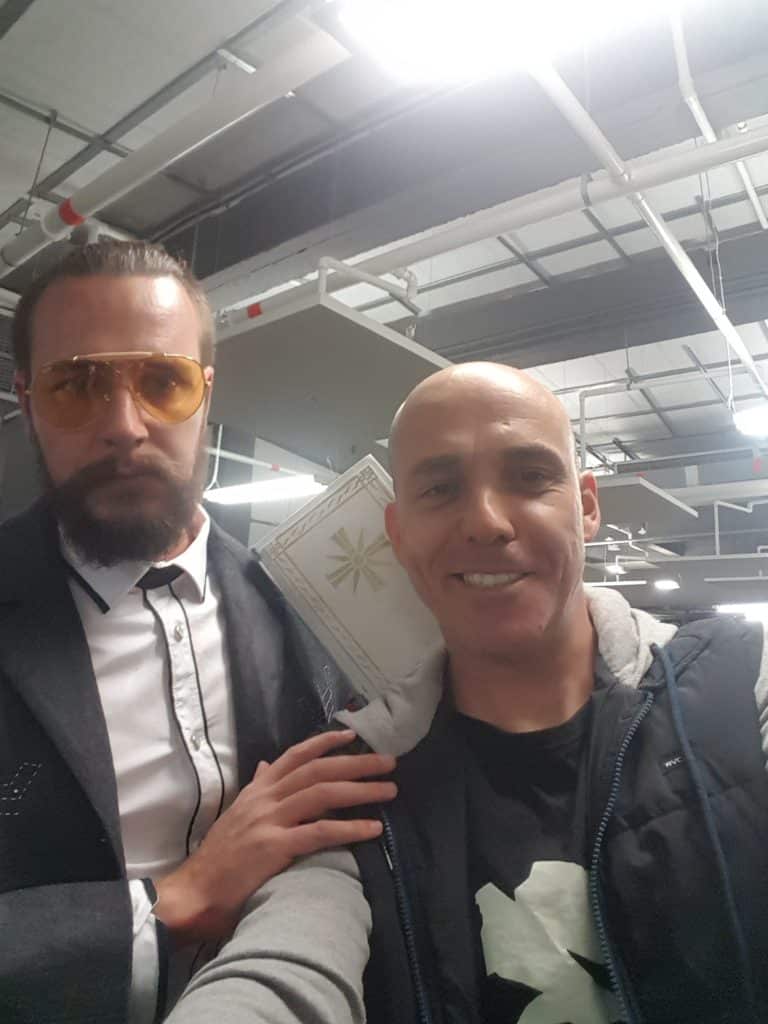 So the evening arrived and I casually made my way down to Cape Town's Foreshore, to the newly renovated Takealot Building. On arrival, I noticed quite a lot of activity, a bunch of really cool, interesting people milling around outside, vaping, laughing, and there were girls. Really pretty ones. They were obviously from some other event happening nearby. Obviously.
Checking in took a bit of time as the lady in front of me had to explain to security that she was in fact who she said she was and the person who went in on her name was an identity thief. After several minutes of blank stares as she showed her drivers license, it was suggested that instead of penalising her for actually being who she says she is maybe the imposter should be found and thrown out. This suggestion was met with nods of approval all around, and things started moving again.
Walking down the narrow passage to the elevators, there were dirty tins and drums littered all over the place, and there was wiring hanging from the ceiling. All that was missing were some sparks and a flickering fluorescent light. I was really impressed with the level of detail they went to to make it feel like you were in one of the secret bases that the Resistance use in the game.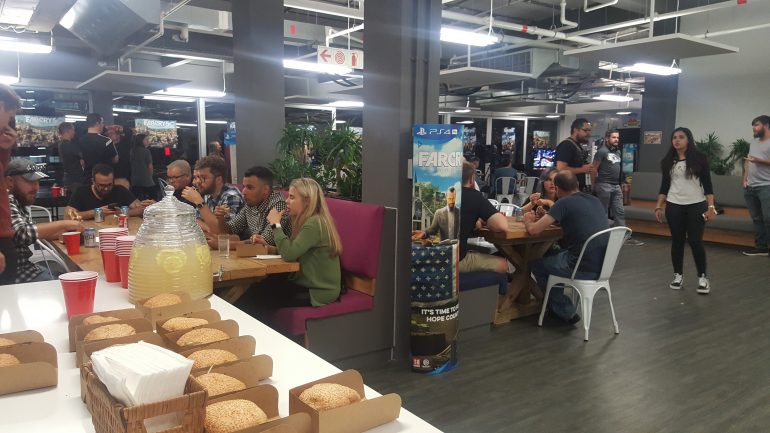 The illusion was quickly shattered when I rounded the corner and walked into a bunch of guys on ladders working in the ceiling. It is actually still busy being renovated but, none the less, the effect was still the same and I was feeling particularly ready to "liberate" some cultists. As I exited the elevator on the 12th floor, I was greeted with giant posters of Father Joseph Seed, his arms outstretched surrounded by crowds of euphoric disciples with guns in the air. The sound of rock-a-billy steel-strings and banjos really just placed you in Deliverance country and I was fully expecting to have to 'squeal like a piggy, boy!' at some point in the evening.
The 12th floor is Takealot's cafeteria area and it is really nice. The atmosphere was set perfectly. Like the game itself, everything seemed to be working together to create a totally immersive experience, from the music to the smell of the Mexican beef tacos and the ice cold beer in seemingly endless supply. And guns. Lots and lots of guns.
Once I had a chance to pull myself together, I realised those really interesting people outside were actually here for this event and it wasn't the sausage fest I was expecting. Turns out that about half the geeks there were women. This event was such a brilliant example of all races and both sexes being united around a common interest: gaming!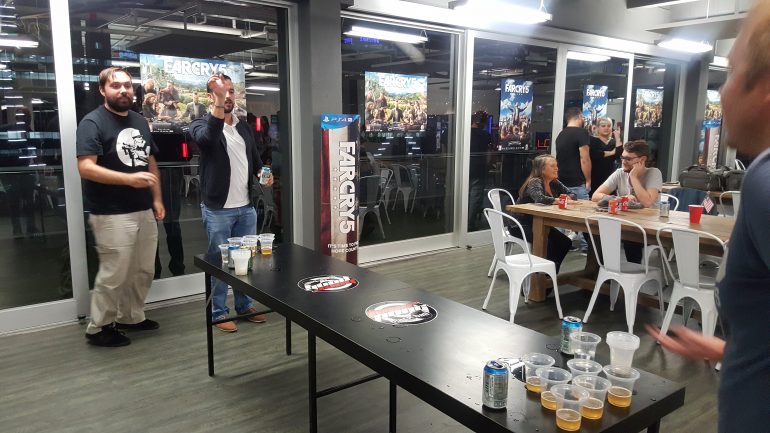 And also Beer Pong. And food, because there was a lot of food. There were PCs, PS4s and Xbox consoles littered around all over and there were really deep conversations happening regarding all aspects of the game, the improved mechanics, the improved game engine, which platform it looked better on.
But then I began noticing a weird dynamic between some of the gamers there. There is a language I don't quite understand. It's not completely verbal. I saw two guys warily approach each other and shake hands and one asked the other if he was WoodenOx17473 and the other said he was and apparently something had gone down during some co-op game somewhere and there was an issue… Then it struck me, there is a very strict code of conduct in this community. In fact, if you take how seriously people take gaming and how they exclude themselves from society and daily life, one could almost say the gaming community is a… CULT! Ooooooohhhhhh! There, I said it. Maybe this was Ubisoft being ironic. Holding the mirror up so to speak…
Anyway, the tacos were amazing. Crisp shell and really spicey meat, just the right amount of burn – though, when I woke up this morning at 4 it felt like I had grabbed a stone out of the fire and swallowed it. Still totally worth it.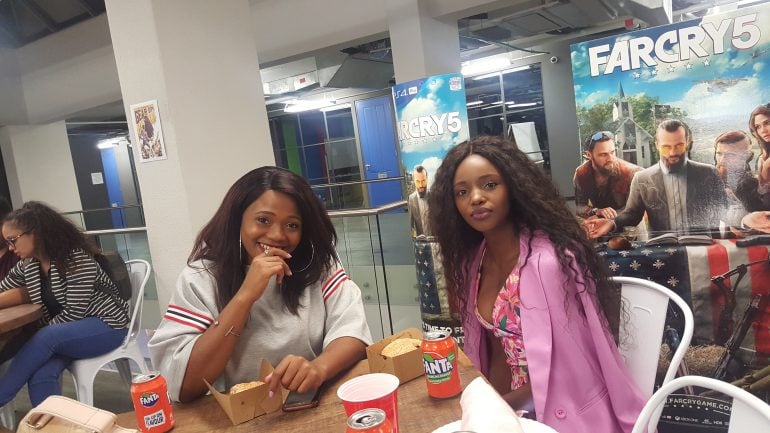 There were some speeches from reps from Takealot and from Ubisoft and the MC for the evening, a guy with a kick-ass beard and cool tattoos (I can't remember his name, probably LemonOakTree44563) was funny as hell. A really quick and a true gamer, he kept us entertained during what could have been the boring part of the evening.
Then there was something completely unexpected and really quite brilliant. A woman by the name of Lesley Smailes got on stage and began telling us about her experience trapped in a cult in America for ten years. I thought at first it was an act, part of the marketing plan, but it was real. She went to America for her gap year after school and ended up being recruited into a cult, not unlike Edens Gate. Actually, it was nothing like Edens Gate. Instead of killing people, they just moved around America, being guided by the Elder's dreams, living off what people throw away and making lots of babies… It was very interesting and she was bombarded with questions during the Q&A.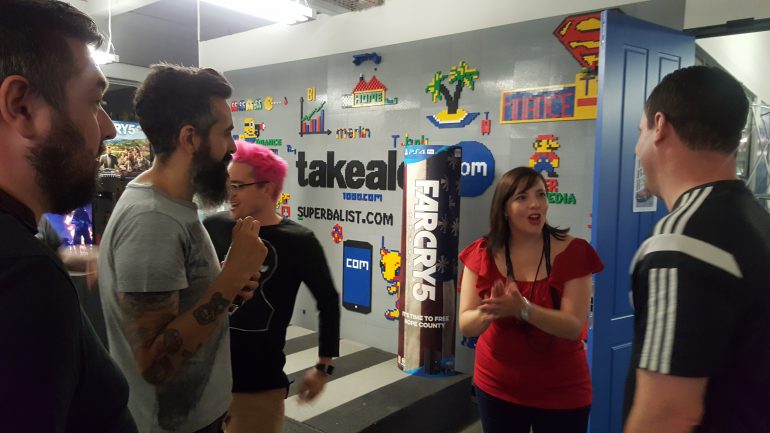 The formal part of the evening was wrapped up by a Far Cry quiz with some really sweet loot up for grabs. The questions were tough. Like, Korean trigonometry tough. But thanks to some sneaky finger work and Google, most of the questions were answered. The prizes included Far Cry T-shirts in Father Joseph grey, bottle openers, coasters, lanyards, awesome trucker caps and 2 copies of the game, one for Xbox, one for PS4.
When it came time to give away the Xbox disc, the MC asked all Xbox players to step forward. There were 6 of us. In a room of 150 people, front and centre, there was no way to cheat and consult Google, so some PS4 owner in the crowd shouted the answer out and won it. They then all pointed at us and laughed… Good times.
Then they served burgers! Apparently, gamers eat a lot. Delicious thick beef burgers dripping sauce and more beer.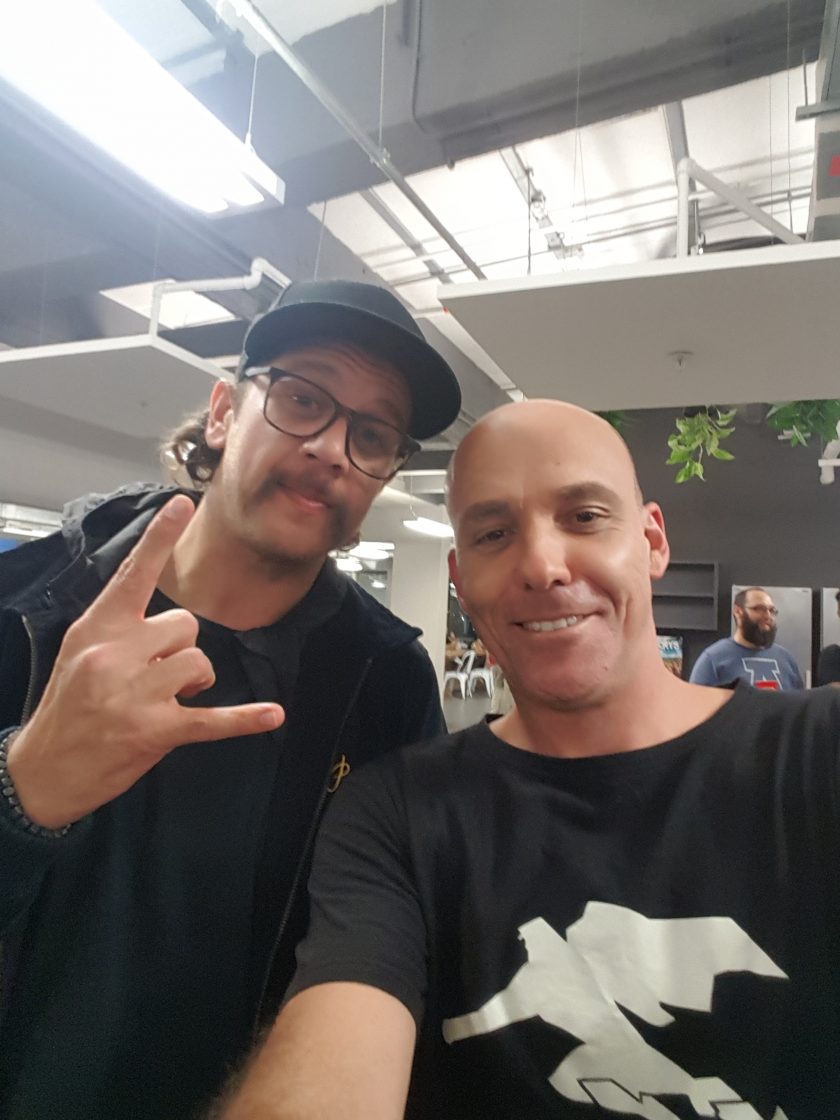 The evening stretched on till midnight when the game was officially released and it was like Times Square on New Year's Eve. I don't know if it's because gamers don't interact with real people very often, or if the drink too much Red Bull, but the 'gees' at this event was amazing. Takealot really outdid themselves. Everyone seemed to have a good time and there were even celebs there, as well as a Father Joseph Seed look-alike, who was seriously convincing. I got to interrupt Jack Parrow's dinner for a selfie. I could tell by the look on his face that he was a little irritated, but he did it and I was thankful. Derrick Watts and the Sunday Blues were there as well and a drop dead gorgeous Indian TV celebrity, though she just had a few pics taken and then left. I'm sure it had nothing to do with me following her around and drooling. Surely not.
I would like to thank Takealot for doing this and I think its a great way to add value for gamers, because sometimes paying a little more for something is worth it when you feel appreciated. The pre-release orders are eligible for all the DLC's planned, which include Lost on Mars, Dead Living Zombies and Hours of Darkness, a time-travelling mission to Vietnam.
This was an awesome event for an awesome game!