Everyone must wait at one point. Nobody is exempt from riding the train, sitting in the doctor's office or standing in some line. So, why not make the most of that extra time? Playing mobile games on your phone is an excellent way to do that. However, they shouldn't be any games. The best time-killing games aren't some mindless activities, but rather they're carefully structured. They have high-quality gameplay. They're convenient and fun. But most of all, they'll transport you out of that boring world of waiting and into an extraordinary experience of which you won't be able to get enough.
Challenge Yourself with Badland
Badland is something you should check out if you're into platformer games. Developed by Frogmind Games and released back in 2013, this game hasn't lost its appeal through the years. That could be because it draws on several features that go beyond the typical within this genre — after all, platformers are quite common. But Badland is anything but that. With over 65 million players across the world currently, they must have some secret. So, what makes it special?
For one thing, it has incredible, cool art. Most games designed specifically for mobile don't have this detail built into them. Though the storyline may be undeveloped, the game flourishes for the sake of exploration. You'll find yourself completely immersed in the fairy-tale-like world, and your waiting time will disappear in the blink of an eye.
The controls are easy to learn, making the game perfect to pick up and try your hand at as soon as you can. Not only that, but there are over 100 levels — each one comprises a different world. You'll have to go through each world, performing simple tasks to level up. You can play in single-player, multiplayer or even co-op style with up to four players. That means when boredom hits you and your pals, you'll be able to whip out your phones and get to playing.
Consistent updates keep the game relevant and playable while new challenges keep you on your toes and highly engaged. This game is easy to advance in but watch out: there are hidden challenges along the way. Think you're up to the task of this titillating time-killer? Head to Google Play or the App Store to get it today.
Platform: Available for Android or iOS
Price: Free from Google Play, $0.99 from the App Store (In-app purchases available)
Rating: 5 Stars
Chill Out with Osmos
Osmos is perfect for fidgety, anxious or overly-stressed out players. In this game, you're a galactic dust mote travelling across galaxies, Petri dishes and other solar systems deep in the heart of outer space. Your goal is deceitfully simple: to survive, you must eat other organisms floating across your periphery. To move forward, you must expel them. However, you must also be aware that with every expulsion, you grow smaller and smaller, hence the need to keep eating more.
Hemisphere Games isn't playing around with this release. Though the concept is quite simple, players will no doubt be enthralled with the world and compelled to continue their exploration. And there is much to explore, with over 70 levels spanning across eight different worlds. Beware of larger predators and the ever-increasing need to eat — these things are what will get you if you don't pay attention.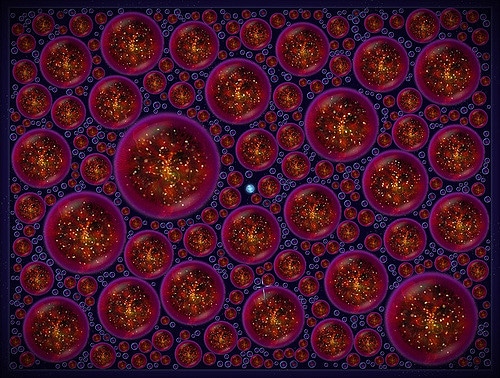 Not only is the soundtrack one of the coolest ever in a mobile game, but the graphics are undeniably trippy. You'll become completely immersed in this game, floating through space on your quest for nothing specifically. The game will reward you with calming music and relaxed experience. If you do finish it, you can try it on multiplayer with all your friends. Want to get started? Head to Google Play or the App Store.
Platform: Available on Android or iOS
Price: $2.49 from Google Play, $3.00 from the App Store
Rating: 5 Stars
Get Retro with Starburst Slots
Many mobile gamers never consider the possibilities of online slots as a time-killing pastime, but that's a mistake. That's especially true if the slot game in question brings back feelings of excitement, nostalgia and even a healthy competitive spirit. Are you wondering which game could fit this bill? Try your hand at  Starburst Slots, the arcade-style throwback we can't stop playing. This mobile masterpiece by NetEnt has everything you need to occupy yourself. It's an action-packed five-reel slot game featuring 10 paylines and a whole lot of action.
Indeed, it's this action that is reminiscent of the classic arcade games of days past. It doesn't have a storyline, but bright gemstones and bursts of starlight follow you across the screen as you spin the reels. All you must do is line up three of the same symbols, and you've got a win. Sound easy? It is, and it's the perfect way to while away a boring afternoon.
Extra elements include bonus games like the Starburst Wilds bonus game and the clever Win Both Ways game. Starburst Wilds immediately fills the screen with additional spins and even more wilds, which increase your chances of landing an additional bonus. Win Both Ways is a favourite, which incorporates the best elements of all into an exciting round that gives you plenty of opportunities to win, considering you can win from both the left and the right. Activate the bonus games by landing a wild symbol in the middle three reels.
Check out all the possible ways to win at Starburst Slots.
Starburst Slots is a retro masterpiece that will have you entertained for hours. Keep in mind that you don't necessarily have to wager real money on it, but you can if you want to do so. Convinced yet? The best way to get this game is through an online casino provider. That way, you'll get the other sign-on bonuses that come along where applicable. However, you can download it right from Google Play, too. For other retro-gaming experiences, check out the SEGA Forever collection.
Platform: Available on Android or iOS through an online casino provider
Price: Free
Rating: 5 Stars
Test Your Brain with Drop7
Look no further than Drop7 if you want a challenging and addictive puzzle game. This exciting game features a 7×7 grid, onto which drop a variety of coloured balls. Each ball has a different number on it from one to seven. As they fall on the grid, you'll stack them as you see fit. The goal is the drop a ball with a number equal to how many balls are already on that specific line. For example, if you have three balls on a line, you want to drop a ball on top of it labelled with the number four. Once you drop the correct number, the stack disappears.
According to GameSpot, Drop7 could be the next Sudoku for mobile devices  —and that says something. The game has a Tetris-like quality, which is quite addictive and perfect for those long, boring waits. It's easy to learn the rules and get the hang of the game, but it's harder than you think to level up — which is part of the charm, of course.
There are three gaming modes. Begin with the traditional Classic mode while you learn the ropes. Once you're confident, move up to the quicker Sequence mode or the Blitz mode, which comes at you with rapid-fire mayhem. Either way, you'll be engrossed completely. You might even be disappointed when the train finally reaches your stop.
Platform: Available on Android or iOS
Price: Now Free
Rating: 5 Stars
Now that you know where to go for the best time-killing games around, you're ready to ditch boredom and start getting excited about taking the bus again. Downloading these games couldn't be simpler and playing them couldn't be more fun. So, why wait? Pick up your phone and get started today.