In DC, there are many odd and unexpected characters, from a mound of clay with a vengeful streak to an Alice in Wonderland character who decided to take a side job in murder/crime to an icicle who wants to save his wife. It wouldn't be too strange to include Santa Claus in this universe, and DC did not hold back, though there are some contradicting accounts of the character. One of the strangest seems to suggest that DC's Santa Claus is, in fact, a Kryptonian.
RELATED: David S. Goyer & Christopher Nolan Should Be Blamed For Man of Steel & Batman v Superman
Character Interactions with Santa Claus
Several characters claim to have met Santa Claus, the most notable being Superman, Impulse and Lobo.
According to the Czarnian bounty hunter, who insists that the following events occurred, the Easter Bunny hired him to assassinate Santa Claus. But, unfortunately, Lobo was all too happy to get the job done, leaving a violent trail of destruction in his wake. So he decapitated Santa and shot Rudolph.
It has also been noted that every year without fail, Santa Claus gets through all Apokoliptian defences and personally delivers a lump of coal to Darkseid before disappearing. It does not matter how advanced the planet's defence systems and weaponry gets; Santa will deliver the lump of coal.
However, Superman's belief in the ever-elusive St Nick's existence inspired some entertaining fan theories — including the possibility that Santa Claus is a Kryptonian.
A Distant Relative of Superman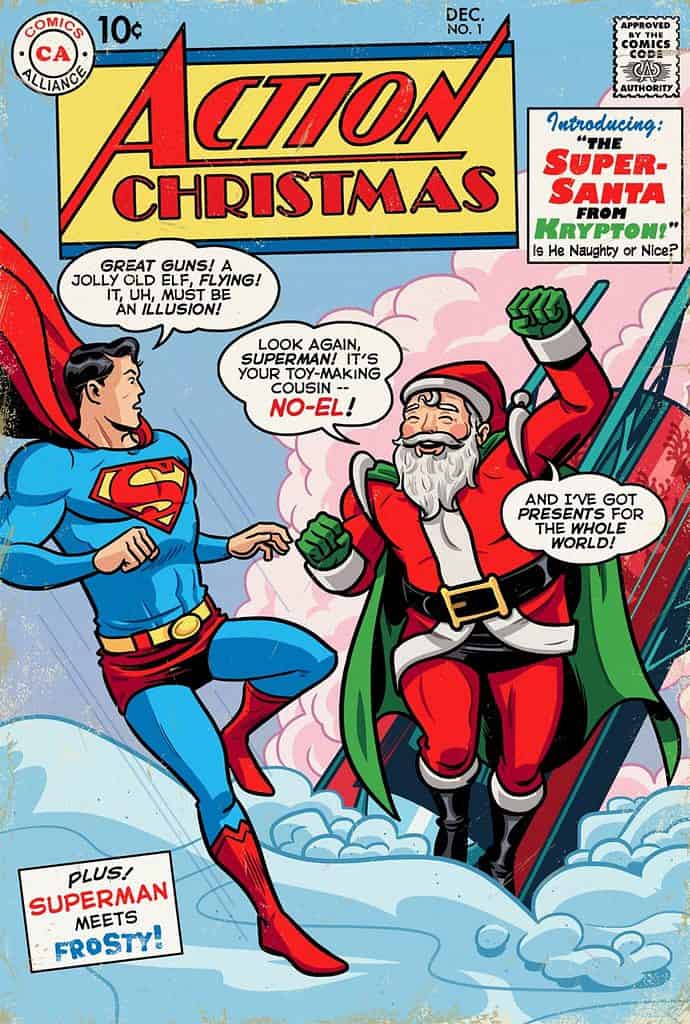 Reddit user u/DarnOldMan believes that Santa Claus was previously a Kryptonian explorer named No El, who landed on Earth and decided to stay, beginning the "annual tradition of delivering gifts to children." He accomplishes the crazy feat Santa is best known for by "using his super hearing to know which children have been naughty or nice" and "his super speed and flight to travel around the world in a night." They further wrote, "this is the reason Superman built his fortress of solitude in the arctic, so he could be neighbours with another Kryptonian."
This theory doesn't sound too far-fetched, and other fans began to add to the idea. U/TheWorldisRough was convinced by the idea that Santa was a Kryptonian explorer and that his relation to "Supes" was "how Jor knew to send Kal to earth". They suspected that the elves are actually robots, similar to what Superman has in the Fortress of Solitude, and that "Mrs Claus maintains the elves and the propaganda." They also added that "No El" would need to ensure that his "Kryptonian reindeer" were basking "in the sun for 364 days to his the speed feats of Santa Claus".
U/Vidogo added their input. They agreed that the reindeer were Kryptonian, using the example of Krypto the Superdog and stating, "Kryptonian animals can also fly on earth and are usually very similar to earth animals". They also believed that because Superman has been shown to age slower than Earthlings, No El and his wife had been on earth for way longer than Kal-El and that No El was "maybe Clark's great-great-great-great-great uncle".
RELATED: Superman Returns: The Underrated Man of Steel Movie Deserves More Love
Do you think DC's Santa Claus is Kryptonian or just an incredibly powerful sorcerer?